Thomas Piketty: the birth of a 'rock star economist'
The controversial French economist has called for huge taxes on the super-rich. Is Piketty the new Karl Marx?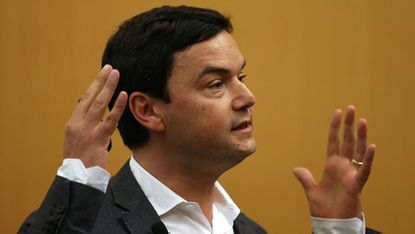 (Image credit: Photo by Justin Sullivan/Getty Images))
THE French economist Thomas Piketty has been making waves in the US since his 700-page tome on capitalism rocketed to the top of the US best-seller chart. Capital in the 21st Century was published in France last year to little fanfare, yet in America it has become a rallying point for young progressives while right-wing commentators have condemned it as neo-Marxist propaganda.
Who is Thomas Piketty?Last week, the New York Magazine published a profile on the "rock-star economist" saying that Piketty has gone from "dismal scientist to intellectual superstar" in just a few short weeks.
Piketty has long been an impressive scholar – he received his PhD at the age of 22, and quickly became a professor of economics at the Paris School of Economics. At just 42, he is still young for so influential an economist, but nobody could have predicted his recent meteoric rise to stardom.
Subscribe to The Week
Escape your echo chamber. Get the facts behind the news, plus analysis from multiple perspectives.
SUBSCRIBE & SAVE
Sign up for The Week's Free Newsletters
From our morning news briefing to a weekly Good News Newsletter, get the best of The Week delivered directly to your inbox.
From our morning news briefing to a weekly Good News Newsletter, get the best of The Week delivered directly to your inbox.
The French themselves are "almost bemused" by the sudden international fame, The Economist says. "Thomas Piketty, une star américaine", ran a headline in La Tribune. When his book was published in 2013, it didn't feature in the top 100 best-sellers, says the magazine. Today it sits at the top of the Amazon charts in France.
Why is his book getting so much attention?Two centuries ago, the political thinker Alexis de Tocqueville returned to France believing he had found "true égalité" in America. Now Piketty has arrived to deliver the exact opposite message, the New York Magazine says. According to Piketty, all capitalist societies, the US included, are doomed to growing inequality that can only be brought under control with serious interventions. Specifically very high rates of taxation, largely targeted at the wealthy.
So Marxism 2.0 then?Not quite says The Guardian's Paul Mason. After pondering whether he could be considered the new Marx he concludes: "Anybody who has read the latter will know he is not".
Piketty argues that in an economy where the rate of return on capital outstrips the rate of growth, people's inherited wealth will always grow faster than any wealth they are able to earn. So, Mason says, Piketty is arguing that "the fact that rich kids can swan aimlessly from gap year to internship to a job at father's bank/ministry/TV network – while the poor kids sweat into their barista uniforms – is not an accident: it is the system working normally".
But there is a big difference between Marx and Piketty, Mason says: Marx's critique of capitalism was about production and not distribution – the "polite name" for inequality. Piketty believes the problem with capitalism is entirely concerned with this inequality. He argues that capitalism started out unequal, flattened out for much of the 20th century, but is now headed back towards "Dickensian levels" of inequality worldwide.
To stop it, we have to act. Piketty calls for an 80 per cent tax on incomes above $500,000 a year in the US, and a "confiscatory" global tax on inherited wealth.
But unlike Marx, Piketty wishes to amend capitalism, not throw it away altogether. His calls for huge increases in taxation on the super-rich are, by his own admission, "utopian". Mason says that "it is easier to imagine capitalism collapsing than the elite consenting" to Piketty's recommendations.
What do the critics say?Perhaps predictably, analysts are divided along partisan lines. Peter Morici, writing for Fox News, says that it is "a fool's errand" to try to solve inequality by taxing high incomes and wealth. The onus, he says, is on governments not to increase tax, but to "discipline corporate governance" to ensure that senior managers do not place their own interests above those of ordinary workers.
Martin Wolf, writing in the Financial Times, takes a different view noting that a common conservative argument for inequality is that it is "a spur to (or product of) innovation", but the opposite is in fact true. According to Wolf, huge inequalities and vast amounts of inherited wealth do not serve to aid innovation and development at all.
Rupert Cornwell, writing in The Independent, agrees: "Republicans, the traditional party of the rich, have long finessed the problem, saying the wealthy were 'job creators' who deserved their good fortune." But given that it has become increasingly difficult to join their ranks, Cornwell says, how much longer can this lie persist?
Cornwell sees Piketty's "comprehensive" critique as having a true and lasting political effect, and may even impact on the next presidential election. "After the Piketty Phenomenon and the Piketty Panic, could there be a Piketty Election in 2016?" Cornwell asks.

Continue reading for free
We hope you're enjoying The Week's refreshingly open-minded journalism.
Subscribed to The Week? Register your account with the same email as your subscription.