Men's rights movement: why it is so controversial?
Activists claim to fight discrimination against men, but critics argue they're apologists for misogyny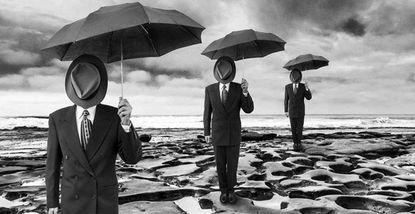 (Image credit: R.E. Barber Photography)
The men's rights movement, a loose coalition of activists who largely gather online, is growing in size and support.
They advocate fathers' rights and speak out for male victims of abuse and domestic violence – so why have they been branded a "toxic" hate movement?
How did the movement start?
Subscribe to The Week
Escape your echo chamber. Get the facts behind the news, plus analysis from multiple perspectives.
SUBSCRIBE & SAVE
Sign up for The Week's Free Newsletters
From our morning news briefing to a weekly Good News Newsletter, get the best of The Week delivered directly to your inbox.
From our morning news briefing to a weekly Good News Newsletter, get the best of The Week delivered directly to your inbox.
Men's rights activism in its modern form began as a backlash against feminism during the 1960s and 70s. Its historical origins, however, are "murky" argues Vice. The League for Men's Rights existed in late 19th century London, while the Austrian Federation for Men's Rights, which fought against "all the monstrosities that have come from the emancipation of woman", can be traced as far back as 1926.
In the past, the movement struggled to gain mainstream recognition, but it has since garnered a worldwide following with the help of the internet and social media. A vast array of internet sites and subreddits are dedicated to their cause.
What do they believe?
Men's rights activists (MRAs) argue that society is inherently "sexist" towards men and that they face daily discrimination from the government, the media and the justice system. They fight against custody laws they say overwhelmingly favour women, false rape allegations, violence against men, conscription and disproportionate male prison sentences.
"When women are underrepresented as CEOs of companies that is deemed discrimination," David Benatar, head of philosophy at the University of Cape Town told the BBC. "But when boys are falling behind at school, when 90 per cent of people in prison are male, there's never any thought given to whether men are discriminated against."
The "Red Pill"
The Matrix reference is often used by men's rights activists to identify each other in online forums. They use the term Red Pill as a metaphor for discovering that the world is an illusion and that men are slaves.
"Until you know the red pill you exist in the world of shadows and lies," said one MRA. "You are a slave to the matriarchy. Break your chains, join the freedom-fighting men listening and seeing, and you will learn the truth and be free."
Who is part of it?
The group appears to attract men – and women – from a variety of social backgrounds and with vastly different agendas. It is made up of disenfranchised young men, father's rights advocates, male victims of domestic and sexual abuse, and members of the Pick Up Artist movement. Men who fight on behalf of those accused of rape also "make up a surprisingly large part of the confederacy," writes R Todd Kelly in the Daily Beast.
"The single common thread that binds them all together is their deep-seated hatred of feminism," he explains.
Why is it so controversial?
Elliot Rodger, the 22-year-old gunman who went on a killing spree in Santa Barbara, California, was said to have links to the men's rights movement. He frequented the group's websites before carrying out last year's mass murder and posted a video outlining his plans to "slaughter every single spoiled, stuck-up, blond slut I see".
One of the movement's most prominent online platforms, the website A Voice for Men, openly advocates an end to rape and domestic violence "hysteria". Paul Elam, its founder, has become the public face of the modern men's rights movement and once wrote an article on how drunk women were "freaking begging to be raped".
Men's Rights Canada recently made headlines and sparked widespread outrage with its 'Don't be That Girl' poster campaign. It alleged that women often made false rape accusation because they felt guilty for having one night stands.
Members of the group were also responsible for spamming a university's anonymous sexual assault reporting service as well as continuously trolling feminist writers online, sending them death and rape threats.
Criticism against it
"This is not a legitimate political or social movement; it is a hate group," argues Jezebel's Lindy West. "And no matter how loud and aggressive it gets, no thinking person should take it seriously."
The Southern Poverty Law Center, an American civil rights organisation that monitors hate crimes, agrees. It describes the men rights movement as "thick with misogynistic attacks" and "dedicated to savaging feminists in particular and women in general".
Others take issue with the basic premise of the movement. "Men, especially white men, aren't marginalized, we aren't under attack, and we not in danger of losing the overwhelming privileges society bestows upon us for having pale skin and a penis," writes James Fell in Time magazine.
Critics also argue that while some MRAs address legitimate concerns, such as father's rights and violence against men, they do little to actually change these issues. "They are not raising money to open shelters for homeless or abused men [or] lobbying for safer workplaces or gun control," argues Anne Theriault in the Huffington Post.
"So yes, let's talk about issues that affect men. Let's come up with solutions for problems that disproportionately hurt men," says Theriault. "But let's find a way to do this that is not at the expense of women."
Image courtesy of R.E. Barber Photography

Continue reading for free
We hope you're enjoying The Week's refreshingly open-minded journalism.
Subscribed to The Week? Register your account with the same email as your subscription.