Elliot Rodger murder spree: what was to blame?
Killings in Santa Barbara spark fierce debate about mental health, misogyny and mass entertainment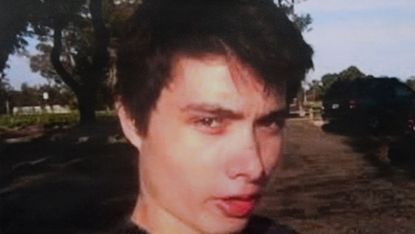 (Image credit: ROBYN BECK/AFP/Getty Images)
The case of 22-year-old Elliot Rodger, who killed six people and wounded several more in California last Friday, has ignited debate on several fronts.
The college student, who was born in England, stabbed his two roommates and their friend to death and then fired dozens of shots from his black BMW as he drove through the student quarter of Santa Barbara. He died minutes later in a shootout with police.
Commentators eager to make sense of the murders have pored over a 140-page online manifesto and YouTube video in which he reveals his plans to take "revenge against humanity" – prompting some fierce debates...
Subscribe to The Week
Escape your echo chamber. Get the facts behind the news, plus analysis from multiple perspectives.
SUBSCRIBE & SAVE
Sign up for The Week's Free Newsletters
From our morning news briefing to a weekly Good News Newsletter, get the best of The Week delivered directly to your inbox.
From our morning news briefing to a weekly Good News Newsletter, get the best of The Week delivered directly to your inbox.
Gun lawsAs with many previous mass shootings in the US, there have been calls for tighter gun control in the wake of Rodger's killing spree. Richard Martinez, whose son was killed by Rodger, said he blamed the "craven, irresponsible politicians and the NRA [National Rifle Association]". This was countered by Samuel Joseph Wurzelbacher, a man who became the "everyman" mascot of John McCain's Republican bid for the White House six years ago, who wrote an open letter to the victims' relatives claiming that pro-gun control activists "don't care about your family or your dead children at all". In the letter, posted on conservative site BarbWire.com, he added: "As harsh as this sounds – your dead kids don't trump my Constitutional rights."
MisogynyThe familiar debate about gun laws has been subdued compared with the discussion about misogyny. Rodger's online manifesto was filled with bitter hatred towards women, including a fantasy about an ideal world where women would be abolished – "quarantined like the plague they are" – and starved to death. Tens of thousands of tweeters, including Girls star Lena Dunham, responded with the hashtag #yesallwomen to highlight their own experiences of misogyny. Many subsequently complained that they had been targeted by internet "trolls" for expressing their views.
HollywoodIn exploring the topic of misogyny, Washington Post critic Ann Hornaday wrote a piece suggesting that films form part of a culture that breeds violence like Rodger's killing spree. "For generations, mass entertainment has been overwhelmingly controlled by white men, whose escapist fantasies so often revolve around vigilantism and sexual wish-fulfilment (often, if not always, featuring a steady through-line of casual misogyny)," she wrote. Actor Seth Rogan and director Judd Apatow posted angry tweets after she singled them out in her piece, prompting another round of misogynist tweets, this time against Hornaday.
Mental illnessMuch has been said about the state of Rodger's mental health, with many newspapers quick to report that he had Asperger's Disorder. But medical experts subsequently made clear that there is no evidence of an increased risk of violence among people with Asperger's. "I would suggest you do the math of all the people diagnosed with Asperger's in the United States and see what percentage two is of that number," one psychologist told the Daily Beast, harking back to the Sandy Hook massacre carried out by Adam Lanza, who also suffered from Asperger's. Others have raised concerns about the US mental health system and its apparent failure to diagnose Rodger, who had been seeing multiple therapists, with a more significant psychiatric issue. One psychiatrist told Slate magazine that even if a decision had been made to involuntarily commit Rodger for an evaluation, it would have been "extremely difficult" to find a bed. "The public mental illness treatment system is completely broken," he said.

Continue reading for free
We hope you're enjoying The Week's refreshingly open-minded journalism.
Subscribed to The Week? Register your account with the same email as your subscription.