Germaine Greer: 'rape is rarely a violent crime' and four other controversial quotes
Feminist academic tells Hay Festival that most so-called sex attacks are 'just lazy, careless and insensitive'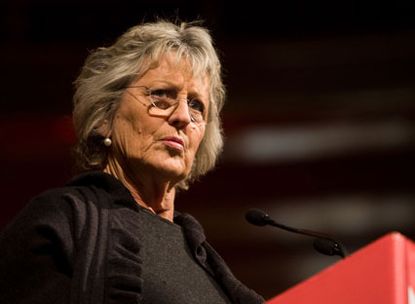 (Image credit: Getty images)
Rape is "rarely a violent crime" and should be punishable by 200 hours of community service, Germaine Greer has argued in her latest controversial outburst.
Speaking at the Hay Festival of Literature and Arts in Wales, Australia's most famous feminist argued that rape is widespread and that the legal system cannot tackle the problem because it always comes down to the issue of consent, with the victims becoming little more than "bits of evidence".
"She said the system was not working and radical change was needed," reports The Guardian.
Subscribe to The Week
Escape your echo chamber. Get the facts behind the news, plus analysis from multiple perspectives.
SUBSCRIBE & SAVE
Sign up for The Week's Free Newsletters
From our morning news briefing to a weekly Good News Newsletter, get the best of The Week delivered directly to your inbox.
From our morning news briefing to a weekly Good News Newsletter, get the best of The Week delivered directly to your inbox.
"I want to turn the discourse about rape upside down. We are not getting anywhere approaching it down the tunnel of history," continued Greer, who was raped at a party when she was 18.
"Most rapes don't involve any injury whatsoever. We are told that it is a sexually violent crime, an expert like Quentin Tarantino will tell us that when you use the word rape you're talking about violence, a throwing them down... it is one of the most violent crimes in the world. Bullshit, Tarantino."
She went on: "Instead of thinking of rape as a spectacularly violent crime – and some rapes are – think about it as non-consensual, that is, bad sex.
"Sex where there is no communication, no tenderness, no mention of love."
Greer dismissed the idea that many rape victims suffer post-traumatic stress disorder (PTSD). "The official position now is that 70% of rape victims suffer PTSD and only 20% of veterans," she said.
"At this point you think, what the hell are you saying? That something that leaves no sign, no injury, nothing, is more damaging to women than seeing your best friend blown up by an IED [improvised explosive device] is to a veteran?"
Greer has taken aim at a number of different aspects of modern feminism in recent years. Here are some of her other more contentious quotes:
Transgender women 'are not real women'
Speaking recently on Channel 4 programme Genderquake: The Debate, Greer said: "Being without a penis doesn't make you a woman any more than being without a womb makes you a man."
The outspoken academic was repeating a point that she had made on an Australian TV debate show in 2016, when she argued that a transgender person could not know their real gender identity, because "you don't know what the other sex is".
#MeToo campaigners are 'whingeing'
Speaking about the ongoing Hollywood sex abuse scandal, Greer reportedly told Australia's Fairfax Media in January: "What makes it different is when the man has economic power... But if you spread your legs because he said, 'Be nice to me and I'll give you a job in a movie', then I'm afraid that's tantamount to consent, and it's too late now to start whingeing about that."
Female genital mutilation is 'like getting a tattoo'
Speaking on Australian currents affairs programme Q&A in 2012, Greer compared the cutting of female genitals in Africa to tattoos or piercings, saying: "I would never dream of telling people who are disfiguring a perfectly beautiful human body with bad drawing that they have no right to do that."
She "echoed those comments in her 1999 book The Whole Woman when she argued banning the practice, widespread in Africa, was 'an attack on cultural identity'", reports the Daily Mail.
Princess Diana was the 'worst f***' in Britain
Greer said during a TV interview in September 2017 that she wouldn't have been a fan of the late Princess of Wales if she were still alive.
She added: "What would the tally be of the men who had dumped her by that stage?"
"It would be 40 or 50 probably, worst f*** in the county, by all accounts."

Continue reading for free
We hope you're enjoying The Week's refreshingly open-minded journalism.
Subscribed to The Week? Register your account with the same email as your subscription.