'Secrecy over Tory MP accused of rape is damaging to democracy'
Your digest of analysis from the British and international press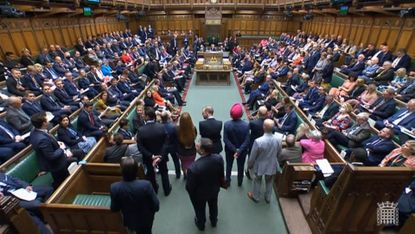 (Image credit: PA Images/Alamy Stock Photo)
1. Identifying an MP arrested for rape: public interest
The Times view on…
on trust in politics
The Times believes it is in the public interest to name the Conservative MP publicly accused of rape and sexual assault this week. The man, in his 50s, has been asked to stay away from the Commons, but has not been suspended. "To be elected a Member of Parliament is to assume public responsibilities, above all representing the interests of constituents," says the newspaper. "Should an MP be unable to play a full role in the parliamentary process, the people who elected him or her have every right to know, and to know why." Voters must be "furnished with the facts" to make informed judgements, on which "representative democracy depends". While it can be argued that arrested suspects should remain anonymous in some cases, it is "unjustifiable that the identity of an MP accused of such serious crimes is known to the government and police but not to the public", continues The Times. "Such secrecy is damaging to democracy and undermines trust in politics."
Subscribe to The Week
Escape your echo chamber. Get the facts behind the news, plus analysis from multiple perspectives.
SUBSCRIBE & SAVE
Sign up for The Week's Free Newsletters
From our morning news briefing to a weekly Good News Newsletter, get the best of The Week delivered directly to your inbox.
From our morning news briefing to a weekly Good News Newsletter, get the best of The Week delivered directly to your inbox.
2. Vladimir Putin is micromanaging his way to military collapse
Robert Service at The Telegraph
on grasping levers
Vladimir Putin has "never made a secret of the fact the war against Ukraine was his personal decision", says Oxford University historian Robert Service at The Telegraph, but recent reports suggest that "military setbacks have sucked Putin into micromanaging the Russian operations". Service says that "Kremlin etiquette with its unsavoury tsarist and communist influences gives him the aura of a dictator", but "like Hitler and Stalin, the Russian president is over-estimating his ability to command". If anyone has underestimated the patriotism of the Ukrainian people it is the Russian president, he adds. As his "hands grasp the levers of Russian military power more tightly", he really will have "nobody to blame but himself" if victory eludes the invaders.
3. Why can't the Left take a joke?
Kathleen Stock at Unherd
on po-faced criticism
Comedian Chris Rock has just finished a brief UK tour in which he observed that "many people are very afraid of offending others these days", writes Kathleen Stock at Unherd. "Presumably some comedians are even more afraid now, having seeing Will Smith slap Rock at the Oscars in March," says Stock. "But even where the po-faced stop short of lamping the smart-arsed, it's widely noted that there's a growing societal intolerance towards offensive comedy." She argues that the "progressive Left has moralised huge swathes of communication, both within comedy and beyond it". Comedians now have one of two choices: "either avoid controversy like the plague or run happily towards it". Stock says: "There's not much in between, and comedy has lost some of its richness because of it."
4. Women already know breastfeeding is good for babies, so stop shaming those who can't
Jessica Barrett at i news
on a feeding frenzy
"The last couple of weeks have thrown up many very strong opinions about formula feeding, often from those who have never even had to make a choice about feeding their baby," says Jessica Barrett for the i news site. A "terrifying" shortage of baby formula in the US due to a temporary closure of a Michigan factory over safety concerns has left families "desperate", while the prices of baby products in the UK are rising, she says. This has led to some suggesting that "women should just 'get lactating' if they want to feed their babies, as if no one had ever thought of that". Barrett says she was left feeling "severe shame" – "not to mention heartbreak" – when she was unable to fully breastfeed her own tongue-tied baby in his first weeks. "The US formula crisis has become yet another way that mothers are being shamed and criticised for extremely personal choices. As if the threat of being unable to get what you need to feed your child wasn't bad enough."
5. Ukraine war causes free speech headache in Italy
Fabrizio Tassinari and Miguel Poiares Maduro for Politico
on balanced media
There has been a "crescendo of problematic cases" on Italian TV since Russia's invasion of Ukraine, write Fabrizio Tassinari, executive director of the School of Transnational Governance at the European University Institute, and Miguel Poiares Maduro, chair of the European Digital Media Observatory, at Politico. Programmes "have hosted Russian 'journalists' or official representatives as guests, side by side with Italian experts holding the opposite positions, arguing with negligible moderation". Yes, "pluralism and free speech are fundamental to democracy", they say. But democracy also "demands evidence-based truth, and confusing the need to guarantee pluralism with that of giving equal credibility and authority to all opinions is a mistake". The requirement for the media to report on both sides should not be confused with the "attribution of equal space and treatment". That would be akin to demanding a programme on the Holocaust "must feature an honored historian debating alongside a Holocaust denier". In Italy, say Tassinari and Maduro, "this false equivalence has come dangerously close to reality".

Continue reading for free
We hope you're enjoying The Week's refreshingly open-minded journalism.
Subscribed to The Week? Register your account with the same email as your subscription.