'The UK's malaise will not end with the Prime Minister's exit'
Your digest of analysis from the British and international press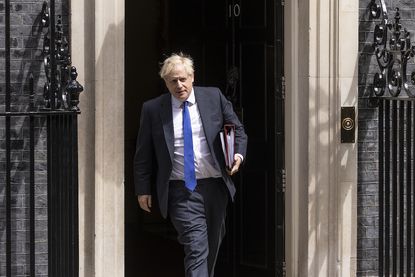 (Image credit: Dan Kitwood/Getty Images)
1. Boris Johnson's departure alone is not enough
The New Statesman
on deeper issues
"The squalor and ineptitude of Boris Johnson's premiership damages not only the Conservative Party but the whole of the United Kingdom," says The New Statesman. No one who took a place in his government "should be surprised that he has been consumed by scandal". His "mendacity has been a constant" and, "as the stakes have grown, so have the lies". But "the UK's malaise will not end with the Prime Minister's exit", says the magazine. The country has suffered a "lost decade", economically and constitutionally. "Far from redressing Britain's democratic defects and deficits, the Conservatives have intensified them." To solve these issues, it will take more than a Tory defeat at the next general election. "Transformative political, constitutional and economic change is urgently required."
Subscribe to The Week
Escape your echo chamber. Get the facts behind the news, plus analysis from multiple perspectives.
SUBSCRIBE & SAVE
Sign up for The Week's Free Newsletters
From our morning news briefing to a weekly Good News Newsletter, get the best of The Week delivered directly to your inbox.
From our morning news briefing to a weekly Good News Newsletter, get the best of The Week delivered directly to your inbox.
2. Union leaders like me don't want to strike, but UK workers are being given no choice
Manuel Cortes in The Guardian
on bold change
"The summer of discontent on our railways is now very much a reality," writes Manuel Cortes, general secretary of the Transport Salaried Staffs' Association trade union, in The Guardian. "With the Conservative government all at sea", he says, industrial action will increase, and the government hasn't got the "faintest notion of how to chart another course". The "growing unrest" will continue, Cortes says, with those in power to blame having "chosen to protect profit rather than working people". He writes that the government is "afraid of intervention" and it is "relying on an economic orthodoxy that will only accelerate and entrench recession". Cortes says "​​we need a bold, interventionist state" and that higher spending and wages could be "easily funded with higher taxes on…huge private profits". He concludes that "a dynamic chancellor and prime minister" could make an immediate difference if they chose to, but they are stuck in an "ideological adherence to the free market".
3. If beef is too expensive, let schoolchildren eat venison
Jamie Blackett in The Telegraph
on thinking imaginatively
A lack of beef available for schoolchildren forces us to "ask whether our confident post-Brexit, can-do society is yet fit for purpose", writes Jamie Blackett in The Telegraph. Media coverage of this "nutritional problem" has "predictably and depressingly" focused on the "financial aspects", adding that it has become "another inflationary rod with which to beat the Treasury". Beckett says the country needs to "rediscover some of the initiative and vigour" of the past and begin "utilising venison" due to a "plague of deer" which are largely unused once culled. "Irrational squeamishness could be educated out of children", he says, in order to put cheaper meats on school menus and he suggests schools could "cut out the middle man and buy meat direct from farmers". Beckett adds "we should acknowledge that food prices could go much higher still", and that a solution to this cost-of-living-fuelled crisis is to approach "school food more imaginatively".
4. Why I didn't want children
Julie Bindel at Unherd
on battling stigma
"Cultured, middle-class parents increasingly see their offspring as projects", writes Julie Bindel at UnHerd. They are led by a "child-centred approach", she says, and "have little or no time for anything that benefits wider society". She adds that she experiences "more stigma for being child-free by choice than I do for being a lesbian". Raising children is a "massive curtailment of freedom", Bindel writes, adding she would rather help "children living in poverty" than raise her own. She says many parents forget having children "is a choice". Seeing how working-class mothers, especially those raising children alone, are faced with a lack of affordable childcare and their lives are "made near-impossible" helped her decide that "that motherhood was not for me". She concludes that it's time to "fight back against the stigma directed at those women who choose not to procreate", and an "expectation" to have children is "rooted in sexism".
5. Lurpak at £9.35, no pet food in Tesco: Congratulations, Leavers, you've got the Brexit you always wanted!
Harriet Wiliamson at The Independent
on misery ahead
"Lurpak, king of butters, has been spotted priced at £9.35 for a one kilo pack in Iceland", laments Harriet Williamson in The Independent. With UK inflation at a 40-year high, "it's clear even to a layperson that something is very wrong here", she writes. Williamson argues that "Brexit has not provided the much-lauded benefits some believed it would" and that as well as its disadvantages it has "turned us into a laughing stock abroad". Brexit has helped cause inflation through "immigration controls and supply chain shortages", she says, adding that the government "are busy imploding" and the opposition can't "grow a backbone" on Brexit. "So now Brexit has come for Lurpak", Williamson writes, "and it's not going to end there". Soaring prices and frozen wages "spell misery ahead for all of us".

Continue reading for free
We hope you're enjoying The Week's refreshingly open-minded journalism.
Subscribed to The Week? Register your account with the same email as your subscription.