'It takes some soul searching to celebrate Canada Day'
Your digest of analysis from the British and international press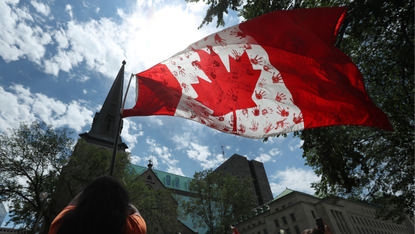 (Image credit: David Kawai/Bloomberg via Getty Images)
1. Striving to once again celebrate Canada Day in good conscience
Jennifer Cole in The Toronto Star
on a poignant reminder
Jennifer Cole requires some "soul searching" to celebrate Canada Day. Writing in the Toronto Star, she explains that her maternal ancestors came from England and Ireland to start a life on First Nations territory in New Brunswick. The holiday is "a poignant reminder of our harmful colonial past, and crimes against humanity not so long ago". That "cannot be denied" after the discovery of unmarked graves of multiple residential schools of First Nations children, she says. The country's first prime minister, John A. Macdonald, "placed economic expansion ahead of cultural sensitivities". Francophone culture "has continued to fight for its identity" and BIPOC populations "have struggled for equality". Cole says that "time alone may not be enough to heal all wounds" but "honouring the past, focusing on the present and future helps". Last year's Canada Day was "a day of national grief". "No one wanted to celebrate a past that took the lives of innocent children." Cole asks: "Will this year be different?"
Subscribe to The Week
Escape your echo chamber. Get the facts behind the news, plus analysis from multiple perspectives.
SUBSCRIBE & SAVE
Sign up for The Week's Free Newsletters
From our morning news briefing to a weekly Good News Newsletter, get the best of The Week delivered directly to your inbox.
From our morning news briefing to a weekly Good News Newsletter, get the best of The Week delivered directly to your inbox.
2. I was followed as I documented Hong Kong protesters, national security laws silence democracy
Danny Vincent at i news
on redrawing red lines
Today marks 25 years since Hong Kong was returned to China from British rule. "There was once a hope that the pro-democracy movement here would influence the development of the mainland," writes Danny Vincent at the i news site: "But today Hong Kong looks increasingly like any other Chinese city." By 2020, "China imposed a draconian national security law", in effect "silencing dissent in what was once one of Asia's freest cities". Modest estimates suggest that "thousands" of national security agents are operating across the city. Shortly after the law was introduced, Vincent "got the distinct feeling" he was being followed. "In today's Hong Kong you can no longer be confident where the red lines are." And with new chief executive John Lee "at the helm the space for dissent will continue to shrink". The last two years have seen changes "more drastic than even the handover" itself, he says.
3. Harvard must fall
Ayaan Hirsi Ali at UnHerd
on educational failings
"What is the point of university?" asks Ayaan Hirsi Ali at UnHerd. When Harvard was founded in 1636, it was "'to advance learning and perpetuate it to posterity'". Now, it's "taken on an altogether narrower character", she says. "Learning is no longer enough. Activism is demanded." This writer thinks "Yale and Harvard have come to resemble the mythical Ouroboros, eating their own tails to satisfy an insatiable appetite for conformity". And while "it's clear these institutions are still in high demand", that "doesn't mean they are fulfilling their function". If universities in the past "made promises to teach their undergraduates how to think, they now aim to teach them what to think". Hirsi Ali recently taught classes at the new University of Austin, and these students – "many… hailed from established institutions" – were "hungry for knowledge". But it became apparent "that the elite educational institutions are doing the next generation a fundamental disservice". We need to "found new universities", she says. "Let's not forget: even Harvard was a start-up once."
4. Energy rationing is inevitable without a fundamental rethink of net zero
David Frost in The Telegraph
on power plans
Business and Energy Secretary Kwasi Kwarteng says there will be an announcement on fracking made next week. "That will be an important decision," writes David Frost, the former government Brexit negotiator, in The Telegraph, "but it is only part of the picture." There is nothing "more vital" to our economy than "copious supplies of energy", but "neither we nor the EU have an energy policy that can actually deliver it". We need a "rethink", he says. "Without that, all ministers do is put in place increasingly complex and expensive palliatives until, in due course, they are overwhelmed by events." Frost says that the government "must realise that it faces a crisis". He thinks "we will muddle along, and then, one day soon, when we realise we don't have the energy our economy needs, whoever is in power then will resort to rationing". Frost says that "we need to change tack now". Without affordable energy, an advanced economy "will not stay advanced for long".
5. Against the binary: finding refuge in alternative education
Yas Necati at Gal-Dem
on education for all
"I hadn't really figured out my own gender when I was at college, and honestly that's still a journey I'm on," writes Yas Necati at gal-dem. "The only-out trans person in my English class hardly ever showed up to it", they write. "We were two of likely more people trying to navigate an education system that was built by and for straight, white, cis people." To them, The Wasp Factory by Iain Banks – which details a character on hormone replacement drugs killing animals and children – "was a fascinating intellectual conversation starter about masculinity. To us, this book was violence in a place we had always been told was supposed to be safe." Necati says the "traditional western education system hurts many of us" but they are "still in love with learning". This writer is "trying to seek out spaces" where they can learn with others. "Maybe one day, what is now considered 'alternative' education will be something all kids get to do from a young age."

Continue reading for free
We hope you're enjoying The Week's refreshingly open-minded journalism.
Subscribed to The Week? Register your account with the same email as your subscription.