'Cost-of-children crisis': the mounting expenses of parenthood
Analysis shows that one in five UK households with children are in 'serious financial difficulty'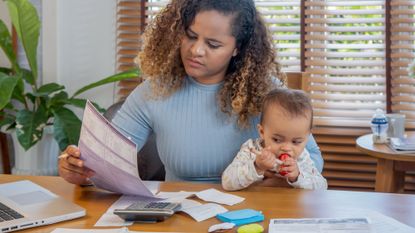 (Image credit: Getty Images/athima tongloom)
Parents across the UK are facing a "cost-of-children crisis" as families are hit especially hard by high inflation, a leading charity has warning.
An analysis by Action for Children of data from a survey of more than 5,000 UK households in May found that one in five homes with children were in "serious financial difficulty".
Households with children were three times more likely to be behind on bills or debt repayments, and twice as likely to be in rent or mortgage arrears, compared with households without children.
Subscribe to The Week
Escape your echo chamber. Get the facts behind the news, plus analysis from multiple perspectives.
SUBSCRIBE & SAVE
Sign up for The Week's Free Newsletters
From our morning news briefing to a weekly Good News Newsletter, get the best of The Week delivered directly to your inbox.
From our morning news briefing to a weekly Good News Newsletter, get the best of The Week delivered directly to your inbox.
"With more mouths to feed, clothes to wash, rooms to heat and typically fewer savings, families with children are especially vulnerable to financial shocks," said the charity's chief executive, Paul Carberry.
According to digital wealth manager Moneyfarm, the cost of raising a child to adulthood has increased by 10% over the past year, to £223,256 – more than £12,000 annually.
Here are some of the main costs of parenting, plus some less obvious expenses.
Nappies
Babies can "go through" around eight to ten nappies per day, said Nuby. And with the average cost of a disposable nappy standing at 14.6 pence as of the start of this year, that works out at around £11.20 per month.
Switching to reusable nappies can make a "really big difference" to your budget, said MoneyHelper. Some parents may be "squeamish" about using cloth nappies, the site added, but over the first "two and a half years", on average, before babies are potty trained, opting for reusables over disposables can save more than £1,500, plus "you can sell on your reusables and make money back".
Rising formula milk prices
According to Which?, the price of formula milk increased by 12.3%, on average, in the year up to May.
The consumer group pointed to the "costs of production, storing and transport" as key reasons for the rise. World Health Organization guidelines also ban in-store or online promotions of infant formula, to "protect both breastfeeding and safe and appropriate formula feeding by holding formula companies accountable for their marketing practices".
An analysis by the Food Foundation earlier this year found that the price of a tin of standard powdered formula ranged from £9.39 to £15.95 at major supermarkets. The charity called for supermarkets to offer own-brand formula and urged manufacturers and retailers to "insulate" infant milk formula from "the worst of food price inflation".
Kids' parties
The costs involved in celebrating children's birthdays and other special events can "quickly add up" to hundreds of pounds, personal finance expert Laura Howard told Yahoo!, "from hiring venues to providing entertainment, party bags and catering".
And "buying gifts for the umpteen parties your child is likely to get invited to" can be another major expense, said the site, which advised parents to cut costs by taking advantage of sales or regifting unused and unwanted presents.
Education
A state primary or secondary school may be "free at the point of access", said the Child Poverty Action Group, but as of 2022, the cost of uniforms, learning materials, school trips, packed lunch and transport typically set parents back around £39 per week per secondary school child, and almost £10 per primary child.
Sick days
Getting a phone call from nursery or school "to say your child is unwell is what every parent dreads when they're at work", Yahoo! said, and leave taken off while the child recovers "could end up being unpaid".
Although there is a statutory right to unpaid leave to look after a dependant in an emergency, said Working Families, "there is no right to be paid".
"You can agree with your employer to make up lost time," the charity added, "but your employer should not require you to do so." But if a child is ill for a long period, "it may be worth checking if your employer has a flexible working policy", to allow you to continue earning.
How to save on childcare costs
The government pays child benefit to parents as a way of "acknowledging the costs involved in raising a child", said MoneySavingExpert.
The payment is currently worth £21.80 a week for the first child and £14.45 a week for any subsequent children. But only one parent or person responsible for the child gets the benefit, and the full amount is only paid to people who earn up to £50,000 per year. People who earn above this threshold have to pay a "high-income child benefit charge".
If a parent's income goes above £60,000, the extra paid in tax will "cancel out what you get in child benefit", said Citizens Advice. "But it might still be worth claiming if one of you isn't working."
One of the "best ways" to cut your childcare costs, said MoneyWeek, is with the government's tax-free childcare scheme. Parents can get up to £2,000 a year from the government by opening and paying into a tax-free childcare account with HMRC. For every £8 paid into the account, the government adds £2, up to the annual threshold.
Low-income families with young children can also get help to pay for essential items such as milk, vegetables and fruit using Healthy Start vouchers. You can check whether you are eligible, and apply, on the NHS website.
Financial support is available for childcare costs too.
All children aged three and four in England can get up to 15 hours of free childcare per week at a nursery or childminder for 38 weeks of the year. This rises to 30 hours of free childcare per week for working parents, unless one parent earns more than £100,000 a year.
Universal Credit claimants can also claim up to 85% of eligible childcare costs up to a maximum of £646 a month for one child, and a maximum of £1,108 a month for two or more children. You can apply via the gov.uk website and can make a claim up to three months in advance.
Children of parents on certain benefits such as universal credit or pension credit may also qualify for free school meals, as well as breakfast club support.

Continue reading for free
We hope you're enjoying The Week's refreshingly open-minded journalism.
Subscribed to The Week? Register your account with the same email as your subscription.