5 tips to navigate the high costs of child care
A few tweaks could offer some much-needed financial relief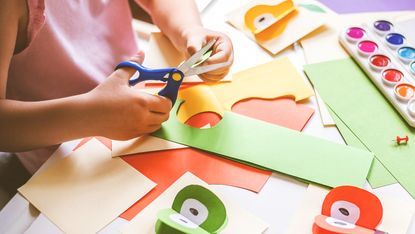 (Image credit: Evgeniia Siiankovskaia / Getty Images)
If you already have one or more kids in child care, it's likely not news that it's an expense that's getting even more expensive. Roughly two-thirds of parents have reported spending 20% or more of their household income on child care, marking a notable increase from the 51% that reported that rate of spending in 2022, CBNC reported based on an annual report from Care.com.
This reality can leave many parents stuck between a rock and a hard place, as child care is often a non-negotiable expenditure. If you're in that situation, here are some tips to consider to help you better afford the child care help you need.
1. See if your employer offers assistance
One possible avenue towards child care savings is your employer. According to Bankrate, "some employers offer child care assistance as an added benefit for their employees." And even if this specific benefit isn't offered, other benefits you may have previously overlooked like "educational assistance, pre-tax transportation plans, adoption assistance and gym memberships (some offer child care) are all ways you can cut costs," noted What to Expect.
Subscribe to The Week
Escape your echo chamber. Get the facts behind the news, plus analysis from multiple perspectives.
SUBSCRIBE & SAVE
Sign up for The Week's Free Newsletters
From our morning news briefing to a weekly Good News Newsletter, get the best of The Week delivered directly to your inbox.
From our morning news briefing to a weekly Good News Newsletter, get the best of The Week delivered directly to your inbox.
Reach out to your HR representative to learn what options are available, or pull out your employee benefits package for a review.
2. Tap your (DC)FSA or a tax credit
As CNBC explained, often employers will offer a child care FSA or dependent care FSA (DCFSA), which "typically allows you to set aside up to $5,000 per year using pretax dollars from your paycheck." You could use those funds to reimburse a portion of your child care costs.
Just know that if you take advantage of a DCFSA, you can't then also claim the child care tax credit, another cost-cutting option at your disposal. As Money Crashers explained it, the child care tax credit "returns a percentage of your child care expenses, depending on your income, with a cap of $3,000 per qualifying child ($6,000 for two or more children)."
As such, you might want to "speak with an accountant before opening a DCFSA, especially if you have more than one qualifying child, to determine which option makes the most sense for you," Money Crashers advised.
3. Get into the nitty gritty of your budget
You may think you've already stretched your budget as tight as it can get, but on further review, there are almost always new opportunities to cut back that you can identify. You can then use those extra funds you find to help with covering child care.
And if you don't already have a budget, creating a plan is essential to making your money work harder for you. As What to Expect contended, "if you create a family budget to reduce expenses (and stick to it), you'll come out ahead." Plus, by mapping everything out, there's the added bonus of realizing that child care costs are usually on a "fixed timeline," which "can help alleviate the pain of reducing your expenses," pointed out What to Expect.
4. See if you can secure a discount
Per Bankrate, "many child care providers will offer a discount for additional children after your first." If you're dropping off more than one kid at the same daycare and not already receiving a discount, it's worth talking to your provider to see if they might be able to work with you.
Similarly, you might look into pooling resources with other families that you know through work or, your neighborhood, or your local playground. As Bankrate noted, "sharing one care provider may be less costly than hiring a private nanny to watch over your children."
5. Reassess your work schedule
While the prospect of rearranging your work schedule may seem daunting, it could offer some much-needed relief. For instance, you might approach your employer about working from home one or more days per week or going part-time, given that "some day care centers charge by the day instead of the week," according to Ramsey Solutions.
Or, if you have a co-parent, you might attempt to coordinate your schedules to better stagger your availability to take care of the kids and cut down on the amount of time you need to rely on outside childcare. You might even explore this option with a family member, adjusting your work schedule around their availability to help out.

Continue reading for free
We hope you're enjoying The Week's refreshingly open-minded journalism.
Subscribed to The Week? Register your account with the same email as your subscription.