What you need to know about investing in bonds
From the fundamentals to the drawbacks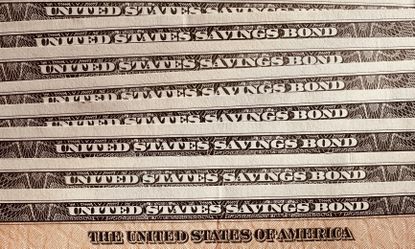 (Image credit: Douglas Rissing / Getty Images)
While bond returns "hovered near zero" for years, the recent series of interest rate hikes from the Federal Reserve has "spurred a great return of yield in the bond market," The Wall Street Journal reported in early October. Now, "the 10-year U.S. government bond, or Treasury, is yielding a high of 4.5%."
Many investors are capitalizing on these yields, and Treasuries sales have tripled since 2021, the Journal reported. Yet many others continue to "steer clear of bonds because they are more confusing than putting money in a bank certificate of deposit or a high-yield savings account." If this sounds like you, you're missing out on a potential investment opportunity.
What are bonds, and how exactly do they work?
A bond is "simply a loan taken out by a company," wrote Investopedia, where "instead of going to a bank, the company gets the money from investors who buy its bonds." The investor then earns "a certain amount of interest over a specified time frame" in exchange for the loan. At the end of that time frame, which is known as the bond's maturity date, the investor gets back the money they lent, explained Bankrate.
Subscribe to The Week
Escape your echo chamber. Get the facts behind the news, plus analysis from multiple perspectives.
SUBSCRIBE & SAVE
Sign up for The Week's Free Newsletters
From our morning news briefing to a weekly Good News Newsletter, get the best of The Week delivered directly to your inbox.
From our morning news briefing to a weekly Good News Newsletter, get the best of The Week delivered directly to your inbox.
Beyond these basics, however, there are a number of nuances that make one bond different from another. For starters, there are many different types of bonds, like corporate bonds issued by companies and municipal bonds extended by local governments. Treasuries, which are considered the safest of bonds, are issued by the federal government.
The payments on a bond can also be either fixed rate or floating rate. With a fixed-rate bond, "the issuer agrees to pay a specified amount of interest," Bankrate explained. With floating rate bonds, "the payment adjusts higher or lower in accord with the prevailing interest rate."
Why invest in bonds?
According to Vanguard, bonds "give you two potential benefits when you hold them as part of your portfolio: They give you a stream of income, and they offset some of the volatility you might see from owning stocks." With bonds, you can anticipate fixed payments of interest at set times throughout the year, often twice annually. Plus, compared to stock prices, "bond values don't fluctuate as much," per The Motley Fool.
Another benefit of bonds is added diversification of your portfolio. As The Motley Fool explained, "Over the long run, stocks have outperformed bonds, but having a mix of both reduces your financial risk." This is why "investors tend to allocate a greater percentage of their funds to bonds as they get older and want to trade growth for safety."
Are there any downsides to investing in bonds?
Every investment has its downsides, and it's important to know what those are for before you go all in. With bonds, you'll need to commit to locking up some money for a certain period of time. The "return on investment you'll get from bonds" is also "substantially lower than what you'll get with stocks," The Motley Fool noted.
And while uncommon, there is always the risk that the issuer could default on its obligations, in which case you'd "risk losing out on interest payments, getting your principal repaid, or both," the outlet added. "Unlike CDs where principal is guaranteed by the FDIC," Bankrate noted, "a company or government can default" on a bond.
How can you buy bonds?
If bonds sound like an intriguing addition to your portfolio, you can buy them through a brokerage or directly from the government website TreasuryDirect.
One thing to be aware of is that, with bonds, you're often not buying directly from the issuer. As the Journal explained, you are instead "buying from another investor and the price of that bond has shifted since it was initially issued." This is why using a brokerage can be helpful, as "their sites will take the guesswork out of how much the change in the market price of your bond will affect your final return."

Continue reading for free
We hope you're enjoying The Week's refreshingly open-minded journalism.
Subscribed to The Week? Register your account with the same email as your subscription.