Migrants' dangerous journey across the Darién Gap
Record numbers of U.S.-bound migrants are trekking through this remote jungle. Many don't survive the trip.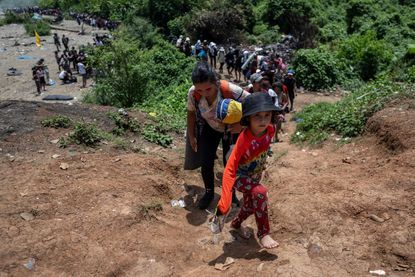 (Image credit: Luis Acosta / AFP via Getty Images)
Record numbers of U.S.-bound migrants are trekking through this remote jungle. Many don't survive the journey. Here's everything you need to know:
What is the Darién Gap?
A 66-mile-long stretch of dense, mountainous jungle on the border between Colombia and Panama, the Darién Gap is the only land path connecting South and Central America. This roadless region has become a major transit route for migrants heading to the U.S. in recent years, a result of rising turmoil in Venezuela, Haiti, and Ecuador, and tougher visa rules that stop migrants flying north to Mexico and other countries. More than 360,000 people — including some 60,000 children — have walked the gap so far this year, shattering the record 250,000 who made the journey in 2022. Last year's number was almost double that of 2021, and 20 times higher than the annual average from 2010 to 2020. Scrambling through rainforests and swamps, migrants face natural hazards — mudslides, raging rivers, poisonous snakes, sweltering temperatures — and human ones, including gangs that use rape and other violence to extort money. The United Nations recorded at least 36 deaths in the jungle last year, but it says the true toll is likely far higher. "This is a nightmare with 1,001 demons," said Oscar, a 40-year-old Colombian who spent two weeks lost in the gap. "I saw a child get dragged down the river when he let go of his parents' hands. I have seen dead bodies, drowned, four of them. I have smelled corpses decomposing in the ravine."
Where does the trail begin?
Many migrants set off from the Colombian seaside town of Necoclí, taking boats across the Gulf of Urabá to the town of Acandí, the gateway to the jungle. From there, they start walking. In the dry season, the trek can take four to seven days; in the nine-month rainy season, when rivers swell and mountain trails turn into muddy morasses, the hike can take 10 days or more. Migrants can pay the cartels that control the region for porters: $20 to haul a bag uphill, $100 to carry a child. Those who slip and break bones and are unable to pay for help are often left to die in the forest. "It is a route where nobody waits," said Angel, a 19-year-old Venezuelan. "You see people sitting down, injured, who might have been there for days, waiting for death." But money is no guarantee of safety. Rosmary Gonzales lost her husband and 4-year-old son while crossing the gap's most menacing body of water, known as Death River. Her $3,000 guide wouldn't wait for the waters to calm. "A Haitian saved my life," she said, "but it would have been better to let me die. I feel dead in life."
Subscribe to The Week
Escape your echo chamber. Get the facts behind the news, plus analysis from multiple perspectives.
SUBSCRIBE & SAVE
Sign up for The Week's Free Newsletters
From our morning news briefing to a weekly Good News Newsletter, get the best of The Week delivered directly to your inbox.
From our morning news briefing to a weekly Good News Newsletter, get the best of The Week delivered directly to your inbox.
Who's profiting from the traffic?
The rise in migration has been a boom for impoverished local communities. "This is a beautiful economy," said Fredy Marín of Necoclí, whose boat company ferries thousands of migrants across the gulf every month, charging $40 a person. He is now running for Necoclí mayor and has pledged to protect the migration industry. In Acandí, elected members of the community board have launched a nonprofit, the New Light Darién Foundation, that manages the route to the Panamanian border and charges at least $170 for a guide and security. The Gaitanist Self-Defense Forces, a Colombian drug-trafficking group that controls the area where the route begins, supervises the whole operation. At rest camps along the trail, cartel-approved vendors sell water, Gatorade, and ice cream at steep markups. On the Panamanian side of the border, Indigenous groups charge $25 a head to ferry migrants along a river. "This is definitely big business," said a senior U.S. State Department official, "but it is a business that has no thought toward safety."
Has Colombia tried to stop the trafficking?
In April, Colombia signed a pact with the U.S. and Panama to "end the illicit movement of people" through the gap. But leftist Colombian President Gustavo Petro has since said he has no plan to send "horses and whips" to the border, insisting that U.S. sanctions against the regime of Venezuelan dictator Nicolás Maduro are the main driver of the migrant crisis. But even if Petro wanted to take action, his government has limited influence in the territory around the gap, where the Gaitanist group is the key player. Members of the national police have been spotted fist-bumping men who sell overpriced travel packages to cross the jungle, and the region's top police official, Col. William Zubieta, said it's not his responsibility to stop migrants and that Colombia's migration authorities should be exerting control. "Unfortunately," he said, "they do not have it."
What is Panama doing?
Under pressure from the U.S., Panama announced last month that it would increase deportations while also building more facilities in the border area where migrants can be held and registered. Previously, Panamanian authorities had mainly addressed the crisis by busing migrants across the country to the border with Costa Rica — a step closer to the U.S. But such efforts seem unlikely to significantly reduce the flow of people. Experts warn that if the Darién Gap were sealed off, it would only push migrants toward even riskier paths. Seventeen Haitians, including a child, died last year after their overloaded speed boat capsized off the Bahamas on the way to Florida. "When people are fleeing for their lives and there is no opportunity to seek safety," said Blaine Bookey, legal director at the U.S. Center for Gender and Refugee Studies, "they will find a way."
Sightseeing amid a migrant crisis
For migrants, the Darién Gap is a nightmare to be survived. But for some people, it's a vacation destination. Adventure tourists lured by the region's waterfalls, pristine forests, and wealth of unique species occasionally encounter migrants making the arduous journey north. Venezuelan migrant Franca Ramirez said he was scrambling uphill to escape a surging river when he noticed a group of men taking photographs of the jungle. "I asked if they were migrants," Ramirez said. "They said no, that they were creating content and sightseeing." German tour agency Wandermut runs a 10-day jungle tour that costs some $3,790, plus the cost of flights to Panama, and includes insurance for a helicopter airlift in case of injury. Such rescues are not available to migrants. "We migrants have to fight against all the risks without any kind of help," said Kisbel Garcia, a Venezuelan who paid more than $4,000 for a guide to lead her family; the guide deserted them after two days. "The Darién," Garcia said, "is hell."
This article was first published in the latest issue of The Week magazine. If you want to read more like it, you can try six risk-free issues of the magazine here.

Continue reading for free
We hope you're enjoying The Week's refreshingly open-minded journalism.
Subscribed to The Week? Register your account with the same email as your subscription.