Why is the government on the brink of a shutdown?
GOP infighting is bringing the country to a standstill, but even Republicans aren't entirely sure why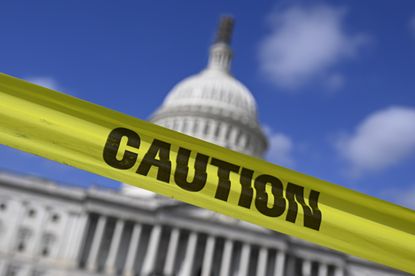 (Image credit: Celal Gunes / Anadolu Agency via Getty Images)
It's been nearly five years since hundreds of thousands of federal employees were furloughed for more than a month in what eventually became the longest government shutdown in United States history. That extended closure — the second of then-President Donald Trump's time in office — was ostensibly predicated on an extended fight over funding the administration's long-promised border wall between the United States and Mexico, and only ended after Trump relented from his hardline stance and allowed congressional budget negotiations to resume, bringing to a close what Sen. Jon Tester (D-Mt.) dubbed "the most stupid shutdown I've ever seen in my life."
Now, as the country hurtles headlong into another looming shutdown, that description will be put to the test, thanks to the ongoing internecine squabbles between congressional Republicans which have propelled the government once more toward the edge of a fiscal cliff. If a stopgap appropriations bill isn't passed by the House before Sept. 30, everything from student loans to food and housing assistance could be affected, and tens of thousands of federal workers will once again be furloughed, or asked to work without assurances of when their next paycheck will arrive. As with all government shutdowns, the stakes are high both politically, and for ordinary Americans who rely on various federal services in their day-to-day lives.
So what, exactly, is behind this latest impasse and why are so many lawmakers particularly frustrated with the threat of a looming government closure?
Subscribe to The Week
Escape your echo chamber. Get the facts behind the news, plus analysis from multiple perspectives.
SUBSCRIBE & SAVE
Sign up for The Week's Free Newsletters
From our morning news briefing to a weekly Good News Newsletter, get the best of The Week delivered directly to your inbox.
From our morning news briefing to a weekly Good News Newsletter, get the best of The Week delivered directly to your inbox.
What the commentators said
This could be the "first-ever shutdown about nothing," right-wing American Enterprise Institute economic policy studies director Michael Strain told The Washington Post. Dubbing this "the 'Seinfeld' shutdown," Strain added that House Republicans don't seem to "have any demands" that can be negotiated, as in the past. "What is it that they're going to shut the government down for? We simply don't know."
Pushing the government toward a shutdown is more about "creating drama, publicity and campaign fundraising for certain lawmakers than it is about seriously reducing the deficit," agreed University of Virginia public policy professor Raymond Scheppach for The Conversation.
Earlier this month GOP hardliners rejected a budget proposal from House Speaker Kevin McCarthy (D-Calif.) that "called for cutting domestic agencies' budgets by 8% and imposing a flurry of immigration restrictions, including reviving construction of former President Donald Trump's border wall," Bloomberg reported. Despite the fact that such extreme measures would be dead on arrival in the Democrat-held Senate and White House, it was "deemed insufficient" by the rightmost wing of the GOP. "With a narrow majority, McCarthy can afford only four defections. By Sept. 19, there appeared to be at least 15."
House hardliners said they "will not" take up a Senate bill to fund the government through Nov. 17, according to Reuters, which pointed out that the Senate bill has "broad bipartisan support, including that of top Senate Republican Mitch McConnell." Rather, the GOP holdouts are fighting over a "relatively small slice of the $6.4 trillion U.S. budget for this fiscal year," the news agency continued, highlighting their demands for "another $120 billion in cuts plus tougher legislation that would stop the flow of immigrants at the U.S. border with Mexico."
But with Republicans busy fighting amongst themselves over which cuts to prioritize and how, Senate Democrats — and Republicans to a degree as well — have "declined to offer concessions, because they don't know which ones would suffice," the Post concluded.
What next?
With just hours to go before the funding deadline, "it's becoming harder by the minute" to see lawmakers making it to "any of the potential off-ramps" that might avert the looming shutdown, Politico reported, concluding "THE BOTTOM LINE: A shutdown is coming."
If and when that happens, it's the "wrong time for Republicans to take a stand on reducing the deficit," Prof. Scheppach said, noting both that the cuts being haggled over are too small to have a long term impact, and that "the public blamed Republicans for [past] shutdowns, polls show." Some conservative lawmakers are already bracing for that seeming inevitability, with Rep. Mike Simpson (R-Idaho) complaining earlier this month to Politico that "we always get the blame. Name one time that we've shut the government down and we haven't got the blame."

Continue reading for free
We hope you're enjoying The Week's refreshingly open-minded journalism.
Subscribed to The Week? Register your account with the same email as your subscription.