Jamie's Comfort Food: a recipe for world domination
Forget 15-minute meals and school health drives. Jamie's Comfort Food is all about guilty pleasures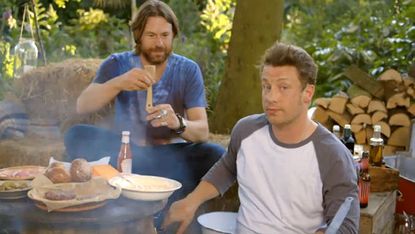 (Image credit: Channel 4)
Jamie Oliver is back, and this time things are different.
His shtick is the same – he's just as casual, just as passionate, still the boy-expert who wears his knowledge lightly – but the food is not his usual fare.
Having shamed the Turkey Twizzler out of existence and urged us to make ourselves quick, nutritious meals, whatever the constraints of time or money, now he's giving us a little of what we fancy.
Subscribe to The Week
Escape your echo chamber. Get the facts behind the news, plus analysis from multiple perspectives.
SUBSCRIBE & SAVE
Sign up for The Week's Free Newsletters
From our morning news briefing to a weekly Good News Newsletter, get the best of The Week delivered directly to your inbox.
From our morning news briefing to a weekly Good News Newsletter, get the best of The Week delivered directly to your inbox.
"These are recipes made to make you happy," he says, introducing Jamie's Comfort Food, which started last night on Channel 4. "Once in a while we all deserve a treat."
If that's the philosophy he lives by, it seems to have treated him well. He barely seems older than when he arrived on TV, an improbable 17 years ago.
But look closely and you see that the Naked Chef, if not quite ready for pipe and slippers, is settling into something more comfortable.
No longer zipping around London on a scooter, he spends this series relaxing in the grounds of his Essex estate. Soft-focus lenses, golden evening light and a set strewn with straw bales add to the air of pastoral fulfilment.
And so does the food, which is sumptuously filmed – and ruinously indulgent.
Pavlova filled with homemade marshmallow, macaroni cheese enriched with lobster, and the ultimate barbecued burger stacked with bacon, cheese and iceberg lettuce drenched in mayonnaise, ketchup, tabasco and bourbon… If Oliver's previous philosophy was to take something complex and simplify it, in this series he takes simple things and adds complexity.
The results look delicious, but so they should. It's not hard to get flavour out of old favourites larded with high-calorie treats.
Perhaps he had a particular audience in mind. He was joined last night by an American friend, whose nationality may be more than mere coincidence.
For Oliver is just about to embark on what the New York Post calls a "second US invasion", after his last American TV project floundered. He had sought access to Los Angeles schools in order to give their catering arrangements the once-over, but the city authorities, apparently thinking discretion the better part of valour, denied him permission.
His next attempt to conquer the valuable US market will be less dependent on the approval of others. Instead of trying to win over TV executives, Oliver will go it alone on YouTube, where he is building a substantial social media empire.
Food Tube, as his collection of online videos is known, now has more than a million subscribers, making it one of the biggest food channels on the network.
Even so, that's not enough for Oliver. "I believe it has the capacity to make a difference to more than a billion people," he told The Guardian earlier this summer.
The reason he wants to reach such a formidable audience (apart, no doubt, from raking in advertisers' cash) is to help out the first-time cook who turns to Google for recipe advice.
"When Billy from wherever who's never cooked before and is on a budget and has two kids and types in that he wants to make a soup or a curry, what comes up in the first 20 or 30 hits is a load of shit," he says. "What's the quality control? There isn't any."
If, instead, Billy happens upon Food Tube, he will find well tested, thoroughly researched meals, Oliver says.
"Every one of my recipes is tested six times in the business and twice outside the business so I know my quality control is high," he says. And nutrition can be improved too: "Just by being clever you can make all the recipes 10 per cent lower in salt, that's easily done, 20 per cent, that's easily done."
It is, in short, yet another front in his battle to make us care about what we eat. But first he needs to build an audience, and that's more easily done with a spoonful of sugar – and a bacon cheesesburger.
Jamie's Comfort Food continues on Channel 4 at 8pm
Holden Frith tweets at twitter.com/holdenfrith

Continue reading for free
We hope you're enjoying The Week's refreshingly open-minded journalism.
Subscribed to The Week? Register your account with the same email as your subscription.