10 things you need to know today: December 18, 2021
Appeals court reinstates Biden's employer vaccine mandate, Russian diplomat says NATO is 'balancing on the edge of war,' and more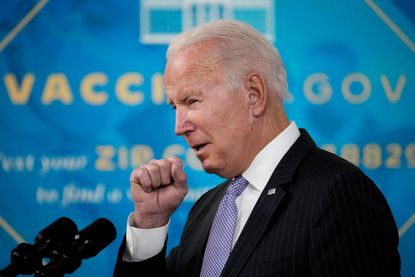 (Image credit: Drew Angerer/Getty Images)
1. Appeals court reinstates Biden's employer vaccine mandate
A federal appeals court panel voted 2-1 Friday to allow President Biden's employer vaccine mandate to take effect, overturning the decision of a federal court that blocked the mandate last month. Under the Biden administration's rules, which are set to take effect in January, businesses with 100 or more employees would have to require those employees to present either proof of vaccination or weekly negative COVID tests. Employers who refuse to comply could be fined more than $13,000 per violation. The plaintiffs — a mix of Republican state attorneys general, conservative advocacy groups, and business owners — immediately made an emergency appeal to the U.S. Supreme Court.
The Wall Street Journal The Associated Press
2. Russian diplomat: NATO is 'balancing on the edge of war'
Russian Deputy Foreign Minister Sergei Ryabkov said Saturday that NATO is "balancing on the edge of war," and that if the alliance does not accede to Russian demands, his country will employ whatever "ways, means, and solutions" are "needed to ensure our security." These statements come one day after Russia submitted two draft treaties for NATO's consideration. These treaties demand binding guarantees that Ukraine and Georgia will not be admitted to NATO and that the alliance will curtail its military deployments in Eastern Europe. NATO is unlikely to agree to these terms. Around 95,000 Russian troops are massed on the Ukrainian border, and many intelligence analysts believe an invasion is immanent.
Subscribe to The Week
Escape your echo chamber. Get the facts behind the news, plus analysis from multiple perspectives.
SUBSCRIBE & SAVE
Sign up for The Week's Free Newsletters
From our morning news briefing to a weekly Good News Newsletter, get the best of The Week delivered directly to your inbox.
From our morning news briefing to a weekly Good News Newsletter, get the best of The Week delivered directly to your inbox.
3. Pfizer says pandemic could continue until 2024
Pharmaceutical giant Pfizer predicted Friday that the COVID-19 pandemic may not end until 2024. In a presentation to investors, Pfizer Chief Scientific Officer Mikael Dolsten explained the company "expects some regions to continue to see pandemic levels of COVID-19 cases over the next year or two." Meanwhile, he said, other countries might simultaneously experience COVID on more of an "endemic" level, with "low, manageable caseloads." By 2024, however, COVID-19 should be endemic globally, Pfizer forecasted.
4. At least 31 dead after typhoon strikes Philippines
A typhoon ravaged the central Philippines Thursday and Friday, killing at least 31 people and causing massive property damage. Winds gusted as high as 168 mph, making Typhoon Rai one of the most powerful typhoons to hit the Philippines in recent years. Arlene Bag-ao, governor of the hard-hit Dinagat Islands, said that her province's main island had been "leveled to the ground," leaving its 180,000 inhabitants desperate for shelter, clean water, and other necessities. She also said she expects the death toll to increase as emergency responders reach more of the island's isolated towns and villages.
5. TikTok trend warning of school violence prompts several districts to close
At least six districts in states ranging from New York to Montana closed schools Friday in response to a viral TikTok trend that warned of widespread school violence. In one Utah district that canceled classes, officials suggested the trend, known as "National Shoot up Your School Day," may have started as an attempt by students to get a day off school. On Friday, TikTok said they had found no content actively promoting school violence, only videos expressing concerns about the possibility of school violence. "We're working to remove alarmist warnings," TikTok posted on its official Twitter account. "If we did find promotion of violence on our platform, we'd remove and report it to law enforcement."
6. Defense rests in Epstein associate's trial as Maxwell declines to testify
The defense rested Friday in the high-profile sex trafficking case of Ghislaine Maxwell, a British socialite accused of grooming young women to be sexually abused by her former associate Jeffrey Epstein. Maxwell declined to testify, but she did make a brief statement, telling the judge that "the government has not proven the case beyond a reasonable doubt, and so there is no need for me to testify." Maxwell's defense attorneys have attempted to poke holes in her accusers' stories and to insinuate that, because all four of them received large sums of money from the Epstein Victims' Compensation Program, their testimony cannot be trusted.
The Wall Street Journal Reuters
7. California lawmakers prepare legislation to end out-of-pocket abortion costs
California lawmakers are preparing themselves for a nationwide hit to abortion rights by reintroducing a bill that would eliminate copays for abortion services. In the session beginning in January, legislators hope to move forward S.B. 245, "which would put an end to out-of-pocket costs paid by those seeking abortions that on average range from $300 for a medication abortion to nearly $900 for a procedural abortion." On Thursday, the Food and Drug Administration lifted certain restrictions on the home delivery and telehealth prescription of abortion pills, which are authorized until the 10th week of pregnancy.
The Los Angeles Times The Week
8. At least 24 dead in suspected arson attack on Japanese medical clinic
At least 24 are dead after a medical clinic in the Japanese city of Osaka caught fire on Friday in "one of the deadliest blazes in Japan in about two decades." The fire broke out around 10:30 a.m. local time and was brought under control within 30 minutes. Rescue teams brought 27 people to the hospital, and three were temporarily revived, though it is unclear whether they survived. 24 others died. The blaze reportedly began in a psychiatric care clinic on the building's fourth floor. Police have not ruled out arson. Their main suspect, who was seen holding a paper bag leaking some sort of liquid, was in critical condition as of Friday evening.
9. Harris gets heated after Charlamagne Tha God asks who the 'real' president is
Vice President Kamala Harris responded forcefully after TV and radio personality Charlamagne Tha God asked her if President Biden is the 'real' president. "I want to know who the real president of this country is — is it Joe Biden, or Joe Manchin?" Charlamagne — whose real name is Lenard McElvey — asked Harris during her Friday appearance on his Comedy Central show, Tha God's Honest Truth. "It's Joe Biden — and don't start talking like a Republican!" Harris shot back. "It's Joe Biden. And I'm vice president, and my name is Kamala Harris." Charlemagne responded that this fiery version of Harris is "the one I like."
10. Spider-Man: No Way Home is off to a 'monumental' start at the box office
After Friday's box office performance, the highly anticipated Marvel film Spider-Man: No Way Home is on track to make more than $220 million by the end of the weekend. This not only blows away the record for biggest opening weekend since the pandemic began, but could even nab it a spot as one of the four largest opening weekends ever. The film has also raked in over $110 million overseas.
The Hollywood Reporter Deadline

Continue reading for free
We hope you're enjoying The Week's refreshingly open-minded journalism.
Subscribed to The Week? Register your account with the same email as your subscription.