10 things you need to know today: December 26, 2021
Desmond Tutu dead at 90, airlines cancel thousands of Christmas flights, and more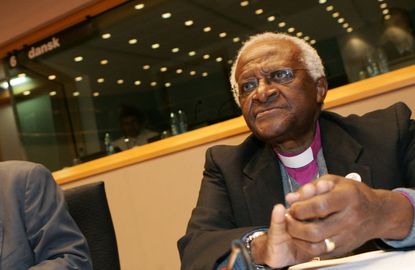 (Image credit: JOHN THYS/AFP via Getty Images)
1. Desmond Tutu dead at 90
Desmond Tutu — the South African civil rights campaigner, Nobel Peace Prize recipient, and retired Anglican archbishop — died Sunday in Cape Town at the age of 90. Tutu was awarded the Nobel Peace Prize in 1984 for his nonviolent activism in the anti-apartheid movement. Tutu served from 1996 until 1998 as chairman of South Africa's Truth and Reconciliation commission, which brought to light injustices committed under the apartheid regime, offering amnesty to the perpetrators and restitution to the victims. He is survived by four children, seven grandchildren and his wife, Nomalizo Leah Shenxane, to whom he was married for more than 65 years.
2. Airlines cancel thousands of Christmas flights due to staff shortages
Airlines canceled more than 2,500 flights Christmas Day, including 880 within, into, or out of the United States. Delta, for example, canceled 14 percent of its Christmas flights. As Omicron spreads and large numbers of employees call in sick, airlines are finding it increasingly difficult to keep up with demand for flights while also keeping staff and passengers safe. Under U.S. Department of Transportation regulations, ticket holders whose flights are canceled are entitled to refunds.
Subscribe to The Week
Escape your echo chamber. Get the facts behind the news, plus analysis from multiple perspectives.
SUBSCRIBE & SAVE
Sign up for The Week's Free Newsletters
From our morning news briefing to a weekly Good News Newsletter, get the best of The Week delivered directly to your inbox.
From our morning news briefing to a weekly Good News Newsletter, get the best of The Week delivered directly to your inbox.
3. Trudeau calls for united front against China
Canadian Prime Minister Justin Trudeau called for Western nations to stand in solidarity against China in a televised interview that aired Saturday. "We need to do a better job of working together and standing strong so China can't play the angles and divide us one against the other," Trudeau said. Canada announced earlier this month that it will boycott the 2022 Winter Olympics in Beijing to protest China's human rights abuses.
4. In Christmas message, pope warns against becoming desensitized
Pope Francis delivered his annual Christmas address from a balcony overlooking St. Peter's Square Saturday. The pope highlighted the social costs of the pandemic — including loneliness and increased rates of domestic violence — as well as ongoing conflicts in the Syria, Ukraine, Ethiopia, and elsewhere. "Our capacity for social relationships is sorely tried," he said. "We continue to witness a growing number of conflicts, crises, and disagreements. These never seem to end and by now we hardly even notice them."
5. Suicide bomber kills 6 in Congolese region beset by Islamist violence
A suicide bomber detonated his device outside a restaurant in the Congolese city of Beni Saturday, killing 6 people and injuring 14 others. No group has yet claimed responsibility for the attack, but Congolese and Ugandan forces have been waging an ongoing campaign in the region against the Allied Democratic Forces, an Islamic State-affiliated Islamist terror group, since November. "We rushed to the exit where I saw people lying down. There were green plastic chairs scattered everywhere and I also saw heads and arms no longer attached. It was really horrible," restaurant patron Rachel Magali said.
6. Over 10,000 Russian troops return to base after drills near Ukrainian border
More than 10,000 Russian troops have returned to their bases after a month of drilling on the Ukrainian border, the Russian military announced Saturday. Despite this reduction, Russia still has tens of thousands of troops stationed on the Ukrainian border, and intelligence analysts continue to warn that an invasion could be imminent. Russian state media frequently refers to Ukraine as "a colony of the West" and accuses Ukrainian forces of killing civilians in the eastern part of the country, where Ukraine's military has been fighting Russian-backed separatists since 2014.
7. Queen's Christmas: Elizabeth pays tribute to Philip, police arrest armed intruder
In her annual Christmas message, Queen Elizabeth II reflected on the loss of her husband, Prince Philip. The Queen praised her consort, who died in April at 99, for "his sense of service, intellectual curiosity, and capacity to squeeze fun out of any situation," and for his environmental activism. "Even with one familiar laugh missing this year, there will be joy in Christmas," she said. The Queen was joined at Windsor Castle by Prince Charles, his wife Camilla, and other members of the royal family. She was also nearly joined by an uninvited visitor. Police arrested a 19-year-old man who attempted to break into the castle on Christmas Day while carrying an "offensive weapon."
8. 16 dead after migrant boat capsizes off Greek coast
A boat carrying migrants capsized late Friday in the Aegean Sea, killing 16, including one infant. Greek coast guard personnel rescued 62 survivors. This was the third fatal maritime incident in the Aegean in as many days, bringing the combined death toll to 30. More than 20,000 migrants have died or gone missing in the Mediterranean since 2014. Authorities say the boat appears to have been smuggling people from Turkey to Italy. Greek shipping minister Giannis Plakiotakis accused the trafficking gangs of being "indifferent to human life, stacking dozens of people, without life jackets, in vessels which do not conform to the most basic of safety standards."
The Washington Post The Guardian
9. New space telescope launches to explore the origins of the universe
The new James Webb Space Telescope blasted off successfully Saturday morning from a launch pad in French Guiana. A joint project between NASA, the European Space Agency, and the Canadian Space Agency, the telescope "will peer deeper into the cosmos — and farther back in time — to open a window on the universe as it took shape soon after the Big Bang." Though only roughly the size of a tennis court, the telescope is designed to detect light that was emitted 13.6 billion years ago, at the dawn of the universe — maybe up to as little as 100 million years after the Big Bang.
10. World marks 30th anniversary of Soviet Union's collapse
On Christmas night, 1991, Soviet premier Mikhail Gorbachev resigned and relinquished his powers, including the nuclear codes, to Russian President Boris Yeltsin. The flag of the USSR that flew over the Kremlin was lowered, never to be raised again. The next day, the Soviet legislature formally dissolved the Soviet Union, bringing a final end to the Cold War. "The breakup of the Soviet Union was the collapse of a historic Russia ... We became a different country. What had been built over a millennium was lost to a large extent," President Vladimir Putin said earlier this month.

Continue reading for free
We hope you're enjoying The Week's refreshingly open-minded journalism.
Subscribed to The Week? Register your account with the same email as your subscription.