10 things you need to know today: March 27, 2022
White House says Biden wasn't calling for regime change in Russia, convicted GOP congressman will resign at the end of March, and more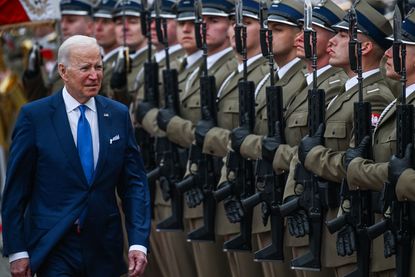 (Image credit: Omar Marques/Getty Images)
1. Biden wasn't calling for regime change in Russia, White House official says
The White House on Saturday walked back a remark from President Biden that many interpreted as a call for regime change in Russia. During a speech in Warsaw, Poland, Saturday evening, Biden said of Russian President Vladimir Putin, "For God's sake, this man cannot remain in power." Shortly after the speech, a White House official said, "The President's point was that Putin cannot be allowed to exercise power over his neighbors or the region. He was not discussing Putin's power in Russia or regime change." Biden's controversial statement, which came at the end of the speech, was reportedly ad-libbed.
2. Nine-term GOP congressman convicted of lying to FBI will resign at the end of March
Nine-term Rep. Jeff Fortenberry (R-Neb.) announced in a letter to supporters on Saturday that he plans to resign at the end of March following his felony conviction for lying to the FBI. Nebraska Gov. Pete Ricketts (R) will then call a special election to fill Fortenberry's seat. Fortenberry was found guilty on Thursday of lying to federal investigators about an illegal contribution made to his campaign by a foreign billionaire. Jurors convicted him on three counts after less than three hours of deliberation. Fortenberry faces up to five years in prison on each count, in addition to fines. His sentencing is set for June 28.
Subscribe to The Week
Escape your echo chamber. Get the facts behind the news, plus analysis from multiple perspectives.
SUBSCRIBE & SAVE
Sign up for The Week's Free Newsletters
From our morning news briefing to a weekly Good News Newsletter, get the best of The Week delivered directly to your inbox.
From our morning news briefing to a weekly Good News Newsletter, get the best of The Week delivered directly to your inbox.
3. Biden to propose 'Billionaire Minimum Income Tax' of 20 percent
The Biden administration plans to announce a "Billionaire Minimum Income Tax" on Monday as part of its 2023 budget proposal, according to a document obtained by multiple news outlets. Many billionaires pay low tax rates because they are not taxed on "unrealized gains," such as increases in the value of their stock holdings. The document explains that, under Biden's proposal, if a household's tax bill falls short of 20 percent of "full income" (including unrealized gains), "they will owe a top-up payment to meet the 20 percent minimum." The tax will apply to households with a net worth of $100 million or more and is expected to raise $360 billion in revenue over 10 years.
Fox Business The Washington Post
4. Man detained on suspicion of espionage after Russian rockets strike Lviv
Ukrainian police detained a man suspected of being a Russian spy after a rocket attack hit the western city of Lviv on Saturday. Maksym Kozytsky, the region's governor, said police discovered that the man had recorded a Russian rocket striking its target and had sent photos of military checkpoints in the Lviv region to Russian phone numbers. Lviv remained untouched for the first three weeks of the invasion, but on March 18 Russia began launching strikes against targets in the area.
5. At Georgia rally, Trump blames 'turncoat' governor for loss
Former President Donald Trump held a rally in Georgia on Saturday in which he endorsed a slate of candidates and harshly denounced incumbent Gov. Brian Kemp (R), who Trump claims should have done more to overturn President Biden's narrow 2020 victory in Georgia. "Trump voters will not go out and vote for Brian Kemp," Trump said, calling Kemp a "turncoat" and a "RINO." To replace Kemp as governor, Trump has endorsed former Sen. David Perdue (R), who lost his seat to Democrat Jon Ossoff in a 2021 runoff election. At the rally, Perdue said for the first time that the Senate election was "stolen" from him. Perdue trails Kemp by about 10 points in the polls.
The Atlanta Journal-Constitution The New York Times
6. Azerbaijani forces strike Nagorno-Karabakh and push into Russian-patrolled territory
Azerbaijan launched drones strikes against the forces of Armenian-aligned Nagorno-Karabakh and sent ground troops into areas patrolled by Russian peacekeepers. Russia's foreign ministry expressed "extreme concern" about the situation on Saturday. On Thursday and Friday, Russian President Vladimir Putin reportedly discussed Azerbaijan's aggression with Armenian Prime Minister Nikol Pashinyan. Nagorno-Karabakh is an ethnically Armenian enclave internationally recognized as part of Azerbaijan. In 2020, the two countries fought a brief war in which Azerbaijan was able to recapture territory Armenia had seized in the early 1990s. After six weeks of fighting, Russia brokered a ceasefire and sent about 2,000 peacekeepers to patrol a corridor connecting Nagorno-Karabakh to Armenia.
The New York Times Radio Free Europe
7. Zelensky asks for '1 percent' of NATO's tanks and planes
Ukrainian President Volodymyr Zelensky asked NATO on Sunday to send Ukraine "one percent" of the alliance's tanks and aircraft and said his country has "already been waiting 31 days" for this much-needed equipment. Zelensky also criticized the West for what he described as its indecisive "ping-pong" approach to providing those vehicles to Ukraine. "I've talked to the defenders of [Russian-encircled] Mariupol today. I'm in constant contact with them," Zelensky said. "If only those who have been thinking for 31 days on how to hand over dozens of jets and tanks had one percent of their courage."
The New York Times The Associated Press
8. Second 'black box' recovered from crashed Chinese plane
Firefighters recovered on Sunday the second "black box" from the crash site of a China Eastern Airlines Boeing 737-800 that nosedived into a mountainside last week, killing all 132 people onboard. The crash, which occurred on Monday just as the flight from Kunming to Guangzhou was about to begin its descent, was China's deadliest air disaster in 28 years. Recovery crews found the first "black box" — the cockpit voice recorder — on Wednesday. The second "black box" — the flight data recorder — is expected to shed light on what caused the plane to enter its fatal nosedive.
9. Sean Penn says he'll 'smelt' his Oscars if Zelensky isn't allowed to speak at the Academy Awards
Actor Sean Penn, who is currently in Poland filming a documentary about Russia's invasion of Ukraine, told CNN's Jim Acosta on Saturday that he will "smelt" his two Oscars "in public" if Ukrainian President Volodymyr Zelensky is not permitted to speak via video link at Sunday's Academy Awards ceremony. Co-host Amy Schumer said last week that she had floated the idea of having Zelensky — himself a former actor — address the star-studded crowd but that the ceremony's producers rejected the idea. On Friday, it was reported that Zelensky was "in talks" with the Academy.
10. Pakistani prime minister faces no-confidence vote after losing support of military
Pakistani Prime Minister Imran Khan plans to hold a major rally on Sunday in an attempt to shore up support as he faces a vote of no confidence. Khan, a former cricket star who came to power in 2018 with the backing of the country's politically active military, has lost the backing of top generals and is even facing defections within his own party. Khan met with Russian President Vladimir Putin on the day that the invasion of Ukraine began. He also praised Afghanistan for breaking "the shackles of slavery" when the Taliban took control of the country last year. President Biden has not spoken with Khan since taking office.

Continue reading for free
We hope you're enjoying The Week's refreshingly open-minded journalism.
Subscribed to The Week? Register your account with the same email as your subscription.