10 things you need to know today: June 12, 2022
March for Our Lives holds gun-control rallies across the U.S., around 10,000 Ukrainian troops have been killed since Russia invaded, and more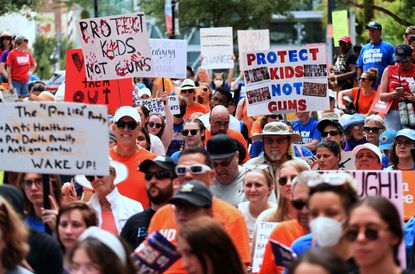 (Image credit: Photo by Paul Hennessy/Anadolu Agency via Getty Images)
1. March for Our Lives holds gun-control rallies across the U.S.
The gun-control advocacy group March for Our Lives, founded in 2018 after the mass shooting at Marjory Stoneman Douglas High School in Parkland, Florida, held marches in Washington, D.C.; New York City; San Francisco; and other cities across the United States on Saturday to push for tighter restrictions on firearms. "If our government can't do anything to stop 19 kids from being killed and slaughtered, it's time to change who is in government," March for Our Lives founder David Hogg told a crowd in D.C., referring to last month's mass shooting at an elementary school in Uvalde, Texas.
2. Around 10,000 Ukrainian troops have been killed since Russia invaded, Ukrainian official says
Approximately 10,000 Ukrainian soldiers have been killed since Russia invaded on Feb. 24, Oleksiy Arestovych, a military adviser to Ukrainian President Volodymyr Zelensky, said Saturday. A report published in — and then quickly scrubbed from — a pro-Kremlin Russian tabloid suggested that Russia had suffered a similar number of military deaths by late March. Ukraine is taking heavy losses in the Donbas, with between 200 and 300 troops killed every day, Arestovych said. A senior U.S. defense official predicted that Russia will control all of Luhansk Oblast within weeks.
Subscribe to The Week
Escape your echo chamber. Get the facts behind the news, plus analysis from multiple perspectives.
SUBSCRIBE & SAVE
Sign up for The Week's Free Newsletters
From our morning news briefing to a weekly Good News Newsletter, get the best of The Week delivered directly to your inbox.
From our morning news briefing to a weekly Good News Newsletter, get the best of The Week delivered directly to your inbox.
3. Report: Jan. 6 committee 'outlined a powerful criminal case' against Trump
The televised Jan. 6 committee hearings may have been designed to provide a blueprint for the Justice Department to criminally charge former President Donald Trump with fraud or obstruction of Congress, according to a report published Saturday. Neal K. Katyal, a former acting solicitor general under former President Barack Obama, said he believed the committee "outlined a powerful criminal case against" Trump. "Unless there's more evidence to come that we don't know about, I don't see a criminal case against the former president," said Robert W. Ray, who served as a defense attorney for Trump at his first impeachment trial.
4. French voters head to polls for 1st round of parliamentary elections
French voters headed to the polls Sunday to elect a new National Assembly. President Emmanuel Macron, who won a second five-year term in April, hopes to gain a strong mandate, while leftist Jean-Luc Mélenchon aims to become prime minister. Macron's centrist coalition, Ensemble (ENS), is running neck-and-neck with Mélenchon's left-wing New Ecologic and Social People's Union (NUPES), according to a survey conducted Friday. The survey showed NUPES and ENS polling at 27 and 28 percent respectively, well within the margin of error, with Marine Le Pen's National Rally in third with 19 percent. Runoff elections, which will be held June 19, are likely to favor Macron as right-leaning voters hold their noses and vote ENS.
Ipsos-Sopra Steria The Guardian
5. Over 70 million people placed under heat advisories as record temperatures sweep the country
More than 70 million Americans from California to Tennessee were under heat warnings on Saturday as a record-breaking heat wave swept the country. Death Valley in eastern California hit 123 degrees, shattering the 1994 record of 120. Phoenix reached 113 degrees, breaking the previous record of 111 set on July 10, 1978. Forecasters in Phoenix predicted that the overnight low could remain above 90 degrees for the first time on record. The National Weather Service warned those under heat advisories of the increased "potential for heat related illnesses, particularly for those working or participating in outdoor activities." Summer does not officially begin until June 21.
6. Biden leaves Los Angeles after setback-ridden Summit of the Americas
After spending about three days in Los Angeles for the Summit of the Americas, President Biden departed on Saturday to visit Albuquerque, New Mexico, and receive a briefing on the wildfires ravaging that state. Expectations for the summit were low after Mexico pulled out on Monday to protest the exclusion of Cuba, Nicaragua, and Venezuela. El Salvador, Guatemala and Honduras also skipped the summit. Despite these setbacks, Biden said that "on the substantive matters what I heard was almost unity — uniformity." On Friday, summit leaders unveiled the Los Angeles Declaration, a nonbinding document Biden said would transform "our approach to managing migration in the Americas."
7. Two teenagers dead as Indian police crack down on Muslim protesters
Indian police confirmed Saturday that two teenagers were killed the previous day in after police opened fire on protesters in the eastern city of Ranchi. At least 14 police officers were also reportedly injured. The protests began Friday after two members of the governing Hindu nationalist Bharatiya Janata Party (BJP) made insulting remarks about the Prophet Muhammad's marriage to Aisha, a relationship critics of Islam frequently describe as pedophilic. The BJP swiftly punished the party officials responsible for the remarks, expelling media head Naveen Kumar Jindal and suspending spokeswoman Nupur Sharma.
8. Mexico provides temporary visas to break up thousands-strong migrant caravan
Mexican immigration authorities on Saturday successfully disbanded a migrant caravan traveling from southern Mexico toward the U.S. border. Reuters said the caravan was made up of at least 7,000 people, while Fox News said it comprised more than 10,000. Authorities broke up the caravan by offering its members temporary visas, allowing them to travel freely and legally within Mexico. Caravan organizer Luis Villagran said that although the migrants are no longer traveling as a group, they are still planning to make their way to the United States.
9. Democrats are losing faith in Biden, interviews find
Democrats are grateful to President Biden for unseating former President Donald Trump, but they'd rather he step aside for 2024, according to interviews with more than 50 Democratic officials, lawmakers, and voters. David Axelrod, who managed former President Barack Obama's winning campaigns, said Biden has done good work on the pandemic, Ukraine, and "restoring decency and decorum to the White House," but doesn't get credit for any of it because he "looks his age and isn't as agile in front of a camera as he once was." Jasmine Crockett, a Democrat running for Congress in Texas, said Democrats appear to be "lacking in excitement" after key parts of Biden's legislative agenda failed to pass.
10. Don't let Taiwan become the next Ukraine, Zelensky tells international community
The international community should take preemptive action to prevent Chinese aggression against Taiwan, Ukrainian President Volodymyr Zelensky said at a defense conference in Singapore on Saturday. "How do you recommend that Taiwan stand strong as China seeks to impose its control over a free people by force if necessary?" a reporter asked Zelensky following his prepared remarks. "Today's example of Ukraine is the example for the whole world. The world must always support any action which is related to preemptive measures to forestall violence," the Ukrainian president replied. Countries threatened by the "appetites" and "ambitions" of "certain political leaders" should not be left "at the mercy of" their aggressive, more powerful neighbors, Zelensky said.
Taiwan News The Washington Post

Continue reading for free
We hope you're enjoying The Week's refreshingly open-minded journalism.
Subscribed to The Week? Register your account with the same email as your subscription.