10 things you need to know today: June 25, 2022
Supreme Court overturns Roe v. Wade, Sievierodonetsk falls to Russia, and more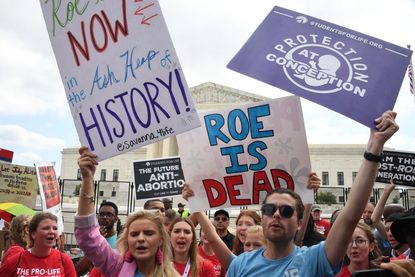 (Image credit: Photo by OLIVIER DOULIERY / AFP) (Photo by OLIVIER DOULIERY/AFP via Getty Images)
1. Supreme Court overturns Roe v. Wade
The Supreme Court has issued a bombshell ruling officially eliminating the constitutional right to abortion in the United States, undoing nearly 50 years of precedent. In a landmark decision, the U.S. Supreme Court ruled Friday abortion is not a constitutional right and that the 1973 ruling guaranteeing that right, Roe v. Wade, is overturned. Justice Samuel Alito wrote the majority opinion and was joined by Justices Clarence Thomas, Neil Gorsuch, Brett Kavanaugh, Amy Coney Barrett, and John Roberts. "Roe was egregiously wrong from the start," Alito wrote.
2. Sievierodonetsk falls to Russia
Ukrainian forces are withdrawing from the city of Sievierodonetsk, a regional official said Friday, bringing Russia one step closer to total control of Luhansk Oblast. Luhansk Gov. Serhiy Haidai said the city's infrastructure had been "completely destroyed" and that it "makes no sense to stay." Russia's next major objective is likely to be Lysychansk, the twin city of Sievierodonetsk located on the opposite side of the Siverskyi Donets River. Russian forces are reportedly attempting to approach Lysychansk from the south rather than launching a costly frontal assault across the river.
Subscribe to The Week
Escape your echo chamber. Get the facts behind the news, plus analysis from multiple perspectives.
SUBSCRIBE & SAVE
Sign up for The Week's Free Newsletters
From our morning news briefing to a weekly Good News Newsletter, get the best of The Week delivered directly to your inbox.
From our morning news briefing to a weekly Good News Newsletter, get the best of The Week delivered directly to your inbox.
3. Abortion is already banned in at least 10 states
By the end of the day on Friday, Missouri, Louisiana, Kentucky, South Dakota, Alabama, Arkansas, and Utah had all announced that abortion was now illegal in the state. Abortion clinics in Texas and Wisconsin — which still has a pre-Roe ban on the books — shut down, while clinics in Oklahoma have been closed since May. Five states have delayed trigger laws that will automatically outlaw abortion in the coming weeks. Nine other states are considered likely to ban abortion.
4. House sends gun reform bill to Biden
The most significant piece of gun safety legislation in decades was sent to President Biden's desk on Friday, after easily passing the House 234-193. 14 Republicans joined all Democrats in supporting the bill. The bipartisan legislation, concocted by a group of senators in response to an influx of mass shootings nationwide (including those inside an elementary school in Texas and a supermarket in Buffalo), had cleared the Senate 65-33 the night prior. The gun safety bill includes increased funding for mental health, incentives for states to pass so-called "red flag" laws, enhanced background checks, and the end of the "boyfriend loophole." President Biden is expected to sign the bill immediately.
5. Mass shooting at Norway gay club leaves 2 dead, more than 20 injured
Two people were killed and more than 20 injured when a gunman opened fire at a gay bar in Oslo, Norway, just hours before the city's annual gay pride parade was set to begin. The alleged gunman, whose name has not been publicly released, is reportedly a 42-year-old Norwegian citizen of Iranian descent. Oslo police are treating the mass shooting as an act of terrorism. "There is reason to think that this may be a hate crime," police said. "We are investigating whether the Pride was a target in itself or whether there are other motives."
6. Clarence Thomas: Supreme Court should 'reconsider' rulings on contraceptives and same-sex marriage
The Supreme Court officially overturned Roe v. Wade on Friday, and Justice Clarence Thomas suggests several other hugely consequential rulings could be next. Thomas joined the court's other conservative justices on Friday in eliminating the constitutional right to abortion in the United States. Justice Samuel Alito wrote the majority opinion, but Thomas also wrote his own concurring opinion, in which he argues the justices "should reconsider all of this court's substantive due process precedents, including Griswold, Lawrence, and Obergefell," adding that "we have a duty to 'correct the error' established in those precedents." The three cases Thomas mentioned established constitutional rights to contraception, gay sex, and same-sex marriage.
7. Juul can keep selling e-cigarettes after federal appeals court delays FDA ban
Juul can continue selling e-cigarettes after a federal appeals court on Friday delayed the implementation of a Food and Drug Administration ban on the products. This temporary stay will give the court more time to hear arguments from Juul and the FDA. According to the FDA, there is "insufficient evidence to assess the potential toxicological risks of using the Juul products," while Juul said in a statement that the FDA ban "is arbitrary and capricious and lacks substantial evidence."
The Wall Street Journal The Verge
8. Biden says Supreme Court's 'tragic error' on Roe 'must not be the final word'
President Biden said Friday that abortion rights are "on the ballot" in the midterm elections after the constitutional right to abortion was officially eliminated by the U.S. Supreme Court. Biden delivered remarks from the White House after the Supreme Court in a landmark ruling overturned Roe v. Wade, ending Americans' constitutional right to abortion access after nearly 50 years. "It's a sad day for the court and for the country," Biden said, calling the ruling a "tragic error" that means the "health and life of women in this nation is now at risk."
9. J.K. Rowling duped into fake call with Zelensky by Russian pranksters
Harry Potter author J.K. Rowling was recently duped into holding a video call with who she thought was Ukrainian President Volodymyr Zelensky but was actually a Russian prankster, video shared on YouTube showed. In the more than 12-minute video of the call, the fake Zelensky asks Rowling a series of increasingly bizarre questions, including whether a Russian actor in Fantastic Beasts: The Secrets of Dumbledore can be sanctioned. The author responds that she'll "see what we can do." The fake Zelensky goes on to suggest he wants a role in the future Harry Potter films and claims he has ordered Ukrainian fighters to write "Avada Kedavra" on missiles, an idea Rowling says she loves.
10. Trump takes credit for fall of Roe but worries it 'won't help him in the future'
Former President Donald Trump said Friday that the Supreme Court's decision in Dobbs v. Jackson Women's Health Organization was "the biggest WIN for LIFE in a generation" and was "only made possible" by his three Supreme Court appointees. Privately, however, Trump has expressed concerns about the decision's political consequences. Two of Trump's advisors said the former president favors limiting abortion rather than banning it and has complained that a too-zealous crackdown on abortion rights could hurt Republicans in the suburbs. "He is convinced it won't help him in the future," one advisor said of Trump's response to the Dobbs decision.

Continue reading for free
We hope you're enjoying The Week's refreshingly open-minded journalism.
Subscribed to The Week? Register your account with the same email as your subscription.