When Wimbledon goes wrong
The world's most prestigious tennis tournament is a spectacle of athletic perfection - but not everything goes to plan...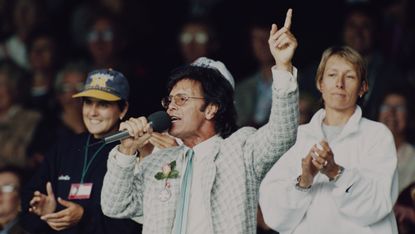 Wimbledon begins at the All England Club on Monday, but despite its pomp and ceremony, the tournament has seen its fair share of stumbles, bloopers and controversies.
Here are some of the classics.
In the line of fire
Subscribe to The Week
Escape your echo chamber. Get the facts behind the news, plus analysis from multiple perspectives.
SUBSCRIBE & SAVE
Sign up for The Week's Free Newsletters
From our morning news briefing to a weekly Good News Newsletter, get the best of The Week delivered directly to your inbox.
From our morning news briefing to a weekly Good News Newsletter, get the best of The Week delivered directly to your inbox.
Wimbledon's ball boys and girls are vital cogs in a well-oiled machine and surprisingly, asking a group of children to run around a tennis court at the behest of players and umpires, while under intense pressure and scrutiny, leads to surprisingly few incidents of note.
But that's not to say there are none at all.
Crouching at the edge of the court, the youngsters frequently find themselves on the receiving end of shots from the most powerful players on the planet. In 2012, a ballboy responded particularly well to a wayward return from Serbia's Novak Djokovic.
It's not just the kids who suffer this fate: judges are placed right in the line of fire for the best possible view - resulting in one taking a 118mph serve to the face when Jo-Wilfried Tsonga was playing in 2012.
Nor is it always entirely accidental. Tim Henman and his doubles partner Jeremy Bates were disqualified from the 1995 tournament after Henman hit a ball in frustration following a lost point. He accidentally hit a ball girl about three feet in front of him. After a lengthy deliberation, a code violation was issued and the matched was defaulted.
Angry outbursts
The player protest, a sighting almost as common as strawberries and cream, is perhaps the guiltiest pleasure in the Wimbledon repertoire.
With rackets and expletives flying faster than a Sam Groth serve, tennis stars who lose their cool meet with scorn from commentators and gleeful schadenfreude from viewers watching at home.
John McEnroe was the master. His fury when a point was awarded against him during one game resulted in a phrase that has gone down in tennis history: "You cannot be serious!"
But McEnroe is not the only one - fellow American Jeff Tarango was banned from the tournament for a year following a bizarre altercation with an umpire in 1995. After a number of contentious points went against him, the crowd began to jeer - so he told them: "Oh shut up." He was subsequently issued a code violation on the grounds of audible obscenity, but questioned that too and was given a further code violation for calling the umpire "corrupt". Tarango stormed off the court - and his wife slapped the umpire in the face.
Last year, in one of the most extreme outbursts ever seen on a Wimbledon court, Serbia's Victor Troicki erupted into a tirade of screaming when a serve by his opponent, Albert Ramos-Vinolas, was ruled in, giving him match point. Shouting: "No no no!" at the top of his lungs, Troicki grabbed the ball from the ball girl and ran to the linesman with it to show it had not hit the chalk.
After losing the following point and the match, Troicki's abuse continued.
"What are you doing?," he asked umpire Damiano Torella. "Tell me, what are you doing? What are you doing there? What do you want to talk about? You're the worst ever. Do you know what you did? In one moment, do you know what you did? You saw the ball and I showed you the ball. It's out. You didn't see anything today. Are you aware of that? You made 30 mistakes."
Rain delays
The only thing more British than Wimbledon is the rain that often stops play. From delays to sing-alongs, a showery day can bring out the good, the bad and the ugly in equal measure.
During a hefty delay in 1992, before the advent of the weatherproof roof, a group of Centre Court fans and stewards broke into an impromptu sing-along of Singing in the Rain, incorporating a conga line and dancing.
However, even that paled in comparison when play was delayed by heavy rain on 3 July and it was left to Cliff Richard to come to the rescue from his royal box perch.
Stopping halfway through to describe it as "the most unusual experience of my career", he entertained crowds for almost half an hour with a cappella renditions of Living Doll and Congratulations, as well as the Elvis Presley hit All Shook Up. He was joined by tennis stars Virginia Wade, Martina Navratilova and Pam Shriver as backing singers.
"Depending on your tastes, it was a golden moment in the history of British music or a cringe-making aural atrocity," says The Scotsman.
Watch your mouth
A related slip-up is the verbal mis-step.
Pundits and analysts on TV may find themselves having to fill space as hour after hour of tennis passes, affording some an adequate arena within which to make controversial or downright offensive remarks.
John Inverdale is perhaps the most prominent foot-in-mouth proponent, having faced punishment on more than one occasion for his comments.
Speaking at the 2013 final, in which French player Marion Bartoli took home the Women's Singles title, the BBC broadcaster said: "Do you think Bartoli's dad told her when she was little, 'You're never going to be a looker? You'll never be a Sharapova, so you have to be scrappy and fight?'" Inverdale later blamed his comments on hayfever, according to the Daily Telegraph.
The presenter was the centre of attention again last year, when he was accused of casual racism after comparing Australian player Nick Kyrgios to a character from the Jungle Book.
Inverdale is not alone. Fellow BBC pundit Andrew Castle was accused of being "sexist" and "patronising" in remarks about a female crowd member at last year's tournament. As Dr Jennifer Bate, a dental surgeon, was picked out by the TV cameras, Castle said: "It's a pity my dentist doesn't look like that."
He later apologised for his remarks, despite originally describing his comments as "earnest, humourless and probably no fun at all".

Continue reading for free
We hope you're enjoying The Week's refreshingly open-minded journalism.
Subscribed to The Week? Register your account with the same email as your subscription.