Bowe Bergdahl was locked in shark cage as punishment
Returned prisoner refuses to speak to family and objects to hospital staff calling him 'sergeant'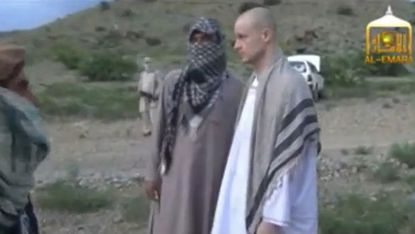 (Image credit: Youtube)
Sign up to our 10 Things You Need to Know Today newsletter
A free daily digest of the biggest news stories of the day - and the best features from our website
Thank you for signing up to TheWeek. You will receive a verification email shortly.
There was a problem. Please refresh the page and try again.
Sergeant Bowe Bergdahl has revealed that he was locked in a metal shark cage in total darkness for weeks on end by the Taliban during his five years as a prisoner of war in Afghanistan.
Bergdahl is currently in a military hospital in Germany after being freed last week in exchange for the release of five Taliban fighters held in Guantanamo Bay.
American officials told the New York Times it was "safe to assume" that Bergdahl was held in "harsh" conditions. "These are Taliban, not wet nurses," they said.
Subscribe to The Week
Escape your echo chamber. Get the facts behind the news, plus analysis from multiple perspectives.
SUBSCRIBE & SAVE
Sign up for The Week's Free Newsletters
From our morning news briefing to a weekly Good News Newsletter, get the best of The Week delivered directly to your inbox.
From our morning news briefing to a weekly Good News Newsletter, get the best of The Week delivered directly to your inbox.
"He's said that they kept him in a shark cage in total darkness for weeks, possibly months," the newspaper was told. The confinement was apparently punishment for one or possibly two attempted escapes.
Bergdahl is said to be physically well, suffering only from skin and gum disorders, but doctors have warned he is not yet ready for the emotional pressures of reuniting with his family.
He apparently objects to hospital staff calling him sergeant, the result of two automatic promotions while a captive. He prefers to be called private first class, his rank when he was first captured.
He has no access to news media and is therefore oblivious to the claims from members of his former platoon who say he deserted them, as well as the furious criticism of the prisoner swap from some in Congress.
According to the Wall Street Journal, Bergdahl has refused to speak to his family over the phone and has not yet responded to a letter received from his sister.
Threats have been made against his parents, Bob and Jani Bergdahl, according to the FBI. His father came under fire for thanking Allah in Arabic during the White House press conference.
Conservative commentators claimed the Taliban were delighted at his words and accused him of giving them a priceless propaganda tool. But Bob Bergdahl claims his son had poor English after five years in captivity and he immersed himself in the language and culture of Afghanistan after his son was captured in a bid to communicate with the captors.
Bowe Bergdahl: comrades say captured US soldier was a deserter
2 June
Veterans who served alongside Sergeant Bowe Bergdahl have accused the captured soldier of being a deserter whose "selfish act" led to the deaths of his military peers.
Bergdahl, 28, whose parents are pictured above with President Obama, is said to have left his guard post in Afghanistan's Paktika province on June 30, 2009, after "growing disillusioned with the US military's war effort", the Washington Post reports.
A former member of Bergdahl's platoon, Sergeant Matt Vierkant, told CNN: "I was pissed off then and I am even more so now with everything going on. Bowe Bergdahl deserted during a time of war and his fellow Americans lost their lives searching for him."
According to Rolling Stone, the soldier walked off his base in Patika province, with only a knife, his diary and a camera. He was captured almost immediately and was smuggled across the border into Pakistan by Taliban fighters.
In the months that followed his disappearance, the effort to rescue Bergdahl continued, says Nathan Bradley Bethea, a soldier who participated in the operation to bring the missing private back.
"Though the 2009 Afghan presidential election slowed the search for Bergdahl, it did not stop it," Bethea says. "Our battalion suffered six fatalities in a three-week period."
On Sunday, a reporter asked defence secretary Chuck Hagel whether he could confirm that Bergdahl had left his post without permission. Hagel "did not answer directly", CNN reports, but commented: "Our first priority is assuring his well-being and his health and getting him reunited with his family. Other circumstances that may develop and questions, those will be dealt with later".
The exchange of five Guantanamo detainees for Bergdahl has been criticised by Republicans who say that the move sets a "dangerous precedent" (see below) and could increase the risk of other American soldiers being kidnapped.
"I don't understand why we're trading prisoners at Gitmo for somebody who deserted during a time of war, which is an act of treason," Vierkant said.
Obama accused of breaking law with prisoner swap
2 June
President Obama has been accused of breaking the law by agreeing to swap five Taliban fighters held in Guantanamo Bay for a US prisoner of war in Afghanistan.
Senior republicans warned that the release of the Guantanamo inmates in exchange for Sergeant Bowe Bergdahl created a "dangerous precedent" that could increase the risk of other American soldiers being kidnapped, The Times reports.
"Trading five senior Taliban leaders from detention in Guantanamo Bay for Bergdahl's release may have consequences for the rest of our forces and all Americans," said Howard McKeon, the chairman of the House armed services committee, and his colleague James Inhofe in a joint statement.
"Our terrorist adversaries now have a strong incentive to capture Americans. That incentive will put our forces in Afghanistan and around the world at even greater risk".
Among the men released were Mohammad Fazl, the Taliban's former deputy minister of defence, Mohammad Nabi, the former chief of Taliban security in Qalat, and Abdul Haq Wasiq, who has been accused by Human Rights Watch of torture and mass killings, Time reports.
Also released were Mullah Norullah Nori, a senior Taliban commander and Khairullah Khairkhwa, the former Taliban governor of Heart Province, which borders Iran.
"These are the highest high-risk people. Others that we have released have gone back into the fight," said Senator John McCain, a former prisoner of war and Vietnam War veteran.
"That's been documented. So it's disturbing to me that the Taliban are the ones that named the people to be released". he said on CBS's Face the Nation programme.
US defence secretary Chuck Hagel said that this wasn't a case of the administration negotiating with terrorists, but a prisoner swap, which is a "normal" occurrence.
"We didn't negotiate with terrorists," Hagel said in an interview on NBC's Meet the Press. "As I said and explained before, Sergeant Bergdahl was a prisoner of war. That's a normal process in getting your prisoners back".
Bergdahl, who is 28, was held captive for five years and is now recovering in a US military hospital in Germany. According to his father, he is having trouble speaking English.
Continue reading for free
We hope you're enjoying The Week's refreshingly open-minded journalism.
Subscribed to The Week? Register your account with the same email as your subscription.