The pros and cons of ditching cash
Cash use is at an all-time low – but what does that mean for non-digital natives?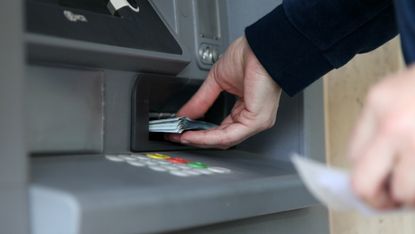 (Image credit: Barbara LaBorde/AFP/Getty Images)
By 2031, just one in every 20 transactions will be made using cash, the banking trade body has predicted.
UK Finance said that 56% of all payments in 2010 were made using cash, falling to just 15% last year. Around 23.1 million people in Britain are thought to use cash for a payment just once a month or not at all, with just 1.1 million people still using it as their primary form of payment. Nevertheless, said The Telegraph, the "death of cash" is near.
The Covid-19 pandemic is thought to have accelerated the decline of cash with retailers encouraging what the BBC described as "friction-free payments". A survey by the consumer group Which? found that one in ten people were refused service by shops when trying to purchase essential items with cash during the pandemic.
Subscribe to The Week
Escape your echo chamber. Get the facts behind the news, plus analysis from multiple perspectives.
SUBSCRIBE & SAVE
Sign up for The Week's Free Newsletters
From our morning news briefing to a weekly Good News Newsletter, get the best of The Week delivered directly to your inbox.
From our morning news briefing to a weekly Good News Newsletter, get the best of The Week delivered directly to your inbox.
At a recent Tory leadership hustings near Belfast, Liz Truss vowed to do what she could to stop physical money from being phased out. "It seems to me some businesses will only accept cash and some businesses will only accept cards," she told those present. "We should make sure people are able to use cash where they don't have alternatives. I think that is important."
For many digital natives, the switch to contactless is a painless one, but for vulnerable people, the closure of cashpoints and a shift to digital currencies could prove very difficult.
Pro: reduces crime rates
"Numerous studies have shown that going cashless reduces crime rates significantly," said Mark Scott, director of loan company Swift Money. When people handle less physical cash, "the rate of crimes like bank robberies, burglaries, extortion, and corruption decline significantly", he continued.
In 2019, the independent Access to Cash review repeated Scott's claim, stating that there is "clear evidence that cash plays a large role in facilitating crime because it's untraceable".
Con: Brits could be left adrift
Almost one in five Britons would be left adrift if the UK transitioned to a cashless society, according to the Access to Cash review.
The groups expected to be most affected include elderly people, residents in rural communities with poor broadband and mobile connectivity, and those struggling with debt for whom cash is easier to manage.
Money-saving expert Martin Lewis, founder of the charity the Money and Mental Health Policy Institute, highlighted the risks posed to vulnerable people and communities. He told the i news site: "Many, especially the more affluent and technologically savvy, now live mostly cashless lives. That's exactly why protecting access to cash is so important."
Pro: more secure
Proponents of a cashless society argue that technology offers a much more secure way to store your wealth as well.
"It's very easy to shut down a digital wallet remotely if it falls into the wrong hands", and "a secure digital system that implements biometrics" would be "very hard to copy", said the finance blog Money Crashers.
Supporters of the move also believe it would result in greater ease in people's day-to-day interactions with money.
Con: ripple effect
Access to Cash review chair Natalie Ceeney told The Times that in Sweden, where 15% of transactions are made with cash, government regulators admit "they hadn't predicted that the decline of cash use would prompt so many retailers or service providers to stop accepting cash, including their hospital network".
The sudden increase in cashlessness in Sweden saw the government introduce legislation in late November to protect cash supplies.
The shift away from using cash saw bank branches across the country shut, leading to the formation of a campaign named Kontantupproret (Cash Rebellion or Cash Uprising). The campaign advocated for the protection of physical cash due to the number of people who were cut off from accessing money.
Pro: easier to travel
International travel would be easier without paper currency to change, and retailers could benefit too. Businesses currently "need to store the money, get more when they run out, and deposit cash when they have too much on hand", said The Balance.
By embracing a cashless system, moving physical money around and protecting large sums of cash "could become a thing of the past", the US personal finance site concluded.
Con: digital banking is 'vulnerable'
Which? has reported concerns about the vulnerability of digital banking.
Analysis by the consumer group found that British banks were being hit by IT or security failures that prevented customers from making payments at an average rate of more than once a day, reported The Guardian.
However, advances such as biometrics – defined by Unbiased.co.uk as being "where individual physical and behavioural characteristics are measured and analysed" – are increasingly making copying and fraud difficult.
Pro: avoids 'germy' money
Research by Merchant Machine, the payment comparison website, revealed just how grubby cash can be. The old-school £5 note was found to be the dirtiest UK banknote, picking up 153,000 kinds of bacteria in five years of circulation.
Some of the "nasties" found on paper fivers included "Bacillus Pumilus, Coliforms, Listeria and Yeast", which can cause "symptoms including diarrhoea, stomach cramps and vomiting", said Yahoo.
"We all touch money on a day-to-day basis without much thought as to where it has been or who has handled it before," Dr Richard Hastings, an expert in microbiology and healthcare regulation, told the news site.
Con: easier to budget with cash
Those opposed to a cashless society have also raised fears that using electronic payments rather than cash could increase consumer debt. "With electronic payments, it's easy to swipe, tap, or click without noticing how much you spend. Consumers will need to renew their efforts to manage spending," said The Balance.
Sian Williams, from the charity Toynbee Hall, said that the cost-of-living crisis has highlighted the important role cash plays as a "budgeting tool".
"Cash is still the only way to pay which guarantees avoiding unintended debt," she told The Telegraph.

Continue reading for free
We hope you're enjoying The Week's refreshingly open-minded journalism.
Subscribed to The Week? Register your account with the same email as your subscription.