Robert Murat: where is the cleared McCann suspect now?
Brit was first person of interest in Madeleine McCann case, but was later exonerated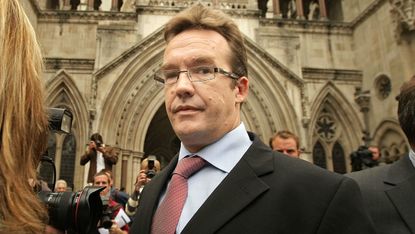 (Image credit: Peter Macdiarmid/Getty Images)
A new Netflix documentary series has drawn fresh attention to the case of Madeleine McCann.
The Disappearance of Madeleine McCann comes 12 years after the British toddler vanished from a Portuguese holiday apartment while her parents dined with friends nearby.
In the first, frenzied months of coverage after she went missing, the key figures in the case - the "Tapas 7", Inspector Goncalo Amaral and the "man on the beach" - were daily fixtures of every tabloid newspaper.
Subscribe to The Week
Escape your echo chamber. Get the facts behind the news, plus analysis from multiple perspectives.
SUBSCRIBE & SAVE
Sign up for The Week's Free Newsletters
From our morning news briefing to a weekly Good News Newsletter, get the best of The Week delivered directly to your inbox.
From our morning news briefing to a weekly Good News Newsletter, get the best of The Week delivered directly to your inbox.
None more so than Robert Murat, a British-Portuguese property consultant thrust into the spotlight after being named as the first potential suspect in the disappearance.
Who is Robert Murat?
In 2007, London-born Murat was 33 years old and living at his mother's villa, a few minutes' walk from the McCann's holiday apartment in Praia da Luz.
When the news of McCann's disappearance broke, Murat - who had spent most of his childhood in Portugal and later lived in Norfolk, before returning to the Algarve - offered his services to local police as a translator.
He later said he felt moved to help in the search because his own daughter, living in England with his ex-wife, was close in age to the missing girl, NBCUniversal's true crime site Oxygen reports.
However, 12 days after the toddler vanished, Murat was named as an arguido - a term few Brits were familiar with before, but which quickly became part of every armchair sleuth's vocabulary.
The status, often translated in the UK press as "formal suspect", has no direct equivalent in British law, but falls somewhere between a person of interest and a suspect.
An arguido has more legal protections than a witness, such as the right to remain silent and the right to have a lawyer present during questioning, but can also be subjected to restrictions on movement and travel while the investigation continues.
Murat was subjected to hours of questioning by police, while forensic officers and sniffer dogs combed his home and garden for evidence connecting him to McCann, The Daily Telegraph reported at the time. None was found.
Meanwhile, his public identification as a potential suspect, inflamed by lurid press reports, led to harassment, abuse and death threats levelled at Murat and his family.
After more than a year as an arguido, Murat was formally cleared of all suspicion in July 2008.
What happened to Murat after?
During his time as an arguido, Murat "was libelled in more than 100 articles in the British tabloid press", says the Algarve Daily News.
These included unfounded claims that Murat was a member of a paedophile ring, that he lied to police and that DNA belonging to Madeleine had been found in his house. He told the court that relatives had been offered vast sums to corroborate untrue claims about him.
In July 2008, he "accepted more than £600,000 in damages from 11 UK newspapers after a hearing in the high court lasting less than seven minutes".
Murat's partner, Michaela Walczuch, and a business associate, Sergey Malinka, received £100,000 each over articles which implicated them as members of the non-existent paedophile ring.
Speaking outside court, Murat said that the irresponsible and inaccurate coverage "brought about the total and utter destruction of mine and my family's life and caused immense distress", the Press Gazette reported at the time.
He added: "Today's statement of full apology in open court means I can emerge from this action vindicated and with the recognition and acknowledgement that what was said against me was wholly untrue."
Murat was also awarded €20,000 in damages from a Portuguese court relating to a news broadcast in which he was described as a "paedophile".
In 2014, Murat agreed to speak to police again, this time as a witness. He told The Guardian at the time that the prospect of fresh involvement with the case no longer fazed him.
"My conscience is clear and I have no problem speaking to police again," he said.
"I have more important things to worry about, like running my business, paying my taxes and I also need to paint my house."
Murat and Walczuch, whom he married in 2009, were among 11 people re-interviewed as part of Operation Grange, the renewed investigation into McCann's disappearance launched by Scotland Yard in 2011, three years after Portuguese police wound down their search.
He ultimately spent around four hours speaking to British and Portuguese officers at a police station in Faro, in what has since proved to be his final official involvement with the McCann investigation.
Where is Murat now?
In 2017, the Scottish Daily Mail reported that Murat and his wife still live in the Algarve, where Murat reportedly runs a computer shop in Lagoa, 30 minutes away from Praia da Luz.
However, years after he was exonerated of any involvement in the toddler's disappearance, he is still dogged by his connection to the McCann case.
"Unfortunately, I'm always going to be linked to it. It's always going to have an effect on me because people's opinions of what happened are so varied," he said in 2014, The Daily Telegraph reports.
"I was cleared of everything right back in 2008 but the fact is that in some people's minds there's still going to be a link."
In the Netflix documentary, Murat says his experience as an arguido was "hell on earth". He adds that he thought he "would feel absolutely fantastic" after the libel win, but says: "No, the situation was the same. That child hadn't been found."

Continue reading for free
We hope you're enjoying The Week's refreshingly open-minded journalism.
Subscribed to The Week? Register your account with the same email as your subscription.