Instant Opinion: Proroguing Parliament 'an affront to democracy'
Your guide to the best columns and commentary on Thursday 29 August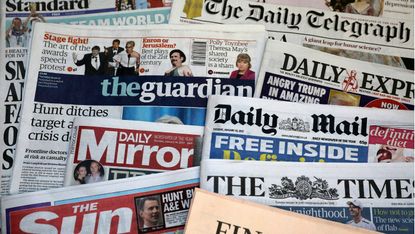 The Week's daily round-up highlights the five best opinion pieces from across the British and international media, with excerpts from each.
1. The Guardian Editorial
on proroguing parliament
Subscribe to The Week
Escape your echo chamber. Get the facts behind the news, plus analysis from multiple perspectives.
SUBSCRIBE & SAVE
Sign up for The Week's Free Newsletters
From our morning news briefing to a weekly Good News Newsletter, get the best of The Week delivered directly to your inbox.
From our morning news briefing to a weekly Good News Newsletter, get the best of The Week delivered directly to your inbox.
An affront to democracy
"Prorogation is an exercise of royal prerogative that is tolerable in a modern democracy only insofar as it is ceremonial. Its deployment by a prime minister without an electoral mandate of his own, in pursuit of a partisan agenda for which there is no Commons majority, represents a grotesque abuse of the country's highest political office. Mr Johnson is hijacking powers symbolically vested in the crown and wielding them in aggression against his parliamentary opponents. That he does it in pursuit of a hard Brexit is distressing for pro-Europeans. That he is prepared to do it at all should alarm everyone who values the traditions of British democracy."
2. The Daily Telegraph View
on what happens next
The real anti-democratic outrage is the antics of the parliamentary Remainers
"Mr Johnson's gamble is that this will stymie the Remainers' efforts to prevent no deal and see the Government through to the middle of October, when a Queen's Speech will be followed rapidly by an EU summit. There is an argument that Brussels will be more likely to offer an improved deal if it knows the anti-no dealers in Parliament have been routed. But it is a great risk. There is no certainty that this will restrain the Remainers. The expected resignation of the Scottish Tory leader, Ruth Davidson, once a rising star, suggests the next few weeks will be chaotic. Rebel Tories may even decide that the time has come to vote against the Government in a confidence vote. But the die has been cast. Mr Johnson has acted boldly and resolutely, within the bounds of the constitution, to ensure that the Brexit vote is honoured."
3. James Kirkup in The Times
on the slow death of political compromise
MPs turned our politics into cage-fighting
"By refusing to accept anything less than complete victory for their cause, hardliners on both sides ensured that parliament ceased to be a place where opponents would grind out respectful low-score draws and instead became a battlefield where the winner takes all and the losers weep. MPs who rejected the May deal chose to change the Brexit game from Test cricket to cage-fighting. Yes, it's more exciting and, for the bloodthirsty, more satisfying. But who respects the cage?"
4. Louis Staples in The Independent
on the 2020 US presidential race
The Democratic nomination is a three-horse race between Biden, Bernie and Warren. That's a good thing for everyone
"To avoid the bitter divisions of 2016's primary, a three-horse race is a blessing in disguise for Democrats. With Bernie [Sanders] on one side and [Joe] Biden on the other, it remains to be seen whether [Elizabeth] Warren's campaign will flourish, or whether her support will disappear to either side. Only time will tell. Ultimately, the Democrat who will emerge victorious might not be loved by all. But they'll be a candidate that most Democrats can live with, having had their ideas tested against multiple wings of the party in a less adversarial, polarised contest than we saw in 2016. Far from damaging the party, this primary cycle is shaping up to be exactly what Democrats need."
5. Kathryn Francis in The Conversation
on being a bad drunk
Alcohol really is no excuse for bad behaviour – research reveals you're still the same person after a drink
"It turns out that while we might believe that alcohol changes our personalities, it doesn't. You're still the same person after a drink – your existing sense of morality left intact. So while alcohol might affect how we interpret and understand the emotions of other people, we can't blame our immoral behaviours on alcohol. Drunken you has the same moral compass. And so you are responsible for your moral and immoral actions, whether you've had a few drinks or not."

Continue reading for free
We hope you're enjoying The Week's refreshingly open-minded journalism.
Subscribed to The Week? Register your account with the same email as your subscription.