Volodymyr Zelenskyy: from comedian to war hero
Ukraine's leader was once known for winning his country's version of Dancing with the Stars – today he is a bona fide statesman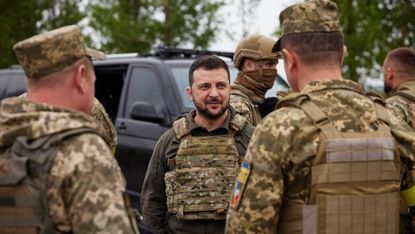 (Image credit: Anadolu Agency via Getty Images)
Elected to the presidency almost four years ago, Volodymyr Zelenskyy has recast himself on the world stage from a successful comedian and television mogul to a war-time leader – even garnering comparisons to Britain's Winston Churchill along the way.
The 45-year-old self-declared populist, who was elected with a landslide victory in 2019, has rallied the people of Ukraine in the face of a full-scale invasion by Russian forces.
He has artfully employed his skills as a performer in his addresses and videos to give voice to "Ukrainian anger and defiance of Russian aggression", said the BBC.
Subscribe to The Week
Escape your echo chamber. Get the facts behind the news, plus analysis from multiple perspectives.
SUBSCRIBE & SAVE
Sign up for The Week's Free Newsletters
From our morning news briefing to a weekly Good News Newsletter, get the best of The Week delivered directly to your inbox.
From our morning news briefing to a weekly Good News Newsletter, get the best of The Week delivered directly to your inbox.
Wartime leader
Up until his decision to run for president in Ukraine's 2019 election, Zelenskyy was "largely absent from the country's political history", said Foreign Policy magazine.
He was not involved in the Orange Revolution of 2004 and 2005 that forced election officials to cancel a fraudulent run-off, nor was he present in 2014 when deadly clashes in Kyiv's Maidan Square forced pro-Russian President Viktor Yanukovych from power.
The early years of his presidency weren't terribly successful either. But when Russia invaded Ukraine on 24 February last year, his transformation from "a leader floundering in the polls" to "national figurehead" really began, the BBC said.
In a sober media address in the wake of the invasion, he said he had tried to call Russian President Vladimir Putin to avoid a war, but his attempts at dialogue had been met only with "silence" from the Kremlin.
Speaking in Russian, he said that Ukraine and Russia did not need a war, "not a Cold War, not a hot war, not a hybrid war". But Zelenskyy added that Ukraine would defend itself if it came under attack. "When you attack us, you will see our faces. Not our backs, but our faces."
It was the first glimpse of the Ukrainian president "proving himself a convincing fit in an unlikely new role: as an inspirational wartime leader", said The Sunday Times.
But people were still sceptical whether someone with a background as an entertainer could take on a statesman as ruthless and experienced as Putin.
According to The New Statesman, "in those first breathtaking weeks after Russian tanks rumbled across the borders, the internet sparkled with every Zelenskyy gem. 'Did you know he was the Ukrainian voice of Paddington Bear?' 'He won Ukraine's Dancing with the Stars in 2006!'"
Despite people's misgivings, Zelenskyy went on to become "the face of Ukraine's resistance" against Putin's invading forces, said The Wall Street Journal.
He has emerged as "a far fiercer foe" than Moscow expected, especially after he "refused offers to be spirited away to safety", said The Washington Post. This formed "part of a broader transformation that has cemented his global reputation as a hard-bitten wartime leader".
The conflict has changed him, according to Andriy Yermak, head of the Ukrainian presidential office, but some of his qualities have remained firmly fixed.
"Of course, we all have changed, including the president," said Yermak. "The ordeals that have marked his tenure – they can't but change a person. Has he become harder? Of course, he has. Has he become stronger? From my point of view, he was always strong."
Early life and election
The Ukrainian leader was born in the town of Kryvyi Rih in the Ukrainian Soviet Socialist Republic in 1978 and studied as a lawyer prior to becoming a comedian.
He married his "high-school sweetheart", Olena Zelenska, in 2003, said The Economist, and the couple have two children.
He rose to fame among Ukrainians after landing a role in the sitcom Servant of the People, in which – ironically – he played a fictional teacher-turned-president. As the show grew more popular, he helped launch a political party of the same name and was selected as its candidate for the 2019 presidential election.
Initially lagging behind in the polls, Zelenskyy gained traction by appealing to voters fed up with entrenched corruption, low living standards and years of political upheaval, the BBC's Jonah Fisher said prior to the vote.
"He has torn up the rule book for election campaigning, holding no rallies and few interviews and instead using social media to appeal to younger voters," he added. "He appears to have no strong political views apart from a wish to be new and different."
At the ballot box he ran against the controversial, fiercely anti-Russian president Petro Poroshenko, who came to power following a violent coup against his predecessor Yanukovich in 2014. Despite Poroshenko warning that Zelenskyy was inexperienced and Ukraine "could be quickly returned to Russia's orbit of influence" under the comedian's rule, Zelenskyy stormed to victory in a landslide, taking 73% of the vote.
Corruption allegations
Corruption and sleaze has long dogged the Ukrainian parliament. In January this year, Zelenskyy fired a slew of senior officials amid a scandal linked to the procurement of war-time supplies. The move represented "the biggest shakeup of his government since Russia's invasion began", said CNN.
Yet there is still considerable work to be done. According to a 2022 report by Transparency International, Ukraine is the second most corrupt country in Europe after Russia. Globally, it ranked 116 of 180 countries.
Zelenskyy's promise to rid the government of corruption was one of the key parts of his appeal to voters in 2019. But even at the time there were concerns that he would be in the pocket of his presidential campaign's financiers.
Having enjoyed the support of oligarch Ihor Kolomoyskyy during his presidential run, some feared Zelenskyy would be nothing but a "puppet leader, controlled by a man who is under investigation in the US for possible fraud and money-laundering", said the BBC.
But Zelenskyy proved to be "more independent than the sceptics thought" in many ways. Especially considering during his presidential campaign Zelenskyy had said that he would negotiate peace with Russia, which had seized Crimea in 2014 and went on to prop up separatist movements in the Donetsk and Luhansk regions of Ukraine, leading to a conflict in which an estimated 15,000 people had already died, even before Putin tried to conquer Ukraine.
But his attempts to negotiate with Russia brought only limited success. Zelenskyy managed to broker a prisoner exchange and move towards implementing parts of the Minsk agreements, but his "efforts for reconciliation faltered" under Putin's "insistence that Ukraine back away from the West".
As his approval ratings plummeted in Ukraine – dropping as low as 20% in some polls – he began to strike "a more assertive tone in pushing for membership of the European Union and the Nato military alliance", said the BBC, "a move that was bound to anger the Russian president".
What next?
After the war began the world witnessed the former comedian transform from "a provincial politician with delusions of grandeur into a bona fide statesman", wrote Melinda Haring, from the Atlantic Council's Eurasia Center, for Foreign Affairs.
Zelenskyy understands keenly that his core responsibility is not to be a military strategist, but as a communicator, said Time magazine, "a living symbol of the state, whose ability to grab and hold the world's attention will help determine whether his nation lives or dies".
Accordingly he today "disrupts the world's media landscape, addressing parliaments from Germany to Japan via video, popping up everywhere from the Grammys to Glastonbury".
Yet the next phase of the war may be Zelenskyy's "toughest test yet", said the New Statesman. "He's already shown himself to be less sure-footed as he veers from vague talk of compromises to save lives to vowing to take back every inch of Ukrainian land".
"It's the hardest of high-wire acts," the magazine added, "even for Zelenskyy."

Continue reading for free
We hope you're enjoying The Week's refreshingly open-minded journalism.
Subscribed to The Week? Register your account with the same email as your subscription.