Fashion designer Kim Jones: Transforming Dior
English fashion designer Jones has applied his Midas touch to Dior menswear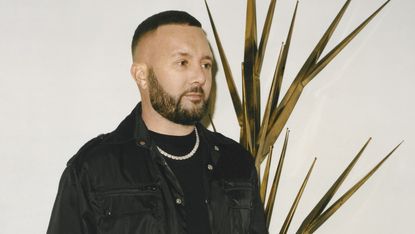 A property of the French Republic, the Mona Lisa has been on permanent display at Paris' Louvre Museum since 1797. Today, tributes to Leonardo da Vinci's renaissance masterpiece are ubiquitous in Paris. There are Mona Lisa tote bags, rubber bath ducks and purse mirrors to be found at the museum's own boutique; by the foot of the Montmartre, street-vendors sell souvenir keychains and fridge magnets.
In June this year, Kim Jones unveiled his own, altogether more luxurious homage to the famous work, when the English fashion designer collaborated with American artist Raymond Pettibon on his Autumn/Winter 2019 Dior menswear collection.
As the lights went down inside Dior's bunker-like venue at Paris' Champ de Mars, models were sent down a 249ft-long, moving walkway that cut through the space like an oversized conveyor belt. Designed by Etienne Russo the set provided a graceful backdrop to Jones' collection, which included designs recreating Pettibon's comic-book take on the Mona Lisa, the 2010 drawing titled "No Title (She Must Know)".
Subscribe to The Week
Escape your echo chamber. Get the facts behind the news, plus analysis from multiple perspectives.
SUBSCRIBE & SAVE
Sign up for The Week's Free Newsletters
From our morning news briefing to a weekly Good News Newsletter, get the best of The Week delivered directly to your inbox.
From our morning news briefing to a weekly Good News Newsletter, get the best of The Week delivered directly to your inbox.
As Dior's travellator smoothly transported statuesque models from left to right past the audience, Pettibon's portrait appeared printed onto the iridescent fabric of a zip-up blouson, woven into intarsia knitwear and – for the show's closing look –hand-embroidered over the surface of a buttoned shirt, a painstakingly meticulous task that required the expert skill of 15 in-house craftsmen working over a combined 1,600 hours.
"I met him in a sports bar through [actress] Stella Schnabel", says Kim Jones, recalling his first encounter with Pettibon, whose work is rooted in the punk rock scene of 1980s California. "We sat down and had some fried wings and we got on to the subject of our love for nature and animals".
For his team-up with the artist, Jones selected works from Pettibon's archive while commissioning new creations, including impressionistic leopard and tiger prints. "Kim and the team did a very good job at integrating my artwork", Pettibon enthuses. "I want to deliver the message of love through art and now, through this collaboration, the message will be communicated through Dior embroideries and jacquards."
Following his seven-year tenure as style director of Louis Vuitton menswear, Jones joined Dior in March 2018, taking over from Belgian designer Kris Van Assche. "I didn't really have a game-plan when I went in because I didn't see the archive until I got there", Jones remembers. "'Elegant', 'tailoring' and 'couture' – that's the brief I set myself and that's how we work on all the collections".
He has since found inspiration in both Christian Dior's creations and the designer's biography. "I don't just look at him as the couturier, I look at his whole life." No detail is too small when it comes to Jones' handiwork, which prizes the unexpected. "At Dior, we look at Dior", he says indicating his desire to delve deep into the DNA of the brand.
In the three months leading up to his debut collection, Jones immersed himself in the Dior archives, whose vast holdings are safeguarded in Paris and the South of France. The resulting SS19 Paris show took place in an open-air, amphitheatre-like setup. Tiered seating encircled a central stage which was dominated by a colossal and cartoonish 32-foot effigy of Monsieur Dior created by Brooklyn-based artist Kaws, comprising no less than 70,000 flowers.
The friendly-looking floral monster was the Jones' totemic tribute to the late designer who famously disrupted the course of fashion history with his irrepressible language of optimism.
Jones had dreamt up shirts cut from fabrics replicating a blossom pattern first drafted by Christian Dior for a porcelain tea service, while tailoring in pastel hues and signature bee-motifs paid further tribute to Monsieur Dior's love of flora and fauna. Depicting singing birds in flight, amphorae and curlicue plant stems, the romantic repeat-pattern of a Toile de Jouy print was lifted from a wallpaper that Jones's discovered had originally dressed the walls of Dior's first boutique on Avenue Montaigne in 1947. Toile de Jouy tank-tops, chore jackets and boxer shorts worn with grosgrain-laced desert boots balanced nostalgia with innovation.
"I like it to look like it's from now, not the past", Jones explains. It's a maxim echoed by Pietro Beccari, since 2018 the chairman and chief executive of Christian Dior Couture. "I think we are aligned in the fact that Dior is rooted in tradition and committed to create the future. Our challenge is to integrate something new into something classic", Beccari says.
Christian Dior's first job was as a gallerist to artists including Marcel Duchamp, Salvador Dalí and Max Ernst and has since inspired Jones – whose own art collection counts a Francis Bacon rug and works by Bloomsbury Group members Vanessa Bell and Duncan Grant – to invite contemporary artists including Hajime Sorayama (Pre-Fall 2019), Daniel Arsham (SS20) and Alex Foxton (Resort 2020) to collaborate.
"Dior is about celebration", says Jones. "[The brand] came about after WWII and it had a joie de vivre. I think that's something very important that we put into the work as well". Christian Dior unveiled the Corolle New Look in February 1947; his seismic debut collection celebrated the artisanal might of Parisian dressmaking. Amidst post-war austerity, Dior's billowing skirts, peplumed Bar jackets and Belle Époque gowns cut from prestige fabrics struck a revolutionary chord. Today, Jones reflects the house's haute couture spirit in his menswear collections.
At its Rue de Marignan menswear headquarters, the brand's craftsmen have previously recreated Jones' Toile de Jouy (SS19) by shaping and placing single feathers on a fabric base. Dior's Cruise 2019 menswear show, which was unveiled in Japan's capital Tokyo, introduced plumy laser-cut lace and a new metallised fabric whose production required the use of a vacuum chamber. A hand-painted jumpsuit was the work of Japan's foremost kimono artist.
In addition, Jones' menswear designs subtly draw from the details, shapes and construction of Christian Dior's creations. A Tailleur Oblique line of suiting references asymmetrically cut Dior gowns from the 1950s with jackets that button diagonally. This autumn, blazers and coats come fitted with sash-like silk scarves – an elegant detail that carries an interesting backstory. Jones was inspired by a 1955 Richard Avedon photograph of fashion model Dovima flanked by trio of elephants, the sash of her Dior gown skimming the hay-strewn floor of a Paris circus.
"I was really happy with that", says Jones of the design. "We thought, 'How could we translate that couture gown into a male suit?'"
When accepting his new role, Jones asked to be based in his hometown of London. Today, he spends roughly ten days a month in Paris, where most of the Dior Men team is based. "None of these jobs are massively easy but you make them as easy as you can", he says. "I asked for things I liked, to make me able to do the best job I can and for the team to be happiest."
Taking over a suite of rooms in Marylebone, London, Jones' new studio is not what one might expect given the global clout of this luxury brand. It's friendly, fun and full of industry; chatty models arrive for fittings as a young workforce navigates a somewhat cluttered interior full of heavily-laden clothing rails, heaps of garments and high stacks of cardboard boxes.
"We work how we want to work", says Jones, today dressed in a black cashmere jumper, black trousers and Nike trainers. On his left wrist a diamond pave-set Rolex: "It was my Christmas treat to myself. It's pretty – I don't think it's too crazy."
Jones' desk is flanked by clothing rails and shelves crammed with his personal collection of vintage clothing and rare finds. There are seldom seen creations by designers, artists and 1980s club kids including Christopher Nemeth, Melissa Caplan and Rachel Auburn. An entire rail is taken up by garments designed and made by Leigh Bowery, the late Australian performance artist, club promoter and fashion provocateur known for his avant-garde costumes.
Jones was born in London to a Danish mother and English father, whose career as a hydrologist saw his family travel to posts in Ecuador, Botswana, Tanzania and Kenya.
"I was always getting in trouble", Jones says, remembering his peripatetic childhood. "I was on toddler reigns because I kept bringing poisonous snakes into the house". Jones has remained a regular to this day, with recent stops including Shanghai, Namibia and Tetiaroa, an atoll in French Polynesia. Wildlife, too has remained a passion and Jones is an avid supporter of conservation projects. "I am not necessarily a city person but it's where I work. I love being in the outdoors", he says. "I am going to Tahiti because I want to swim with whales."
Following the completion of his degree in graphics and photography from Camberwell College of Arts, Jones enrolled in Central Saint Martins' MA Fashion, where he was taught by Louise Wilson. "Louise is always in my mind", he says of the late venerated professor. "We were very good friends after college".
When graduating in 2002, designer John Galliano bought pieces from Jones' final year collection. "There was a jacket that I made the felt [for] myself, so I was a bit upset about that", he says. "I don't know whether he has them anymore." In 2003, Jones launched his own business with capital realised from the sale of a rare Vivienne Westwood parachute skirt, part of his then burgeoning collection of vintage clothing.
Over the course of eight seasons, Jones' award-winning brand gained a loyal following for its insightful take on contemporary menswear. Presented in London, Paris and New York, Jones' collections featured trompe-l'oeil knitwear (AW06), cashmere joggers (AW07) and shearling boiler suits (AW07). "I always think big", he says. "I always thought, if you show in Paris it has to look like it's meant to be in Paris." His ambition paid off, and in 2008 Jones was announced creative director of British heritage brand Dunhill. Three years later, Louis Vuitton called.
Throughout Jones' career, collaboration has been a recurrent theme. While designing his own brand, he also partnered with names including Mulberry, Hugo Boss and Kanye West's Pastelle line; partnerships with British football brand Umbro and later NikeLab were also instant best-sellers. At Louis Vuitton, his collections expressed the Parisian brand's travel heritage with collections with artists (YBAs Jake and Dinos Chapman), designers (Fragment's Hiroshi Fujiwara) and skateboarding brand Supreme.
Jones' team is tight-knit and loyal. "It's a gang of people that I have known for years and years. We are friends and allies, we all support each other and talk about stuff". In addition to Lucy Beeden, who has acted as Jones' right-hand woman for over 13 years, his growing Dior family includes Korean American jewellery designer Yoon Ahn. Matthew Williams, creative director of fledgling Los Angeles make Alyx, has been charged with designing seatbelt-like metal buckles which fasten the belts, backpacks and the jacquard shoulder-straps of Dior saddle bags. The buckle also features on baseball caps dreamt up by milliner Stephen Jones, who first met Jones "on a dancefloor somewhere".
American DJ and musician Honey Dijon was first introduced to Jones by fashion designer Andre Walker. "We have been friends ever since", says Dijon, who oversees the Dior show soundtracks. "Kim is a lot of fun to work with. The studio is always filled with music and friends and laughter. However, he is a perfectionist and very precise and he challenges you to do your best because he is doing his best."
Back at his London studio, a crystal-glass perfume bottle cast in the shape of a standing dog overlooks Jones' desk from a nearby bookshelf. Produced in 1952 as a limited-edition collectible, it is modelled on Christian Dior's beloved pooch, Bobby, and once contained the brand's Miss Dior fragrance. Jones happened upon the rare treasure whilst on holiday in Egypt, perusing a local souk. "It was in the shop with all these antiques and I was like, 'There's Bobby!'", Jones remembers. "I made Kate [Moss] haggle for me," he laughs.
A vintage Dior perfume bottle stashed away in a Middle Eastern bazaar is indicative of the brand's enduring global reach. It's this aura of "mythology" that Jones promises to prolong at Dior thanks to his talent for reviving the past in such a way that we hardly notice it's there.
Tradition can flourish in an altogether fresh and exciting context, be it via a giant pink floral monster or a collection crafted for modern renaissance men. Jones' take on the matter, however, is considerably more humble.
"People love the brand", he says. "We are just caretakers".

Continue reading for free
We hope you're enjoying The Week's refreshingly open-minded journalism.
Subscribed to The Week? Register your account with the same email as your subscription.