10 things you need to know today: January 21, 2015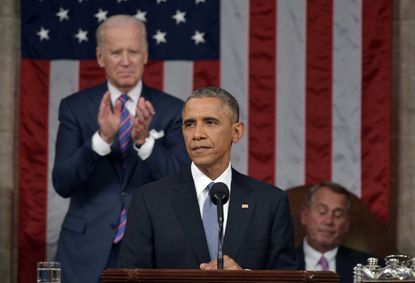 1. Obama says improving economy vindicates "middle-class economics"
President Obama gave an hour-long defense of his policies in his sixth State of the Union address Tuesday night, declaring that the rising economy had vindicated his strategy for leading the nation out of the Great Recession. "The verdict is clear: middle-class economics works. Expanding opportunity works," Obama said. He urged GOP critics to "turn the page" and back his expensive plans to boost the middle class further. House Speaker John Boehner (R-Ohio) responded: "Making the government bigger isn't going to help the middle class."
The Washington Post The New York Times
2. Rebels take over Yemen's presidential palace
Houthi rebels seized Yemen's presidential palace in the capital of Sanaa on Tuesday, and shelled embattled President Abed Rabbo Mansour Hadi's nearby residence. The embattled U.S.-backed government — a key counterterrorism ally — was negotiating with the Shiite Houthis when the fighting broke out. "This is a coup," said Army commander Col. Saleh al-Jamalani. "There is no other word to describe what is happening but a coup." The United Nations Security Council condemned the violence in a meeting Tuesday.
Subscribe to The Week
Escape your echo chamber. Get the facts behind the news, plus analysis from multiple perspectives.
SUBSCRIBE & SAVE
Sign up for The Week's Free Newsletters
From our morning news briefing to a weekly Good News Newsletter, get the best of The Week delivered directly to your inbox.
From our morning news briefing to a weekly Good News Newsletter, get the best of The Week delivered directly to your inbox.
3. Attacker stabs 15 on Tel Aviv bus
A man stabbed more than a dozen Israelis on a bus in Tel Aviv during Wednesday morning rush hour. Armed prison workers who spotted the bus swerving then stopping at a green light shot and wounded the assailant, identified as a Palestinian man from the West Bank city of Tulkarm, as he tried to run away. He was arrested. At least 15 people were sent to hospitals, three with serious injuries. Police said they believed the incident was a "terror attack."
4. Paris mayor threatens to sue Fox News over alleged "no-go zones"
The mayor of Paris, Anne Hidalgo, is threatening to sue Fox News over bogus on-air claims that the French capital was pock-marked with dangerous "no-go zones" where non-Muslims could not enter. Fox News has issued an embarrassing retraction of the statements, made by a terrorism commentator and Fox News host Sean Hannity, but Hidalgo said Tuesday the claims had "insulted" her city and damaged its reputation. "I think we'll have to go to court, in order to have these words removed," Hidalgo said.
5. Indonesian authorities say doomed AirAsia jet climbed too fast, then stalled
Indonesia's transport minister said Tuesday that AirAsia Flight 8501 climbed too fast and stalled before crashing into the Java Sea on Dec. 28, killing all 162 people on board. The airliner ascended at a rate of 6,000 feet per minute. "I think it is rare even for a fighter jet to be able to climb 6,000 feet per minute," the minister, Ignasius Jonan, told lawmakers at a hearing in Jakarta. The debris was scattered across the sea. Only 53 bodies have been recovered so far.
6. France makes terror-attack hero a citizen
France granted citizenship on Tuesday to Lassana Bathily, a 24-year-old Muslim immigrant from Mali who hid several hostages from an Islamist extremist gunman who attacked a kosher market in Paris on Jan. 9. Bathily has lived in France about nine years, and applied for citizenship last summer. His case was fast-tracked after the attack. "People tell me I am a hero. I am not a hero. I am trying to stay myself," he said. "I am very happy. Long live liberty! Long live friendship! Long live solidarity! Long live France!"
7. Boston doctor dies after being shot at hospital
A heart surgeon shot at Boston's Brigham and Women's hospital died late Tuesday, hours after being shot twice by a gunman who entered the medical center and asked for him by name. The victim, Dr. Michael Davidson, 44, "was a wonderful and inspiring cardiac surgeon who devoted his career to saving lives," the hospital said in a statement. The alleged killer fatally shot himself in a nearby exam room, police said. Investigators could not immediately say why the doctor was targeted.
8. Japan is "fighting against time" to save ISIS hostages, Abe says
Japan's prime minister, Shinzo Abe, cut short a Middle East tour and returned to Tokyo for a cabinet meeting on freeing two hostages the Islamic State said it would kill unless it received $200 million in ransom. "We are fighting against time," Abe said. Japan sent an envoy to the region to negotiate. Abe said Japan would "use every diplomatic route" but declined to say whether Japan would pay ransom to free the men — freelance journalist Kenji Goto, 47, and private security entrepreneur Haruna Yukawa, 42.
9. Netflix stock jumps as the company adds 4.3 million streaming-video subscribers
Netflix shares soared by as much as 14.4 percent on Tuesday after the company announced that it had added 4.3 million net subscribers to its video streaming service in the last quarter of 2014. Most of the new subscribers — 2.43 million — were added abroad. The company signed up 1.9 million newcomers in the U.S. Netflix expects to pick up another four million in the current quarter. The company also reported higher quarterly profits than analysts expected.
10. NFL investigates Patriots' underinflated footballs
The NFL found that the New England Patriots used underinflated footballs in their 45-7 win Sunday against the Indianapolis Colts, which earned the Patriots a spot in the Super Bowl. A softer ball can be easier to throw and catch in rainy conditions like those of Sunday's AFC championship game. The Patriots outscored the Colts 17-7 before officials spotted the problem, and 28-0 after the issue was corrected. Still, the team could face a fine or other penalties if the NFL finds it doctored the balls on purpose.

Continue reading for free
We hope you're enjoying The Week's refreshingly open-minded journalism.
Subscribed to The Week? Register your account with the same email as your subscription.