10 things you need to know today: January 23, 2015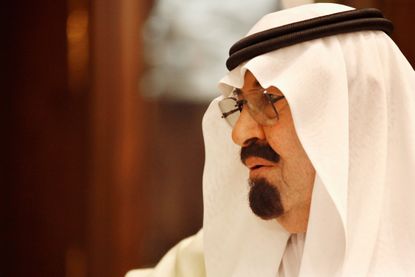 (Image credit: Chip Somodevilla/Getty Images)
1. King Abdullah of Saudi Arabia dies at age 90
Saudi Arabia's King Abdullah, a key U.S. ally against al Qaeda, died Friday at age 90. Abdullah held firm as democratic uprisings swept through the region, and was known as a cautious reformer who tried to modernize his oil-rich, ultraconservative Muslim nation after the reign of his autocratic predecessor, King Fahd. His successor — Prince Salman, 79 — wasn't expected to alter OPEC's decision to keep oil production steady, but the uncertainty caused oil futures to jump by as much as 3 percent overnight.
2. President and prime minister quit in Yemen
Yemen's U.S.-backed president, Abed Rabbo Mansour Hadi, resigned on Thursday night under pressure from Shiite Houthi rebels who had surrounded his residence in Sanaa, the capital. The prime minister and his cabinet also quit. The government's collapse ended Hadi's two-year effort to stabilize a country that has become a breeding ground for al Qaeda. By law, the job of president should pass to parliament speaker Yahia al-Rai, a close ally of the country's former autocratic ruler, Ali Abdullah Saleh.
Subscribe to The Week
Escape your echo chamber. Get the facts behind the news, plus analysis from multiple perspectives.
SUBSCRIBE & SAVE
Sign up for The Week's Free Newsletters
From our morning news briefing to a weekly Good News Newsletter, get the best of The Week delivered directly to your inbox.
From our morning news briefing to a weekly Good News Newsletter, get the best of The Week delivered directly to your inbox.
3. New York Assembly Speaker Sheldon Silver arrested
FBI agents arrested longtime New York State Assembly Speaker Sheldon Silver (D) on corruption charges Thursday. Silver is accused of soliciting $4 million in kickbacks and bribes over 15 years. He was released on $200,000 bond. "I will be vindicated of these charges," he said. U.S. Attorney Preet Bharara said for years people had asked how Silver could make millions in outside money and still serve his constituents honestly. "Today we provide the answer," Bharara said. "He didn't."
4. Difficult jury selection delays opening of Boston Marathon bombing testimony
Federal court officials said Thursday that opening statements in the trial of Boston Marathon bombing suspect Dzhokhar Tsarnaev would not be heard Monday as scheduled, because jury selection was taking longer than expected. Defense lawyers have made their third request to move the trial, noting that 68 percent of the 1,373-member jury pool is already convinced Tsarnaev is guilty. One prospective juror, asked if he could find Tsarnaev not guilty, burst out laughing. Many others said they could never vote for the death penalty.
5. House Republicans pass less restrictive abortion bill after rebellion
The GOP-led House on Thursday passed a watered down anti-abortion bill seeking to make a ban on federal funding for abortions permanent. A day earlier, moderate Republicans led by several female lawmakers forced the GOP leadership to scrap a tougher bill seeking to ban nearly all abortions after 20 weeks of pregnancy, on the grounds that it would alienate moderate voters the party will need in the 2016 presidential election year. The infighting came as abortion opponents gather in Washington to mark the 42nd anniversary of the Roe v. Wade decision legalizing abortion.
6. European stimulus announcement lifts stocks
The European Central Bank announced Thursday that it would start buying 60 billion euros ($69 billion) worth of bond assets every month to stimulate the region's struggling economy. The news helped lift U.S. stocks in late trading Thursday. The $1.16 trillion program, which will last through September 2016. "Many have said this program is not going to suddenly flip a switch," said LPL Financial investment strategist John Canally. "It's a long slog and this is the first step."
7. Obama and Netanyahu will not meet during Israeli leader's visit
President Obama and Benjamin Netanyahu will not meet when the Israeli prime minister visits Washington to address Congress in March, the White House said Thursday. Congress. National Security Council spokeswoman Bernadette Meehan said it was a "long-standing practice" not to meet with heads of state when they are close to an election, as Israel is. House Speaker John Boehner (R-Ohio) invited Netanyahu to discuss Iran without consulting Obama, a rebuke of the president's nuclear negotiations with Tehran.
8. Thai lawmakers retroactively impeach ousted prime minister
Thailand's parliament on Friday retroactively impeached former Prime Minister Yingluck Shinawatra for mismanaging a costly rice subsidy program. Shinawatra was removed by Thailand's top court last May, days before a military junta took control of the country in a coup. The impeachment vote by the military-appointed legislature bans Shinawatra from politics for five years. Earlier on Friday, the attorney general's office said it planned to pursue criminal charges against Shinawatra over the rice scheme, which lost billions.
9. Kirchner reverses and says Argentine prosecutor's death was not suicide
Argentina's president, Cristina Fernandez de Kirchner, said Thursday that the lead prosecutor investigating the 1994 bombing of a Buenos Aires Jewish center did not commit suicide, as she initially suggested. The reversal came after supporters of the prosecutor, Alberto Nisman, questioned the official version after he was found dead Sunday in his apartment from a gunshot to the head. Nisman had accused Kirchner of making a secret deal to shield Iran against blame for the bombing. Kirchner hinted his death might have been part of a plot to bring her down.
10. Brady, Belichick deny culpability in Deflategate
New England Patriots quarterback Tom Brady said Thursday he had "no knowledge" during Sunday's AFC Championship game about his team's alleged use of underinflated footballs. "I didn't alter the ball in any way," he said. Earlier Thursday, Patriots coach Bill Belichick said he also had no idea about the alleged tampering until after the game. The NFL is investigating the incident, though Brady said he had yet to speak with league representatives.

Continue reading for free
We hope you're enjoying The Week's refreshingly open-minded journalism.
Subscribed to The Week? Register your account with the same email as your subscription.