10 things you need to know today: April 14, 2015
Marco Rubio launches his White House bid, four Blackwater guards get stiff sentences for Iraq killings, and more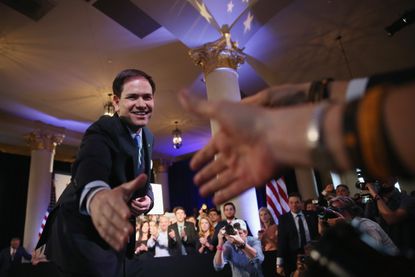 (Image credit: Joe Raedle/Getty Images)
1. Marco Rubio joins presidential race calling for new leaders
Sen. Marco Rubio (R-Fla.) formally entered the race for the 2016 Republican presidential nomination on Monday, promising in a Miami rally to help lead the way to "a new American century." The 43-year-old Rubio, who rose from the West Miami City Commission to the race for the White House in just 12 years, said it was time to break from the past, an apparent reference to GOP rival and former mentor Jeb Bush, and newly declared Democratic frontrunner Hillary Clinton. "Yesterday is over," he said, "and we are never going back."
2. Blackwater security contractors get stiff sentences for Iraq killings
A federal judge on Monday sentenced four former Blackwater Worldwide guards to 30 years to life in prison for a 2007 shooting that killed 14 unarmed Iraqis at a Baghdad traffic circle. U.S. District Judge Royce C. Lamberth sentenced Nicholas A. Slatten — the only one convicted of murder — to life, and gave the other three security contractors 30 years for multiple counts of manslaughter and attempted manslaughter. The defendants said they would appeal what one called a "perversion of justice."
Subscribe to The Week
Escape your echo chamber. Get the facts behind the news, plus analysis from multiple perspectives.
SUBSCRIBE & SAVE
Sign up for The Week's Free Newsletters
From our morning news briefing to a weekly Good News Newsletter, get the best of The Week delivered directly to your inbox.
From our morning news briefing to a weekly Good News Newsletter, get the best of The Week delivered directly to your inbox.
3. Russia ends hold on selling air-defense system to Iran
Russian President Vladimir Putin on Monday lifted a self-imposed ban on the sale of advanced S-300 defensive missile systems to Iran. Putin's predecessor had put a hold on such sales in 2010 under pressure from the U.S. and Israel. Russia is strapped for cash now because of falling oil prices and sanctions over Ukraine, and lifting the ban clears the way for an $800 million swap of Russian goods for Iranian oil. The Kremlin Tuesday confirmed the deal was being implemented. The U.S. said the move could further destabilize the Middle East.
4. Jodi Arias sentenced to life in prison for boyfriend's murder
Jodi Arias was sentenced Monday to life in prison without the possibility of parole for murdering her ex-boyfriend out of jealousy, concluding a salacious case that has attracted global attention for nearly seven years. The sisters of the victim, Travis Alexander, had called for the harshest penalty available to Judge Sherry Stephens. They said Arias was "unrepentant" and "evil." A jury deadlocked on whether to sentence Arias, 34, to death, taking capital punishment off the table.
5. Tulsa reserve deputy charged with manslaughter
Tulsa reserve deputy sheriff Robert Bates, 73, was charged Monday with second-degree manslaughter in the death of an unarmed black suspect. Bates, a volunteer, said he thought he was holding his Taser when he fired the fatal shot after another officer tackled the suspect, Eric Courtney Harris, 44, as he fled the scene of a drug and guns sting. The case has fueled anger over a series of fatal shootings of unarmed black men by white officers. Tulsa County Sheriff Stanley Glanz said Bates, a longtime friend, "made an error."
6. Capital punishment off the table for North Charleston officer
A white police officer, Michael Slager, will not face the death penalty for the killing of an black man, Walter Scott, after a traffic stop in North Charleston, South Carolina, a prosecutor said Monday. Slager was charged with murder after he shot Scott eight times in the back as he ran away. The case reignited protests over excessive force against African Americans that followed the fatal shootings of unarmed black men by a white officer in Ferguson, Missouri, last year. The prosecutor said there were no "aggravating circumstances" to justify the death penalty.
7. Iraqi leader and Obama to discuss combating ISIS
Iraqi Prime Minister Haidar al-Abadi is meeting with President Obama at the White House on Tuesday to personally appeal for increased military aid, including drones and other weapons, to use in the fight against the Islamic State. "We, in Iraq, are fighting terrorists on the ground," Abadi said before leaving Baghdad. White House spokesman Josh Earnest said that if Abadi makes specific requests the U.S. would "obviously consider them seriously."
8. Seattle company raises its minimum wage to $70,000 a year
The owner of a Seattle credit-card processing firm has taken the debate over the minimum wage to a higher level by raising the salaries for his 120 workers from an average of $48,000 to $70,000 a year, minimum, over the next three years. Dan Price of Gravity Payments came up with the money for the move by lowering his own take-home pay from $1 million to $70,000, and pumping profits back into the company. Price explained the move by saying that the gap between the pay of CEOs and workers is "ridiculous, it's absurd."
9. Diplomats call for removal of heavy weapons from eastern Ukraine
Foreign ministers from Russia, Ukraine, France, and Germany have to urge all sides to withdraw heavy weapons, including tanks and artillery, from still-contested areas in eastern Ukraine, German Foreign Minister Frank-Walter Steinmeier said early Tuesday. The diplomats said the pullback was necessary to support a shaky ceasefire that has held since late February, despite allegations that both the Ukrainian Army and pro-Russian separatists have violated its terms.
10. Scientists find signs of briny water on Mars
Mars may have water after all thanks to its super salty soil, according to research published this week in the journal Nature Geoscience. Using data collected by NASA's Curiosity rover, researchers concluded that salt in Mars' soil lowers the freezing point of water just enough to allow small amounts of liquid to condense below the planet's surface at night; in the morning, as temperatures rise, it evaporates. Temperatures are so low on Mars, however, that the scientists say it still cannot sustain life.

Continue reading for free
We hope you're enjoying The Week's refreshingly open-minded journalism.
Subscribed to The Week? Register your account with the same email as your subscription.