10 things you need to know today: December 10, 2016
CIA concludes with 'high confidence' Russia tried 'to help Trump get elected,' Trump fires back at Russia election manipulation reports, and more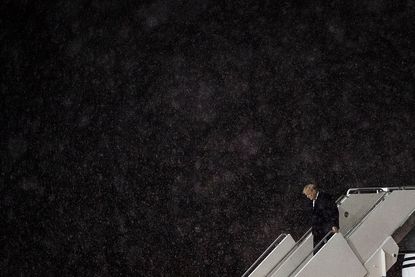 (Image credit: Drew Angerer/Getty Images)
Sign up to our 10 Things You Need to Know Today newsletter
A free daily digest of the biggest news stories of the day - and the best features from our website
Thank you for signing up to TheWeek. You will receive a verification email shortly.
There was a problem. Please refresh the page and try again.
1. CIA concludes with 'high confidence' Russia tried 'to help Trump get elected'
The CIA has concluded with "high confidence" that Russia interfered in the American presidential election not only to promote public distrust of U.S. institutions, as was originally suspected this fall, but to sway the outcome in favor of President-elect Donald Trump, a senior intelligence official said Friday evening. "It is the assessment of the intelligence community that Russia's goal here was to favor one candidate over the other, to help Trump get elected," the official said, referring to a secret CIA assessment shared with congressional leaders in a closed-door briefing last week. The CIA also believes Moscow hacked the Republican Party, much as it did the Democratic Party, but did not leak the information it obtained from the GOP. However, the agency did not say it believes Russian efforts successfully altered electoral outcomes. Earlier on Friday, President Obama ordered a "full review" of reports of hacking during the presidential election to be completed before Trump's inauguration on Jan. 20, 2017. The White House did not specify whether the results of that review would be made public.
The Washington Post The New York Times
2. Trump fires back at Russia election manipulation reports
The Trump transition team forcibly repudiated reports late Friday evening that the CIA believes Russia interfered with the U.S. election to help President-elect Donald Trump win. "These are the same people that said Saddam Hussein had weapons of mass destruction," the Trump camp said in an unsigned statement slamming the CIA. "The election ended a long time ago in one of the biggest Electoral College victories in history. It's now time to move on and 'Make America Great Again.'" Trump himself likewise rejected suggestions of Russian manipulation earlier this week in his "Person of the Year" interview with Time Magazine. "I don't believe it. I don't believe they interfered," he said, postulating that intelligence agents who say otherwise are politically motivated.
Subscribe to The Week
Escape your echo chamber. Get the facts behind the news, plus analysis from multiple perspectives.
SUBSCRIBE & SAVE
Sign up for The Week's Free Newsletters
From our morning news briefing to a weekly Good News Newsletter, get the best of The Week delivered directly to your inbox.
From our morning news briefing to a weekly Good News Newsletter, get the best of The Week delivered directly to your inbox.
3. Senate passes funding bill to delay government shutdown until April
The Senate approved a short-term measure to fund the federal government until April 28 with a Friday evening vote that avoided a shutdown deadline by less than an hour. The bill passed 63-36 after Senate Democrats from coal-heavy states dropped an objection pertaining to health care for retired miners. President Obama signed the funding measure early Saturday morning, completing the Senate's major business for 2016. Also early on Saturday, the Senate passed a water bill providing $170 million in aid to Flint, Michigan, which has suffered seriously contaminated tap water for nearly two years.
4. Trump adds Cohn, McMorris Rodgers, Liveris to administration
President-elect Donald Trump on Friday selected Goldman Sachs President and COO Gary Cohn to be the director of the National Economic Council. Cohn will be the third person in Trump's White House to have ties to Goldman Sachs following Trump's choice of former Goldman Sachs partner Steven Mnuchin for treasury secretary and his appointment of Stephen Bannon, who worked for the bank in the 1980s, as chief strategist. Also Friday, Trump tapped Rep. Cathy McMorris Rodgers (R-Wash.) to be his secretary of the interior, and he named Dow Chemical CEO Andrew Liveris to lead the American Manufacturing Council, a wing of the U.S. Commerce Department that interfaces with manufacturers.
5. Giuliani out, ExxonMobil CEO reportedly leading for secretary of state nomination
Former New York City Mayor Rudy Giuliani on Friday said on Fox News that he withdrew from consideration to be President-elect Donald Trump's secretary of state last month, a statement Trump confirmed with a tweet Saturday morning. Friday evening, a senior official on Trump's transition team said the leading candidate for the role is ExxonMobil CEO Rex Tillerson, with whom Trump met earlier this week. The same official said a decision on the nation's top diplomatic job may arrive next week, and former Massachusetts Gov. Mitt Romney is still in the running, as are Tennessee Sen. Bob Corker, Navy Admiral James Stavridis, and John Bolton, the former U.S. ambassador to the United Nations. Retired Gen. David Petraeus is rumored to be under consideration as well.
6. Carrier to automate some plant jobs saved by Trump
President-elect Donald Trump's deal with air conditioning company Carrier traded the manufacturer millions of dollars in special tax incentives in exchange for maintaining factory jobs in Indiana, but it also led the company to automate some of those very positions to cut costs. "We're going to make a $16 million investment in that factory in Indianapolis to automate, to drive the cost down so that we can continue to be competitive," said Greg Hayes, the CEO of Carrier's parent company. "Is it as cheap as moving to Mexico with lower-cost labor? No. But we will make that plant competitive just because we'll make the capital investments there. But what that ultimately means is there will be fewer jobs." Trump claimed the deal would save roughly 1,100 jobs, but the actual number looks to be closer to 800, not including any lost to future automation.
7. Charleston shooter Dylann Roof laughed in confession: 'I did it'
On Friday, prosecutors played in court an FBI video of the confession of Dylann Roof, the self-described white supremacist who is on trial for murdering nine people at Charleston's Emanuel African Methodist Episcopal Church in June of last year. "I went to that church in Charleston and I did it," Roof says in the tape, laughing as he confesses. "Did you shoot them?" an officer asks. "Yes," Roof answers, laughing again. Roof estimates he killed five people and says he did not speak to the victims before opening fire, though he sat through about 15 minutes of a prayer meeting internally debating whether to go through with his plan.
8. After impeachment vote, South Korea warns North Korea against 'provocation'
As South Korean lawmakers regroup after their overwhelming vote Friday to impeach President Park Geun-hye, Prime Minister Hwang Kyo-ahn has warned North Korea against "attempting a provocation." Hwang, who will serve as South Korea's acting president, promised top security officials in a meeting Friday that there would be "resolute retaliation if North Korea misjudges the situation" and tries to take advantage of the South's political turmoil. Park, South Korea's first female president and its first leader ever forced to step down, was impeached over an influence peddling scandal involving her closest friend and confidante, Choi Soon-sil. Park will be stripped of power while the Constitutional Court rules on whether she must permanently resign, which tens of thousands of protesters continue to demand.
9. Bulgarian cargo train explosion kills 5, injures 25
A cargo train derailed and exploded in Hitrino, Bulgaria, early Saturday morning after train tanks carrying propane-butane and propylene hit an electricity line. So far, five people have died and 25 more are injured, with some suffering burns on up to 90 percent of their bodies. The death toll is expected to rise. The accident also damaged or demolished about 20 buildings near the crash, and 150 firemen are working to find survivors at the scene. Bulgarian Prime Minister Boiko Borisov promptly traveled to the northeastern village and encouraged Bulgarians to give blood to help the victims.
10. Taylor Swift releases first single in 2 years, featuring Zayn Malik
Taylor Swift surprised fans late Thursday night by releasing a single with former One Direction member Zayn Malik. The collaboration marked Swift's first new release since her Grammy-winning album 1989 dropped in the fall of 2014. Swift and Malik's song, "I Don't Wanna Live Forever," will be featured in the movie Fifty Shades Darker, the second installment in the Fifty Shades of Grey trilogy due out early next year. The surprise single popped up on the U.S. iTunes store shortly before 12 a.m. ET Friday, and soared to the top of the charts within an hour.
The New York Times The Guardian
Continue reading for free
We hope you're enjoying The Week's refreshingly open-minded journalism.
Subscribed to The Week? Register your account with the same email as your subscription.
Sign up to our 10 Things You Need to Know Today newsletter
A free daily digest of the biggest news stories of the day - and the best features from our website
Bonnie Kristian was a deputy editor and acting editor-in-chief of TheWeek.com. She is a columnist at Christianity Today and author of Untrustworthy: The Knowledge Crisis Breaking Our Brains, Polluting Our Politics, and Corrupting Christian Community (forthcoming 2022) and A Flexible Faith: Rethinking What It Means to Follow Jesus Today (2018). Her writing has also appeared at Time Magazine, CNN, USA Today, Newsweek, the Los Angeles Times, and The American Conservative, among other outlets.