10 things you need to know today: March 7, 2017
Trump issues revised travel ban, House Republicans unveil proposal to replace ObamaCare, and more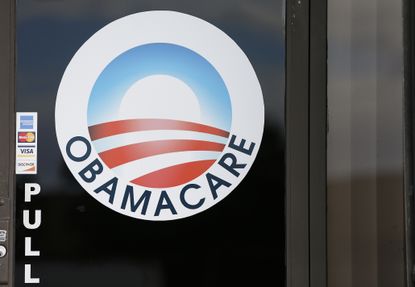 (Image credit: RHONA WISE/AFP/Getty Images)
Sign up to our 10 Things You Need to Know Today newsletter
A free daily digest of the biggest news stories of the day - and the best features from our website
Thank you for signing up to TheWeek. You will receive a verification email shortly.
There was a problem. Please refresh the page and try again.
1. Trump issues revised executive order on immigration and refugees
President Trump issued a new version of his executive order banning U.S. entry to residents of some Muslim-majority nations, excluding Iraq from the list. Visa processing for citizens from the other countries that were covered by the original order — Iran, Somalia, Sudan, Yemen, Syria, and Libya — will be suspended for 90 days while the administration works on tightening vetting to keep out terrorists. The new order, intended to avoid the legal challenge that resulted in the blocking of the first one, also left out a section that critics said would have granted Christian refugees preferential treatment over Muslims, but opponents said the change was cosmetic. "This is a retreat but let's be clear," said Omar Jadwat, director of the American Civil Liberties Union's Immigrants' Rights Project. "It's just another run at a Muslim ban."
2. Republicans release plan to repeal and replace ObamaCare
House Republicans on Monday unveiled the American Health Care Act, their long-awaited proposal to repeal and replace ObamaCare. The legislation calls for freezing enrollment in the Affordable Care Act's expanded Medicaid program on Jan. 1, 2020, and capping future Medicaid funding. Until the end of 2019, states would be able to sign individuals up for expanded Medicaid. The proposal replaces insurance subsidies with refundable tax credits to help people pay for health coverage, and ends the penalty for failing to comply with the mandate to buy insurance. The proposal also preserves two popular ObamaCare features, letting young adults stay on their parents' plans until age 26, and preventing insurers from dropping people with preexisting conditions. Debate starts in House committees this week.
Subscribe to The Week
Escape your echo chamber. Get the facts behind the news, plus analysis from multiple perspectives.
SUBSCRIBE & SAVE
Sign up for The Week's Free Newsletters
From our morning news briefing to a weekly Good News Newsletter, get the best of The Week delivered directly to your inbox.
From our morning news briefing to a weekly Good News Newsletter, get the best of The Week delivered directly to your inbox.
3. Supreme Court kicks transgender bathroom case back to lower court
The Supreme Court on Monday said it would send a transgender bathroom rights case back to a lower court instead of holding a hearing that had been scheduled for March 28. The court said last fall that it would hear the case of Virginia high schooler Gavin Grimm, a transgender student who sought to use the bathroom matching his gender identity rather than his biological sex. A federal appeals court in April 2016 ruled in Grimm's favor after considering an Obama administration guidance for schools to allow students to use bathrooms corresponding to their gender identity. The Trump administration last month reversed the order, and the Supreme Court wants the appeals court to reconsider its ruling in light of the Trump administration's guidelines.
4. U.S. starts deploying anti-missile system in South Korea
The U.S. has started deploying the first components of a "strictly defensive" anti-missile system in South Korea, U.S. officials said Tuesday. China has called the Terminal High Altitude Area Defense a threat to its security and warned there would be "consequences." The U.S. said it was sending it to help protect South Korea against missiles launched from North Korea, which fired four medium-range missiles into waters near Japan on Monday. After the tests, North Korea said it was practicing strikes against U.S. military bases in Japan. "If the United States or South Korea fires even a single flame inside North Korean territory, we will demolish the origin of the invasion and provocation with a nuclear tipped missile," the Korean Central News Agency said.
5. Carson faces criticism after comparing slaves to immigrants
Housing and Urban Development Secretary Ben Carson faced a barrage of criticism over social media on Monday for describing African slaves as "immigrants" in a speech to HUD employees. Carson said in his speech that some immigrants came to America "in the bottom of slave ships, worked even longer, even harder for less. But they too had a dream that one day their sons, daughters, grandsons, granddaughters, great-grandsons, great-granddaughters, might pursue prosperity and happiness in this land." Comedian and actress Whoopi Goldberg tweeted that Carson, who is African-American, should watch the 1980s mini-series Roots. HUD officials said critics were twisting Carson's words, and Carson said in a Facebook post after his speech that immigrants and slaves went through "two entirely different experiences."
6. White House offers to protect funding if Planned Parenthood stops providing abortions
The White House has proposed preserving federal funding of Planned Parenthood if the women's health organization stops providing abortions, The New York Times reported on Monday. Planned Parenthood, which receives about $500 million annually in federal funding for women's health services, rejected the offer. "Let's be clear, federal funds already do not pay for abortions," said Dawn Laguens, executive vice president of the Planned Parenthood Federation of America. "Offering money to Planned Parenthood to abandon our patients and our values is not a deal that we will ever accept." Trump said he was "deeply committed to investing in women's health," and hoped organizations would seize the opportunity to "continue the important work they do in support of women's health, while not providing abortion services."
7. Democrats call for Trump to release visitor logs
Democratic lawmakers on Monday called on President Trump to release visitor logs for the White House and the president's Mar-a-Lago resort in Palm Beach, Florida, to "provide assurances that your administration is listening to the voices of all Americans, not just friends and donors." The White House did not immediately respond to the request. The Democrats said they want Trump to continue a policy that gave the public access to the names of nearly six million visitors to the White House while former President Barack Obama was in office. The eight Democrats who signed the request included Mar-a-Lago because Trump has conducted business there on four weekend visits in his first six weeks in office. Trump calls the estate and private club his "Winter White House."
8. Khizr Khan cancels Canada trip over concerns about 'travel privileges'
Gold Star father Khizr Khan, an outspoken critic of President Trump, said Monday that he had canceled a planned speech in Canada after being told that his travel privileges were being reviewed. It was not immediately clear what he meant by "travel privileges." A U.S. Customs and Border Protection spokeswoman said the agency notifies people when they are losing membership in the Global Entry "trusted traveler" program, which lets pre-screened travelers speed through customs, but any American with a valid passport can still travel freely. Khan and his wife, Ghazala, emigrated from Pakistan in 1980 and became U.S. citizens six years later. The Khans are parents of a Muslim U.S. soldier, Humayun Khan, killed in Iraq. They criticized Trump during the Democratic National Convention, saying his proposal to bar Muslims from entering the U.S. trampled the Constitution. The Khans are not affected by Trump's new executive order on immigration.
9. White House doubles down on Trump wiretap claim
White House Press Secretary Sean Spicer on Monday defended President Trump's claim that former President Barack Obama wiretapped Trump's phones in Trump Tower toward the end of last year's election. "There's no question that something happened," Spicer said. "The question is, is it surveillance, is it a wiretap, or whatever." Trump, who has yet to offer evidence to support his allegations, has called for the House and Senate to investigate. Former Director of National Intelligence James Clapper has said that his agency conducted "no such wiretap activity" against Trump or his campaign, and FBI Director James Comey reportedly asked the Justice Department to publicly refute Trump's accusations because they implied the FBI broke the law. Obama's spokesman said Trump's allegations were "simply false."
10. North Korea bars Malaysians from leaving
Tensions continued to escalate between North Korea and Malaysia on Tuesday over the investigation into the murder of Kim Jong Nam, the estranged half-brother of North Korean leader Kim Jong Un, at Kuala Lumpur's airport last month. After the two countries expelled each other's ambassadors, Pyongyang barred Malaysians from leaving, and Malaysia responded with tit-for-tat travel restrictions for North Koreans. The moves came as Malaysian investigators looking into the killing of Kim Jong Nam, who was killed with banned VX nerve agent, tried to question three men hiding in the North Korean embassy, including a senior North Korean diplomat and a state airline employee.
Continue reading for free
We hope you're enjoying The Week's refreshingly open-minded journalism.
Subscribed to The Week? Register your account with the same email as your subscription.
Sign up to our 10 Things You Need to Know Today newsletter
A free daily digest of the biggest news stories of the day - and the best features from our website
Harold Maass is a contributing editor at TheWeek.com. He has been writing for The Week since the 2001 launch of the U.S. print edition. Harold has worked for a variety of news outlets, including The Miami Herald, Fox News, and ABC News. For several years, he wrote a daily round-up of financial news for The Week and Yahoo Finance. He lives in North Carolina with his wife and two sons.