10 things you need to know today: April 16, 2017
North Korean missile test fails at launch, Trump supporters and critics fight at California tax protest, and more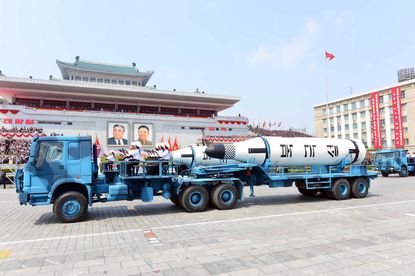 (Image credit: Stringer/Getty Images)
1. North Korean missile test fails at launch
One day after celebrating the regime's founding president with a military parade, North Korea conducted an unsuccessful missile test Sunday in which the missile exploded about five seconds after launch. The test took place in Sinpo, a coastal city from which Pyonyang launched a ballistic missile into the Sea of Japan in early April. The type of missile tested Sunday is presently unknown, though early reports suggest it was not an intercontinental ballistic missile (ICBM) capable of reaching the United States. "This morning's provocation from the North is just the latest reminder of the risks each one of you face every day in the defense of the freedom of the people of South Korea and the defense of America in this part of the world," Vice President Pence said while speaking to U.S. troops stationed in South Korea on Sunday as part of a previously scheduled visit.
2. Trump supporters and critics fight at California tax protest
Tens of thousands of people turned out for Tax Day protests nationwide on Saturday to demand the release of President Trump's personal tax returns. Trump is not legally required to disclose the documents, but critics say they could reveal conflicts of interest. While most of the rallies were peaceful, fights broke out between the president's supporters and opponents in Berkeley, California, resulting in about 20 arrests. Around a dozen people were injured, and police in riot gear reportedly used some sort of explosive device in the crowd. President Trump complained on Twitter Sunday that his taxes are still an issue post-election. "Someone should look into who paid for the small organized rallies yesterday," he added.
Subscribe to The Week
Escape your echo chamber. Get the facts behind the news, plus analysis from multiple perspectives.
SUBSCRIBE & SAVE
Sign up for The Week's Free Newsletters
From our morning news briefing to a weekly Good News Newsletter, get the best of The Week delivered directly to your inbox.
From our morning news briefing to a weekly Good News Newsletter, get the best of The Week delivered directly to your inbox.
3. Pope Francis urges peace, faith, and hope in Easter message
Catholic, Orthodox, and Protestant Christians alike celebrate Easter on Sunday thanks to an atypical convergence of the calendars used by different branches of the church to calculate the date. Pope Francis addressed a teeming crowd in Rome, giving his "Urbi et Orbi" homily — a message "to the city and the world" — on the subject of hope in the midst of global and personal suffering. "Jesus has risen from the dead," he said. "And this is not a fantasy. It isn't a party with lots of flowers. This is pretty, but [Easter is] not this. It's more than this." The resurrection of Christ is "a sign in the midst of so many calamities," Francis continued, that gives us "a sense of looking beyond, of saying, 'Don't look to a wall, there's a horizon, there's life, there is joy.'"
4. Likely car bomb kills dozens of Syrian evacuees
An explosion believed to be caused by a car bomb killed at least 112 people fleeing villages near Aleppo, Syria, on Saturday, local news outlets reported. The bomb hit a convoy of buses heading into the city to escape fighting in or near the residents' towns. Children are reportedly among the dead. The van thought to have been used in the attack was marked as a humanitarian relief vehicle. The death toll is expected to continue to rise.
5. GOP raises $43 million for 2020
President Trump and the Republican National Committee together raised $42.6 million toward the 2020 race in the first quarter of 2017, Federal Election Commission reports released Friday night reveal, with much of the money coming from small donors giving $200 or less. During a comparable period in 2009, then-President Obama and the Democratic National Committee raised just $15.8 million. Politico reports three Trump reelection committees which together raised $13.2 million in the first quarter spent nearly half a million at Trump companies as well as thousands at companies owned by top White House staff.
6. Full Supreme Court set to hear religious establishment case
With Justice Neil Gorsuch officially installed on the bench, the Supreme Court is preparing to hear a First Amendment case concerning church and state relations on Wednesday. At issue is a Missouri program that offers funding to resurface playgrounds with recycled tires. The Missouri state constitution explicitly prohibits giving any public money to religious organizations, a rule Trinity Lutheran Church of Columbia, Missouri — which wants to resurface its playground — says is discriminatory. The case could have broad implications for related issues including school choice.
7. Polls open in Turkish referendum on presidential powers
Turks began voting Sunday on a constitutional referendum that, if approved, would fundamentally restructure the country's parliamentary system, giving broad new powers to President Recep Tayyip Erdogan and ensuring Erdogan stays in office for at least another decade. Under the new proposal, the president would be able to dissolve the legislature, rule by executive order, and gain new authority over administrative and judicial appointments. Polling suggests a slight public preference for approving the new system, and unofficial results will be published by Sunday evening local time.
8. Last known survivor of the 19th century dies at 117
The oldest woman in the world and the last confirmed survivor of the 19th century, Emma Morano, died Saturday at her home in Italy. She was 117. Born in 1899 in Civiasco, a small town in northern Italy near Milan, Morano turned 117 this past November. She lived with a caregiver in Verbania, a lakeside town just 25 miles from her birthplace. In her latter years, Morano enjoyed television, raw eggs, chocolate, and the company of her grandchildren.
9. SNL targets Spicer, Kushner, Bannon
Saturday Night Live set its sights on White House Press Secretary Sean Spicer (Melissa McCarthy), senior adviser Jared Kushner (host Jimmy Fallon), and chief strategist Stephen Bannon (Skeletor) in its latest episode, skewering Spicer's recent gaffer about Adolf Hitler and Kushner's apparent ascendency over Bannon in President Trump's affections. McCarthy's Spicer appeared in an Easter Bunny costume to mis-explain Passover as an apology to the Jewish people, while Alec Baldwin's Trump conducted an America's Next Top Model-style elimination with his two advisers.
10. Giraffe finally gives birth on web cam
A giraffe named April, who lives at Animal Adventure Park in Harpursville, New York, gave birth to a male calf on Saturday. April's pregnancy was livestreamed online. She was expected to deliver in January or February, but her pregnancy stretched to 16 months, about a month longer than is typical for giraffes. The delay made April an internet sensation, and more than a million people tuned in for the birth. The calf weighs about 150 pounds, and both animals are healthy.

Continue reading for free
We hope you're enjoying The Week's refreshingly open-minded journalism.
Subscribed to The Week? Register your account with the same email as your subscription.