10 things you need to know today: April 27, 2017
Trump vows to renegotiate NAFTA instead of scrapping it, Trump proposes big tax cuts, and more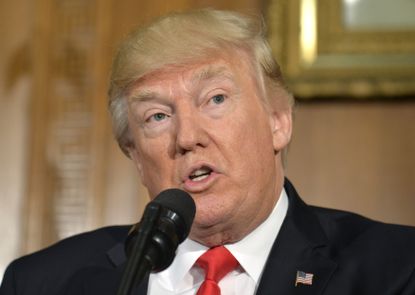 (Image credit: Mike Theiler-Pool/Getty Images)
Sign up to our 10 Things You Need to Know Today newsletter
A free daily digest of the biggest news stories of the day - and the best features from our website
Thank you for signing up to TheWeek. You will receive a verification email shortly.
There was a problem. Please refresh the page and try again.
1. Trump says he will renegotiate NAFTA, not scrap it
President Trump told Mexican President Enrique Peña Nieto and Canadian Prime Minister Justin Trudeau on Wednesday that the U.S. has no plan to withdraw from the North American Free Trade Agreement, or NAFTA, "at this time," but he will renegotiate it. The White House said that Trump had agreed not to pull out of the trade deal and his counterparts in Mexico and Canada "agreed to proceed swiftly, according to their required internal procedures, to enable the renegotiation of the NAFTA deal to the benefit of all three countries." The conversations came after reports that the White House was in the late stages of writing an order to terminate the 1994 trade deal, which allows for the free flow of goods and services between the U.S., Canada, and Mexico without tariffs. Trump vowed during his campaign that he would renegotiate the trade deal, calling it a "job killer" that was "very, very bad for our country."
2. Trump unveils tax plan with cuts for businesses and families
President Trump on Wednesday proposed sharp tax cuts for businesses and individuals, promising that the overhaul would help pay for itself by dramatically boosting economic growth. Critics, however, said that the steep reductions would inflate the federal deficit. Trump proposed reducing the corporate tax rate from 35 percent to 15 percent. The plan also would double the standard amount that individual taxpayers can deduct, potentially saving middle class families thousands of dollars a year. The proposal, a one-page sketch short on detail, also would allow private business owners to claim the new lower rate for their take-home pay. It would reduce the number of tax brackets for individuals from seven to three, and lower the top tax rate from 39.6 percent to 35 percent.
Subscribe to The Week
Escape your echo chamber. Get the facts behind the news, plus analysis from multiple perspectives.
SUBSCRIBE & SAVE
Sign up for The Week's Free Newsletters
From our morning news briefing to a weekly Good News Newsletter, get the best of The Week delivered directly to your inbox.
From our morning news briefing to a weekly Good News Newsletter, get the best of The Week delivered directly to your inbox.
The Associated Press The New York Times
3. House conservatives back revised health bill ahead of possible Friday vote
The conservative House Freedom Caucus agreed Wednesday to get behind a revised Republican plan to repeal and replace ObamaCare. An amendment drafted by Rep. Tom MacArthur (R-N.J.) would preserve much of the American Health Care Act, the original GOP bill, but it would offer states a waiver program letting them apply to scrap several key elements of ObamaCare, such as mandating certain kinds of coverage and prohibiting insurers from making people with health problems pay higher premiums than healthy customers. House Republican leaders said they were busy trying to win over moderates to muster enough support to hold a vote as early as Friday, but the change made the bill harder to stomach for some moderates who have faced constituents angry over the possibility of losing some ObamaCare benefits, such as guaranteed coverage for pre-existing conditions. Members of the moderate Tuesday Group "who were opposed to the bill before remain opposed, nothing's changed," said centrist Rep. Charlie Dent (R-Pa.).
4. White House briefs senators on North Korea situation
President Trump and his top national security team briefed the entire Senate on North Korea on Wednesday, busing senators over from Capitol Hill for a rare presentation at the White House complex. In the briefing — delivered by Secretary of State Rex Tillerson, Defense Secretary James Mattis, National Intelligence Director Daniel Coats, and Joint Chiefs of Staff Chairman Gen. Joseph F. Dunford Jr. — the officials described the "very grave threat" posed by North Korea, and said that they were developing economic, diplomatic, and military measures following a series of provocations by the isolated communist regime in Pyongyang, without providing many details on the White House's strategy for curbing North Korea's missile and nuclear weapons programs. Tillerson, Mattis, and Coats said in a statement that the U.S. remains "open to negotiations," but is "prepared to defend ourselves and our allies." Sen. Richard Blumenthal (D-Conn.) said he was "mystified" at the need to bring the Senate to the White House instead of holding a briefing at Capitol Hill. "There was very little, if anything, new," he said.
5. Mnuchin says Trump 'has no intention' of releasing taxes
Treasury Secretary Steven Mnuchin said Wednesday that President Donald Trump "has no intention" of releasing his tax returns. Going back decades, Trump's predecessors in the White House have released their tax returns. Trump has kept his private, although during his campaign he promised to make them public once the Internal Revenue Service had completed an audit. The IRS and tax lawyers say nothing prevents someone under audit from releasing their own tax documents. On Wednesday, Mnuchin said Americans already have "plenty of information" on Trump's finances.
6. Israel reportedly bombs Hezbollah weapons sent to Syria by Iran
Israel bombed an arms supply center operated by the Lebanese group Hezbollah in Syria on Thursday, according to rebels and regional intelligence sources. The airstrikes near the Damascus airport targeted weapons allegedly sent into the country by Iran on commercial and military cargo planes. Syrian state media condemned what it called "Israeli aggression," saying the attack had caused material losses, without providing details on the damage. Israel normally does not comment on military involvement in Syria, but Intelligence Minister Israel Katz appeared to confirm the airstrikes, saying: "The incident in Syria corresponds completely with Israel's policy to act to prevent Iran's smuggling of advanced weapons via Syria to Hezbollah."
7. Coulter's Berkeley speech canceled
Controversial conservative pundit Ann Coulter said Wednesday that she was canceling a planned speech at the University of California, Berkeley, after conservative student groups that had invited her pulled their support. Police had been bracing for violent protests ahead of Coulter's appearance, which was scheduled for Thursday. "It's a sad day for free speech," Coulter said. The university last week canceled the initial plan for Coulter to give a talk, then reversed itself and invited her to campus. Late Tuesday, the conservative Young America's Foundation, which had helped Coulter's legal effort to force the school to let her make a campus appearance, said that it was no longer participating because it did not want to "jeopardize the safety of its staff or students."
The New York Times The Associated Press
8. U.S. anti-missile system in South Korea nearly operational
A U.S. anti-missile system being deployed in South Korea is nearly operational, the South's Defense Ministry said Thursday. The U.S. sent the Terminal High Altitude Area Defense system, known as THAAD, to South Korea in early March after North Korea fired four missiles into the Sea of Japan, defying international warnings to curb its missile program. China objected to the deployment of the system due to Beijing's fear that it could be used to track Chinese missiles. Moon Sang-gyun, a spokesman for South Korea's Defense Ministry, said the system was needed so that "South Korea and the U.S. have the capability to cope with North Korea's provocations."
9. Fox News' Jesse Watters faces backlash over lewd remark on Ivanka Trump
Fresh off Bill O'Reilly's departure over sexual harassment allegations, Fox News host Jesse Watters — O'Reilly's former on-the-street reporter — is facing harsh criticism for a comment about Ivanka Trump that critics say was sexually suggestive. Watters, who came under fire last year for a segment on Chinatown criticized as racist, was making a dig at liberals for saying "they really respect women" but "boo and hiss" at Ivanka Trump, President Trump's daughter and adviser. "So I don't really get what's going on here," said Watters Tuesday on his current show, The Five, "but I really liked how she was speaking into that microphone." A backlash immediately erupted, and Watters unexpectedly announced he was going on vacation until Monday. "FOX, clean it up" MSNBC's Mika Brzezinski tweeted. "Microphone comments? Comments on hosts dresses? Get rid of those who cannot measure up."
10. The Silence of the Lambs director Jonathan Demme dies at 73
Oscar-winning director Jonathan Demme died Wednesday of complications from cancer. He was 73. Demme was best known for the 1991 horror-thriller The Silence of the Lambs, which starred Anthony Hopkins as serial killer Hannibal Lecter, and Jodie Foster as the novice FBI analyst following his trail. The film became only the third ever to win Academy Awards in all five top categories: Best Picture, Best Actor, Best Actress, Best Director, and Best Adapted Screenplay. Demme followed up his Silence of the Lambs success with Philadelphia, one of the first major films to address the AIDS crisis. Demme also made the comedy Something Wild, and he oversaw Stop Making Sense, a critically acclaimed documentary on a Talking Heads concert tour.
Continue reading for free
We hope you're enjoying The Week's refreshingly open-minded journalism.
Subscribed to The Week? Register your account with the same email as your subscription.
Sign up to our 10 Things You Need to Know Today newsletter
A free daily digest of the biggest news stories of the day - and the best features from our website
Harold Maass is a contributing editor at TheWeek.com. He has been writing for The Week since the 2001 launch of the U.S. print edition. Harold has worked for a variety of news outlets, including The Miami Herald, Fox News, and ABC News. For several years, he wrote a daily round-up of financial news for The Week and Yahoo Finance. He lives in North Carolina with his wife and two sons.