10 things you need to know today: December 21, 2017
Congress sends the GOP tax overhaul to President Trump, an SUV plows through a crowd in Australia, and more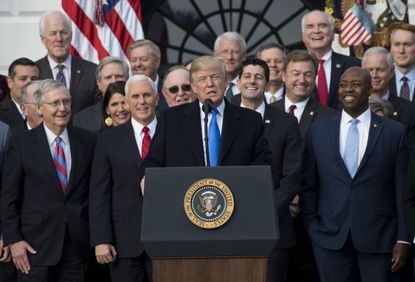 (Image credit: Getty Images)
1. Congress sends GOP tax overhaul to Trump
House Republicans swiftly passed the final version of their party's $1.5 trillion tax overhaul on Wednesday, approving it for a second time due to a procedural error and sending it to President Trump for his signature. The Senate passed it in a 51-48 party-line vote hours earlier in a major victory for Trump and his fellow Republicans. Trump said the "biggest factor" probably was cutting the corporate tax rate from 35 percent to 21 percent, saying the legislation "means jobs, jobs, jobs, jobs." Democrats noted that the individual tax cuts were only temporary and slanted to favor the rich. Republicans passed the legislation without a single Democratic vote in the Senate. Rep. Louise Slaughter (D-N.Y.) called the process "nothing short of an abomination."
2. Vehicle crashes into Christmas shoppers in Melbourne
An SUV plowed through a busy street packed with pedestrians in Melbourne, Australia, on Thursday, injuring at least 14 people, several critically. The driver, who is of Afghan descent, and another person were arrested. Police called the incident "a deliberate act." They said the driver had mental health issues but there was no evidence of links to terrorism. Witnesses said the white Suzuki sped into a crowd of Christmas shoppers and commuters as the evening rush hour was starting. "All you could hear was bang, bang, bang, bang," Jim Stoupas, the owner of a nearby doughnut shop, said. "The only thing that slowed him down was hitting pedestrians. All you could hear were the sounds of the car hitting people and the screams."
Subscribe to The Week
Escape your echo chamber. Get the facts behind the news, plus analysis from multiple perspectives.
SUBSCRIBE & SAVE
Sign up for The Week's Free Newsletters
From our morning news briefing to a weekly Good News Newsletter, get the best of The Week delivered directly to your inbox.
From our morning news briefing to a weekly Good News Newsletter, get the best of The Week delivered directly to your inbox.
ABC Online The Washington Post
3. House GOP leaders scramble to avert shutdown
Republican leaders, fresh off a victory on their tax overhaul, rushed to rally support for a stopgap spending bill needed to avoid a government shutdown on Saturday. House GOP leaders pared down a temporary spending bill to remove obstacles as hopes for a broader deal faded. A Senate measure intended to stabilize ObamaCare markets with subsidies for the poor was put off to next year. Efforts to strike an immigration deal also were shelved, as was a push to include Pentagon funding for the full year, and new funding for a popular children's health insurance program. "We're still working on the details," House Republican Whip Steve Scalise said.
4. Trump threatens to slash foreign aid to countries opposing his Jerusalem policy
President Trump suggested Wednesday the U.S. might cut foreign aid to countries that vote for a United Nations resolution condemning Trump's decision to recognize Jerusalem as Israel's capital and move the U.S. embassy there from Tel Aviv. "They take hundreds of millions of dollars and even billions of dollars, and then they vote against us," Trump said in a Cabinet meeting at the White House. "Well, we'll be watching those votes. Let them vote against us; we'll save a lot. We don't care." Trump went on to say, "But this isn't like it used to be, where they could vote against you, and then you pay them hundreds of millions of dollars and nobody knows what they're doing ... We're not going to be taken advantage of any longer." The U.N. vote is expected Thursday. Earlier this week, the U.S. vetoed a similar resolution at the Security Council.
5. Report: Franken to leave Senate on Jan. 2
Sen. Al Franken (D-Minn.) will step down on Jan. 2, one of his representatives said Wednesday. Franken, a former comedian, was considered one of his party's rising stars until several women came forward and accused him of touching them inappropriately. Franken is the third federal lawmaker to leave over such allegations, following the departures of Rep. John Conyers (D-Mich.) and Rep. Trent Franks (R-Ariz.). Minnesota's Democratic governor, Mark Dayton, last week named Lt. Gov. Tina Smith (D) to replace Franken. Several high-profile journalists, business executives, and film industry leaders, including movie producer Harvey Weinstein and former Today show host Matt Lauer, have lost their jobs over recent allegations of sexual harassment and assault.
6. Virginia court denies Democrat's one-vote victory
A three-judge panel on Wednesday refused to certify a state House of Delegates recount that would have resulted in a one-vote victory for Democratic challenger Shelly Simonds, ruling that a single contested ballot should be counted for the incumbent, Republican Del. David Yancey, leaving the count tied. On the ballot in question, the voter left marks by the names of both candidates, but crossed out Simonds' name. The voter also selected every other Republican on the ballot. With Yancey and Simonds tied at 11,608 votes each, the balance of power in the state legislature was left at 50-49 in favor of Republicans, instead of even at 50 seats each. State law calls for breaking the tie by drawing lots, essentially a coin toss.
7. Trump commutes sentence of former kosher meat-processing executive
President Trump on Wednesday commuted the 27-year prison sentence of Sholom Rubashkin, the former owner of the biggest kosher meat-processing plant in the U.S., for financial crimes including bank fraud and money laundering. Hundreds of his employees were arrested on charges of working in the country illegally. Rubashkin was sentenced in 2009, but politicians from the left and the right said the punishment was cruel and unusual, calling it disproportionate to his crimes. Rubashkin will not have to serve the remaining 19 years of his sentence, although the commutation is not a pardon. His conviction will stand, and he will still have to make restitution payments.
8. Shots fired in DMZ as another North Korean soldier defects
A low-ranking North Korean soldier defected by crossing the heavily guarded border into South Korea under cover of thick fog on Thursday. South Korean guards fired 20 warning shots as North Korean troops, apparently searching for the soldier, neared the "military demarcation line" in the demilitarized zone separating the countries. Shots were fired from the North Korean side 30 minutes later. The latest defection came five weeks after another North Korean soldier dashed over the line, and was shot and critically wounded by North Korean guards. The latest incident pushed the number of risky defections from North Korea to 15 this year, three times last year's total. The incidents fuel already high tensions over North Korea's nuclear weapons and missile programs.
9. NYT: Reporter accused of sexual misconduct to be reassigned, not fired
The New York Times announced Wednesday that it had completed an investigation into alleged sexual misconduct by Glenn Thrush, a high-profile political reporter who had covered the White House, and decided to continue his suspension until January but not fire him. "We found that Glenn has behaved in ways that we do not condone," editor Dean Baquet said. "He will receive training designed to improve his workplace conduct. In addition, Glenn is undergoing counseling and substance abuse rehabilitation on his own. We will reinstate him as a reporter on a new beat upon his return." Thrush was accused of inappropriate conduct at Politico, before he joined the Times.
The Hollywood Reporter The New York Times
10. Olympic gold medalist McKayla Maroney sues USA Gymnastics over abuse settlement
Former Olympic gymnast McKayla Maroney filed a lawsuit in a California court Wednesday claiming that USA Gymnastics forced her into signing a nondisclosure agreement last year. The NDA was reportedly part of a financial settlement over alleged sexual abuse by former USA Gymnastics team doctor Larry Nassar. The Wall Street Journal reported Wednesday that Maroney received $1.25 million from USA Gymnastics — reportedly to fund psychological treatment to recover from the alleged abuse — in exchange for her silence. The lawsuit, which seeks millions of dollars in damages, also alleges that Maroney's NDA was part of a greater plan by USA Gymnastics to silence Nassar's victims. Maroney publicly revealed her abuse by Nassar in October.
The Wall Street Journal NBC News

Continue reading for free
We hope you're enjoying The Week's refreshingly open-minded journalism.
Subscribed to The Week? Register your account with the same email as your subscription.