10 things you need to know today: March 6, 2019
North Korea reportedly starts rebuilding a long-range missile site, Trump reportedly pushed for Ivanka's security clearance, and more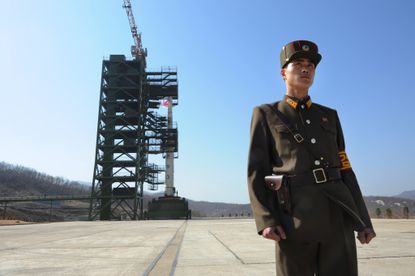 (Image credit: Pedro Ugarte/Getty Images)
1. North Korea reportedly rebuilding long-range missile site
North Korea has started rebuilding a key rocket site it partially dismantled last year after Kim Jong Un's first summit with President Trump in Singapore, analysts said in reports published Tuesday. The North Korean leader offered to destroy the facility, the Sohei Satellite Launching Station, when he met with South Korean President Moon Jae-in in September. But satellite photos reportedly showing recent "rapid rebuilding" came days after the early collapse of the second summit between Kim and Trump in Hanoi, Vietnam, last week. Work at the site, which is used to test technology for Pyonghang's intercontinental ballistic missile program, could indicate North Korea is preparing to end its moratorium on missile tests, analysts said.
2. Report: Trump pressured aides to grant Ivanka's security clearance
President Trump pressed top aides to grant security clearance for his daughter and senior adviser Ivanka Trump, CNN reported Tuesday, citing three people familiar with the matter. The White House personnel security office, which normally makes these decisions, expressed concerns about clearances for Ivanka and her husband, Jared Kushner. Trump reportedly wanted then-Chief of Staff John Kelly and former White House counsel Don McGahn to step in to avoid the appearance of nepotism, but he used his legal authority to grant the clearances himself when they refused. The New York Times reported last week that Trump ordered aides to grant Kushner's security clearance despite intelligence officials' concerns about his foreign business ties.
Subscribe to The Week
Escape your echo chamber. Get the facts behind the news, plus analysis from multiple perspectives.
SUBSCRIBE & SAVE
Sign up for The Week's Free Newsletters
From our morning news briefing to a weekly Good News Newsletter, get the best of The Week delivered directly to your inbox.
From our morning news briefing to a weekly Good News Newsletter, get the best of The Week delivered directly to your inbox.
3. Trump calls Democrats' investigations partisan 'games'
President Trump on Tuesday accused Democrats of launching partisan investigations to damage his 2020 re-election campaign, signaling that the White House would not cooperate with the congressional inquiries. "It's a disgrace to our country. I'm not surprised that it's happening. Basically, they've started the campaign. So the campaign begins," Trump said. "Instead of doing infrastructure, instead of doing health care, instead of doing so many things that they should be doing, they want to play games." Trump said he would follow the precedent set by former President Barack Obama, whom Trump said "didn't do anything" to comply with congressional investigations during his two terms.
4. Bloomberg says he won't run for president in 2020
Former New York City Mayor Michael Bloomberg has decided not the run for the Democratic presidential nomination, he announced in a Bloomberg News column. Instead of challenging President Trump in 2020, the billionaire publisher plans to focus on supporting renewable energy and backing opposition to Trump. "It's essential that we nominate a Democrat who will be in the strongest position to defeat Donald Trump and bring our country back together," Bloomberg wrote. He said he believes he "would defeat Donald Trump in a general election," but was "clear-eyed about the difficulty of winning the Democratic nomination in such a crowded field." Hillary Clinton, the party's 2016 nominee, also confirmed this week she won't run in 2020.
5. California won't charge officers in Stephon Clark killing
California Attorney General Xavier Becerra on Tuesday announced he would not file charges against two Sacramento police officers who fatally shot Stephon Clark, a 22-year-old unarmed black man. The officers chased Clark to his grandmother's backyard, where they saw a flash of light. Thinking Clark had a gun, they fired 20 shots and hit him seven times. He was only holding a cellphone. Becerra expressed sympathy for the family but said the facts did not support charges. His decision echoed one Sacramento County District Attorney Anne Marie Schubert made Saturday. She also declined to file charges following an investigation into the shooting, which occurred after witnesses said Clark vandalized cars in a nearby street.
6. Surge in families crossing border overwhelms U.S. officials
More than 76,000 migrants crossed the border from Mexico into the U.S. without authorization in February, more than twice the level in the same period last year, Customs and Border Protection (CBP) officials announced Tuesday. For the fourth time in five months, the number of migrant families crossing the Southwest border set a record. "The system is well beyond capacity, and remains at the breaking point," Kevin K. McAleenan, CBP commissioner, told reporters. The number of migrant families crossing illegally has risen as new restrictions imposed by the Trump administration drove them away from main ports of entry. More than 90 percent of the latest arrivals came from Guatemala, officials said.
7. FDA Commissioner Scott Gottlieb resigns
Food and Drug Administration Commissioner Scott Gottlieb resigned Tuesday, effective in roughly a month, an agency official said. The Washington Post reported the White House hadn't sought his departure. Gottlieb has commuted weekly from his Connecticut home to Washington and cited a desire to spend more time with his wife and three daughters. As commissioner, he surprised detractors skeptical of his drug industry ties by focusing his two-year tenure on a push against urgent health issues including opioid addiction and teen vaping, which he called "an epidemic." Leaving "was a very hard decision," Gottlieb said. "This is the best job I will ever have."
8. Trump agrees '100 percent' with keeping some troops in Syria
President Trump now says he "agree[s] 100 percent" that a small force of U.S. troops should remain in Syria, NBC News reported Tuesday, citing a document on which Trump made the comment. Trump decided in December to withdraw all American forces from the country, declaring "ISIS is defeated," but reversed in January amid criticism from Congress and his supporters. In February, a bipartisan group of senators and representatives sent Trump a letter applauding the decision to stay. Trump responded by highlighting a paragraph in the letter that read, "like you, we seek to ensure that all of the gains made in Syria are not lost." In the margin, Trump wrote, "I agree 100 percent" next to the highlighted paragraph and signed it.
9. Ohio teen who defied anti-vax mom warns of social media misinformation
An Ohio teen who defied his mother and started getting vaccinated when he turned 18 told Congress on Tuesday it is important to counter anti-vaccine misinformation spread via social media. "I grew up under my mother's beliefs that vaccines are dangerous," the teen, Ethan Lindenberger, told a Senate health committee. He said he tried to get his mother to consult scientific studies about the benefits of vaccines, but she focused on bogus reports that "instill fear into the public." Lindenberger said his mother clearly loves and cares about him and his siblings, but her belief in anti-vaccine conspiracy theories caused her to leave them vulnerable to preventable diseases.
10. Ex-Nissan chair Carlos Ghosn released from Tokyo jail
Former Nissan chair Carlos Ghosn was released on 1 billion yen (nearly $9 million) bail Wednesday after a judge rejected an appeal by prosecutors to keep him in jail until his trial. A judge approved Ghosn's release a day earlier at his third bail hearing. Authorities had held Ghosn in a Tokyo jail since November, when he was arrested on suspicion of underreporting his income by more than $80 million over several years. Japanese authorities later added additional charges, accusing Ghosn of trying to transfer personal financial losses to Nissan. He has denied the charges against him. Ghosn was the architect of Nissan's alliance with fellow automakers Mitsubishi of Japan and Renault of France.

Continue reading for free
We hope you're enjoying The Week's refreshingly open-minded journalism.
Subscribed to The Week? Register your account with the same email as your subscription.