10 things you need to know today: March 27, 2019
House fails to override Trump's border rebuke veto, Senate votes against advancing the Green New Deal, and more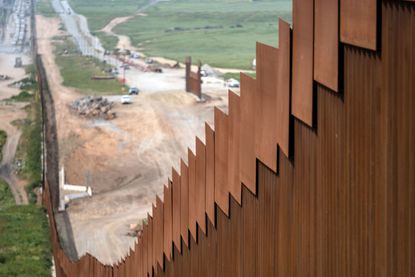 (Image credit: Guillermo Arias/Getty Images)
1. House fails to override Trump veto of border-emergency rebuke
The House on Tuesday failed to override President Trump's veto of a resolution against the president's declaration of a national emergency at the U.S.-Mexico border. Some Republicans voted with the Democrats in favor of keeping the resolution alive, but Trump's opponents fell short of the two-thirds majority needed for an override. Trump declared the national emergency to obtain funding for border wall construction, saying an influx of migrants and overloaded immigration systems required additional measures. Both the House and Senate passed a resolution disapproving of the move, with many Republicans joining in the rebuke. Trump blocked it with the first veto of his presidency.
2. Senate votes against advancing Green New Deal
The Senate on Tuesday voted against advancing Democrats' "Green New Deal," with all Senate Republicans and four Democrats opposing it. The Senate's Republican leadership forced the vote in an effort to make Democrats go on record in favor of dramatic action against climate change. Senate Majority Leader Mitch McConnell (R-Ky.) earlier this month said the Green New Deal would be a "huge, self-inflicted, national wound," calling it part of the Democratic Party's "sharp and abrupt left turn toward socialism." Many Democrats voted "present," sidestepping a vote they viewed as political theater. "I think it's a real stupid political move for [Republicans] to show how cavalier they are about climate change by playing games with the Green New Deal," said Sen. Chris Murphy (D-Conn.).
Subscribe to The Week
Escape your echo chamber. Get the facts behind the news, plus analysis from multiple perspectives.
SUBSCRIBE & SAVE
Sign up for The Week's Free Newsletters
From our morning news briefing to a weekly Good News Newsletter, get the best of The Week delivered directly to your inbox.
From our morning news briefing to a weekly Good News Newsletter, get the best of The Week delivered directly to your inbox.
3. Reports: Barr to release Mueller report in 'weeks, not months'
Attorney General William Barr will release a redacted version of Special Counsel Robert Mueller's report on Russian election meddling within "weeks, not months," according to a Justice Department official cited Tuesday by NBC News. Meanwhile, Sen. Lindsey Graham (R-S.C.), chair of the Senate Judiciary Committee, told Fox News he spoke with President Trump and Barr on Tuesday night. Trump said he had no objection to making the report public, and Barr said the only delay was identifying and removing classified information, Graham said. Barr already provided his summary of Mueller's findings, saying there was no evidence Trump's team colluded with Moscow but leaving open the question of whether Trump obstructed justice. Prominent Democrats have demanded Barr provide the full report by April 2.
4. Trump ban on bump stocks takes effect
The Trump administration's ban on bump stocks, accessories that let semiautomatic weapons fire like automatic ones, took effect Tuesday after Chief Justice John Roberts denied a request for a temporary delay. Justice Sonia Sotomayor is still considering another delay request. Gun owners and advocacy groups asked to wait while courts hear challenges to the policy, arguing the administration violated the Constitution's separation of powers by creating a new crime "from whole cloth." The Justice Department announced the ban in December after President Trump told then-Attorney General Jeff Sessions to "dedicate all available resources to ... propose for notice and comment a rule banning all devices that turn legal weapons into machine guns."
5. N.Y. county bans unvaccinated kids from public after measles outbreak
Health officials in Rockland County, New York, on Tuesday declared a state of emergency, barring unvaccinated children from public spaces for 30 days following a measles outbreak. So far, 153 measles cases have been confirmed in the county, which is about 40 miles from New York City. Most of the measles patients are unvaccinated children. "We will not sit idly by while children in our community are at risk," County Executive Ed Day said Tuesday. "This is a public health crisis, and it's time we sound the alarm."
6. Purdue Pharma reaches $270 million settlement in opioid crisis case
Purdue Pharma on Tuesday reached a $270 million dollar settlement with the state of Oklahoma over allegations that the drugmaker's aggressive marketing of OxyContin and other prescription painkillers helped fuel the opioid crisis. The settlement came two months before the scheduled start of the trial. The Sackler family, which owns Purdue Pharma but was not named in the lawsuit, will contribute $75 million to the settlement over five years. Other companies involved in the lawsuit, such as Johnson & Johnson, have not settled, meaning the trial could go forward on May 28 as scheduled. Purdue still faces more than 1,600 opioid lawsuits from 37 states, as well as numerous cities, counties, and tribes across the United States.
The New York Times The Wall Street Journal
7. Illinois prosecutors drop charges against Jussie Smollett
Cook County, Illinois, prosecutors on Tuesday dropped all charges against Jussie Smollett, the Empire actor accused of staging a racist, homophobic attack against himself. First Assistant State's Attorney Joseph Magats said prosecutors struck a deal with Smollett's lawyers to drop the charges in exchange for an agreement by Smollett to perform community service and forfeit his $10,000 bail. "The fact that [Smollett] feels that we have exonerated him — we have not," Magats said. "I can't make it any clearer than that." Police criticized the deal, and Chicago Mayor Rahm Emanuel called it a "whitewash of justice." Smollett's attorney, Patricia Brown Holmes, denied the defense team made a deal, saying prosecutors simply decided to drop the charges.
Chicago Tribune The Associated Press
8. Southwest Airlines Boeing 737 Max jet makes emergency landing
The crew of a Southwest Airlines Boeing 737 Max plane made an emergency return to Orlando's main airport Tuesday after reporting engine trouble, the Federal Aviation Administration said. Boeing 737 Max planes have been barred from carrying passengers in the U.S. and dozens of other countries since the second deadly crash involving one of the aircraft in five months. The Southwest plane was being shuttled to California, where the airline is storing the planes. The FAA said it was investigating the Southwest incident, but the issue was not related to inquiries into a flight control system suspected of playing a role in the crashes.
9. Report: Trump complains Puerto Rico gets too much disaster aid
President Trump complained Tuesday in a private lunch with Senate Republicans that the federal government had provided too much disaster aid for Puerto Rico, The Washington Post reported. Trump previously asked advisers how to reduce spending on the U.S. Caribbean island territory. In the lunch meeting, Trump reportedly said Puerto Rico, which is still struggling to recover from 2017's Hurricane Maria, was getting $91 billion, although that figure was similar to estimated damages rather than congressionally approved aid. Trump noted Texas was awarded only $29 billion in aid after a flurry of hurricanes. Also Tuesday, the Housing and Urban Development inspector general's office announced it would review whether the White House had interfered with approved Puerto Rico relief funding.
10. NASA cancels first all-female spacewalk
NASA said Tuesday it was calling off the first all-female spacewalk at the International Space Station because the crew lacked the proper size spacesuit for one of the crew members. Astronauts Anne McClain and Christina Koch had been scheduled to make history with the spacewalk on March 29. McClain, however, had "learned during her first spacewalk that a medium-size hard upper torso — essentially the shirt of the spacesuit — fits her best," NASA said. Koch also wears a medium, however, and only one suit in that size will be ready by Friday. That meant that the mission would have to be changed. Now, Koch will do the spacewalk with a male astronaut, Nick Hague. McClain is tentatively scheduled for a spacewalk on April 8 with a male astronaut, David Saint-Jacques.

Continue reading for free
We hope you're enjoying The Week's refreshingly open-minded journalism.
Subscribed to The Week? Register your account with the same email as your subscription.