10 things you need to know today: March 31, 2019
State Department plans to cut aid to Central America, Judge blocks Trump's executive order on Arctic offshore drilling, and more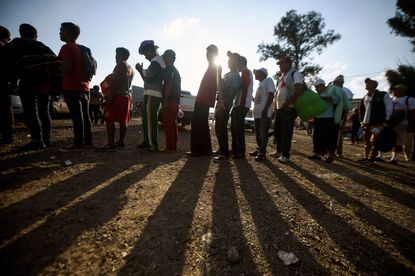 (Image credit: ALFREDO ESTRELLA/AFP/Getty Images)
1. State Department plans to cut aid to Central America
The Trump administration formally announced plans to cut aid to three countries in Central America on Saturday, just one day after President Trump threatened to close America's southern border next week. The State Department announced it would no longer send aid — which would have totaled somewhere between $500 million and $700 million — to El Salvador, Guatemala, and Honduras as punishment for the large amount of migrants leaving those countries to go north to the United States. Trump has accused the nations of having "set up" migrant caravans. The State Department, however, said it would "engage Congress in the process" of ending the funding, likely signaling that it will need congressional approval to do so.
2. Judge blocks Trump's executive order on Arctic offshore drilling
President Trump's executive order that overturned a ban on drilling for oil in the Arctic and Atlantic Oceans was ruled "unlawful and invalid" by a federal judge in Alaska on Saturday. Just weeks before leaving office, former President Barack Obama issued an executive order which prohibited drilling in certain areas in the two oceans. But Trump signed an executive order of his own to reopen those areas, which prompted ten environmental groups to file a lawsuit in the hopes of blocking Trump's reversal. According to the judge's ruling, Trump will need congressional approval to enforce the change. The judge, Sharon Gleason, wrote that a president only has the authority to withdraw lands from consideration for drilling. The office does not, she said, have the power to revoke a prior withdrawal.
Subscribe to The Week
Escape your echo chamber. Get the facts behind the news, plus analysis from multiple perspectives.
SUBSCRIBE & SAVE
Sign up for The Week's Free Newsletters
From our morning news briefing to a weekly Good News Newsletter, get the best of The Week delivered directly to your inbox.
From our morning news briefing to a weekly Good News Newsletter, get the best of The Week delivered directly to your inbox.
3. Ukraine heads to the polls in presidential election
Ukrainians began voting on Sunday to elect a new president. The size of the field is unprecedented. Current President Petro Poroshenko is running for re-election, but the frontrunner is 41-year-old comedian, Volodymyr Zelensky. Zelensky stars in a TV show, in which he portrays an ordinary citizen who becomes president to fight against corruption. He reportedly has held no rallies and has done few interviews, but his extensive use of social media has allowed him to captivate younger voters. Both Zelensky and Petroshenko, along with former Prime Minister Yulia Tymoshenko, have expressed pro-European Union views during the campaign. Pro-Russia candidates are not considered serious contenders. If no candidate receives a majority vote, the top two will advance to a second round of elections slated for April 21.
4. Israeli forces kill 4 at Gaza border protests, militants fire rockets at Israel
Thousands of Palestinians gathered at the Israel-Gaza border fence in protest on Saturday, marking the one-year anniversary of the start of weekly demonstrations at the boundary site backing the right of Palestinian refugees to return to their ancestral homeland. Israeli armed forces patrolled the perimeter. The troops and the protesters clashed, ultimately resulting in the soldiers using live rounds, rubber bullets, and tear gas on the crowd. Four Palestinians, including three teenagers, were killed and dozens more wounded by the Israeli forces. On Sunday, militants fired five rockets from Gaza into Israel. No casualties were reported as a result of the rockets.
5. Slovakia elects first female president
Slovakia elected its first female president on Sunday. Environmental lawyer and government critic Zuzana Caputova handily defeated her opponent, Maros Sefcovic, by a count of 58 percent of the vote to 42. Both candidates are considered pro-Europe, though Sefcovic argued that Slovakia retain more decision-making powers. Caputova, who has been called liberal, said she views her election as a signal for change. Her victory runs counter to trends in Europe, which has seen populist, Euro-skeptic parties increasingly make gains throughout the continent. Caputova campaigned to end corruption in Slovakia, where a journalist who investigated high profile fraud cases and his fiancé were murdered last year. Caputova said the crime sparked her candidacy.
6. O'Rourke launches campaign in native Texas
2020 Democratic presidential primary candidate Beto O'Rourke officially kicked off his campaign on Saturday in his home state of Texas. O'Rourke spoke to crowds in El Paso, Houston, and Austin where he discussed issues such as immigration, the war on drugs, and for-profit prisons. O'Rourke, who was born in El Paso, spoke on a stage just blocks away from the city's border with Mexico. "If we truly believe we are a country of immigrants and asylum seekers and refugees, the very premise of our strength, success and our security, let us free every single Dreamer from any fear of deportation," he said. O'Rourke, who announced his decision to run two weeks ago, raised $6 million in his first 24 hours as a candidate.
7. NBA star Kristaps Porzingis accused of rape
A woman accused Dallas Mavericks forward Kristaps Porzingis of rape in New York last year, the New York Post reported on Saturday. The woman told police about the alleged attack on Thursday. She said she waited more than a year to come forward to authorities because she had discussed receiving $68,000 from Porzingis to remain quiet. At the time of the alleged incident, Porzingis was playing for the New York Knicks. The Knicks were reportedly aware of the allegations when they traded Porzingis to Dallas in January. Mavericks' owner Mark Cuban said that the team knew about the situation, as well, but federal authorities have instructed them not to comment.
8. 2020 hopeful Buttigieg announces $7 million in Q1 campaign donations
South Bend Mayor Pete Buttigieg announced Monday he has raised more than $7 million since he launched his presidential campaign in January. He said this was based on a preliminary analysis, writing, "We (you) are out-performing expectations at every turn." Former Texas congressman Beto O'Rourke announced last month that he raised $6.1 million in the first 24 hours of his campaign, and Sen. Bernie Sanders (I-Vt.) raised $5.9 million in that time. Other candidates haven't yet released their Q1 totals, but The Washington Post notes that although Buttigieg's total is likely to fall short of the frontrunners', it's still a lot for a candidate who entered the race with relatively little name recognition.
9. Beyonce wins entertainer of the year at 50th annual NAACP Image awards
The 50th annual NAACP Image awards ceremony, which highlights works by entertainers and writers of color, took place on Saturday evening at the Dolby Theater in Los Angeles. Beyonce won the award for entertainer of the year, beating out a medley of famous contenders, including Los Angeles Lakers star LeBron James, actress Regina King, actor Chadwick Boseman, and director Ryan Coogler. Marvel's Black Panther took the show by storm, as well, winning the award for best motion picture, while Boseman — its star — won best actor, and Coogler, who helmed the film, won best director.
10. Virginia, Texas Tech advance to Final Four
The first half of the NCAA Division I men's basketball tournament's Final Four is set, after no. 3 Texas Tech and no. 1 Virginia defeated no. 1 Gonzaga and no. 3 Purdue, respectively. This will be the first ever Final Four in program history for Texas Tech, while Virginia returns for the first time since 1984. Virginia needed some last second heroics to force overtime against Purdue — the Cavaliers' Mamadi Diakite hit a shot at the buzzer to tie the game at 70 and Virginia held on at the end of the extra five minutes. Virginia's trip to the Final Four comes just one year after they became the first ever no. 1 seed to lose to a 16-seed in the first round when UMBC beat them in the 2018 tournament. The latter half of the Final Four will be decided on Sunday when SEC rivals Auburn and Kentucky square off at 2 p.m. on CBS, followed by top-seeded Duke taking on Michigan State.

Continue reading for free
We hope you're enjoying The Week's refreshingly open-minded journalism.
Subscribed to The Week? Register your account with the same email as your subscription.