10 things you need to know today: July 9, 2019
Democrats subpoena Trump businesses in emoluments lawsuit, Hong Kong extradition plan that sparked protests is "dead," and more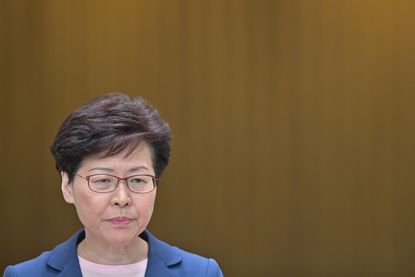 (Image credit: ANTHONY WALLACE/AFP/Getty Images)
Sign up to our 10 Things You Need to Know Today newsletter
A free daily digest of the biggest news stories of the day - and the best features from our website
Thank you for signing up to TheWeek. You will receive a verification email shortly.
There was a problem. Please refresh the page and try again.
1. Democrats subpoena Trump Organization in emoluments lawsuit
Congressional Democrats have issued 37 subpoenas to the Trump Organization and other entities as part of their lawsuit accusing President Trump of violating the Constitution by profiting from foreign governments. Sen. Richard Blumenthal (D-Conn.) and Rep. Jerrold Nadler (D-N.Y.) said Monday that the subpoenas seek information about payments by foreign governments to six Trump properties, and trademarks foreign governments granted to Trump businesses. Democrats sued Trump last summer, saying that under the Constitution's emoluments clause, lawmakers must sign off on all foreign payments made to Trump's businesses. Justice Department attorneys asked an appeals court Monday to overrule a lower court decision allowing the lawsuit to proceed, in an attempt to stop the subpoenas.
2. Hong Kong leader says extradition law that sparked protests is 'dead'
Hong Kong Chief Executive Carrie Lam said Tuesday her government's proposal to allow criminal suspects to be extradited to mainland China is "dead." The bill sparked massive protests by critics who said it would erode rights Hong Kong residents have held onto under the "one country, two systems" policy in force since British rule ended and Hong Kong was returned to China in 1997. The arrangement has given Hong Kong its own justice system separate from the courts in China. Last week, a group of demonstrators stormed the city's Legislative Council and held control of the building for several hours, destroying paintings and smashing glass doors. Protest leaders said they would maintain pressure on the government until it formally withdraws the bill and investigates police tactics against demonstrators.
Subscribe to The Week
Escape your echo chamber. Get the facts behind the news, plus analysis from multiple perspectives.
SUBSCRIBE & SAVE
Sign up for The Week's Free Newsletters
From our morning news briefing to a weekly Good News Newsletter, get the best of The Week delivered directly to your inbox.
From our morning news briefing to a weekly Good News Newsletter, get the best of The Week delivered directly to your inbox.
3. Trump: U.S. won't 'deal with' U.K. ambassador who called White House 'inept'
President Trump said Monday that his administration would "no longer deal with" British Ambassador Kim Darroch, who described the Trump White House as "inept" in diplomatic cables leaked over the weekend. "I do not know the Ambassador, but he is not liked or well thought of within the U.S," Trump tweeted. "We will no longer deal with him. The good news for the wonderful United Kingdom is that they will soon have a new Prime Minister." The British Embassy made no immediate comment. Prime Minister Theresa May's office Monday said Darroch had her "full support," although the leaks "do not reflect the closeness of, and the esteem in which we hold, the relationship" with the U.S.
4. New York governor signs bill letting Congress obtain Trump state tax returns
New York's Democratic governor, Andrew Cuomo, signed a bill into law on Monday allowing Congress to obtain President Trump's state tax returns. The move came days after the Democrat-led House Ways and Means Committee filed a lawsuit demanding Trump's federal returns for 2013 to 2018, which the Trump administration has refused to hand over in defiance of a congressional subpoena. "This bill gives Congress the ability to fulfill its Constitutional responsibilities, strengthen our democratic system, and ensure that no one is above the law," Cuomo said in a statement. Ways and Means Committee Chair Richard Neal (D-Mass.) has said the panel might not ask for Trump's state returns, because it doesn't "have control over state taxes."
5. Barr sees way to add census citizenship question despite ruling
Attorney General William Barr said Monday that the Trump administration will take action soon that will allow it to ask 2020 census respondents whether they are citizens, despite a Supreme Court ruling blocking the question. Barr declined to provide details. A senior official said President Trump is expected in coming days to tell the Commerce Department to include a citizenship question on census forms. The Supreme Court recently blocked the question, saying the administration's justification for it "seems to have been contrived." Democrats have said the administration is trying to discourage immigrants in heavily Democratic areas from participating in order to water down their political power.
6. Epstein pleads not guilty to sex trafficking charges
Jeffrey Epstein on Monday pleaded not guilty to sex trafficking charges following his arrest over the weekend. Federal agents arrested Epstein, a convicted sex offender, at a New Jersey airport on Saturday evening and raided his Manhattan home an hour later. Epstein was charged with sex trafficking and sex trafficking conspiracy as prosecutors allege he sexually exploited dozens of underage girls in his Upper East Side and Palm Beach homes. Prosecutors also said on Monday that the FBI discovered "nude photographs of what appeared to be underage girls" at Epstein's home. Epstein, 66, served 13 months in a Florida jail under a heavily criticized 2008 plea deal signed by Labor Secretary Alex Acosta, then U.S. attorney in Miami.
7. Swalwell drops out of 2020 presidential race
Rep. Eric Swalwell (D-Calif.) on Monday announced that he was ending his long-shot campaign for president and instead running for a fifth House term. Swalwell said he wanted to accept that his presidential bid lacked the polling and fundraising success necessary for him to have a chance. "We wanted to be honest with ourselves and with our supporters," he said. Another California Democrat, billionaire Tom Steyer, appeared to be preparing to jump into the race for the 2020 Democratic nomination. Steyer, a liberal activist and former hedge fund leader, previously said he wouldn't run.
8. Trump praises his environment record despite relaxing rules
President Trump on Monday touted his record on the environment, despite criticism by experts who say his policies will increase pollution and speed up the effects of climate change. Trump noted in a speech titled "America's Environment Leadership" that U.S. greenhouse gas emissions have dropped about 10 percent over the last few years. He failed to mention that the change is primarily due to increasing natural gas use, or that his promotion of coal use is expected to push emissions back up. Trump has rolled back or curtailed more than 80 environmental regulations and removed the U.S. from the Paris climate change accord. His speech came after internal White House polling found that millennials and suburban women do not like Trump's environmental record.
9. 23 governors back California challenge of Trump car mileage rollback
Governors from 23 states said in a joint statement released Tuesday that they were backing California's challenge of the Trump administration's plan to lower vehicle mileage standards. The states are urging the Trump administration to put out rules that require efficiency improvements every year and are consistent nationwide. The administration proposed rules in 2018 that would freeze the tougher mileage standards of former President Barack Obama's administration. The Trump administration says Americans want bigger SUVs and pickups that consume more fuel. The governors called for keeping the pre-Trump goals. "We will not compromise on our responsibility to protect the health of our communities, our climate, and the savings consumers stand to gain at the pump," the governors said in the pledge.
Bloomberg The Associated Press
10. Judge blocks Trump administration rule requiring drug prices in TV ads
A federal judge on Monday blocked the Trump administration from requiring pharmaceutical companies to disclose drug prices in television ads. Drug makers Merck, Eli Lilly, and Amgen sued the administration, saying the Department of Health and Human Services did not have the authority to impose the rule, which was about to take effect Tuesday. The companies said the administration's new rule would have violated their right to free speech. They have argued that list prices don't reflect what most patients pay, anyway, because insurers negotiate discounts. When the proposed rule was finalized in May, HHS Secretary Alex Azar called it "the single most significant step any administration has taken toward a simple commitment: American patients deserve to know the prices of the health care they receive."
Continue reading for free
We hope you're enjoying The Week's refreshingly open-minded journalism.
Subscribed to The Week? Register your account with the same email as your subscription.
Sign up to our 10 Things You Need to Know Today newsletter
A free daily digest of the biggest news stories of the day - and the best features from our website
Harold Maass is a contributing editor at TheWeek.com. He has been writing for The Week since the 2001 launch of the U.S. print edition. Harold has worked for a variety of news outlets, including The Miami Herald, Fox News, and ABC News. For several years, he wrote a daily round-up of financial news for The Week and Yahoo Finance. He lives in North Carolina with his wife and two sons.