10 things you need to know today: August 9, 2019
Trump taps new acting national intelligence director, McConnell says he might consider expanded gun background checks, and more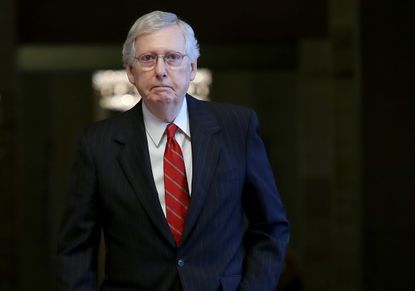 (Image credit: Getty Images)
1. Trump taps Joseph Maguire as acting national intelligence director
President Trump announced Thursday evening that he will name Joseph Maguire as acting director of national intelligence, effective August 15. Maguire is director of the National Counterterrorism Center, and retired from the Navy in 2010 as a vice admiral. Trump shared the news shortly after he revealed that Sue Gordon, the current deputy director of national intelligence and a career intelligence officer, is stepping down. Earlier this month, people with knowledge of the matter told The New York Times Trump had recently blocked Gordon from delivering an intelligence briefing at the White House, and did not want her to replace outgoing Director of National Intelligence Dan Coats. Trump had wanted to nominate Rep. John Ratcliffe (R-Texas) as director of national intelligence, but was faced with opposition from lawmakers on both sides of the aisle who argued Ratcliffe had no relevant experience.
2. McConnell says he's open to considering expanded gun background checks
Senate Majority Leader Mitch McConnell (R-Ky.) expressed willingness Thursday to consider a bill that would expand background checks for purchasing firearms. McConnell, a gun control opponent, said the issue would be "front and center" when the Senate comes back into session after the August recess. He did not express support for the measure, but he said he expects urgent moves to address gun violence, given last weekend's back-to-back mass shootings in Ohio and Texas. President Trump tweeted support for stronger background check laws, but didn't mention the issue in a later speech on gun violence, reportedly after National Rifle Association CEO Wayne LaPierre privately warned him such a move would be unpopular with Trump's base. Democrats are reportedly skeptical that McConnell will actually bring any gun control bill up for a vote.
Subscribe to The Week
Escape your echo chamber. Get the facts behind the news, plus analysis from multiple perspectives.
SUBSCRIBE & SAVE
Sign up for The Week's Free Newsletters
From our morning news briefing to a weekly Good News Newsletter, get the best of The Week delivered directly to your inbox.
From our morning news briefing to a weekly Good News Newsletter, get the best of The Week delivered directly to your inbox.
The New York Times The Associated Press
3. Trump departing for 10-day break at New Jersey golf club
President Trump is leaving the White House on Friday for a 10-day August holiday at his golf resort in Bedminster, New Jersey. Trump is expected to hold some official events during his yearly August vacation, and he's expected to attend two high-dollar fundraisers on Friday in the Hamptons in New York, raking in an estimated $10 million at the houses of wealthy real estate developers Stephen Ross and Joe Farrell. The Ross fundraiser has prompted boycott calls for two of the luxury fitness brands he owns, SoulCycle and Equinox. Trump's aides tell The Associated Press they expect the president to spend most of his vacation focused on golf, cable news, and Twitter.
The Associated Press The Washington Post
4. Walmart stores will no longer put up violent video game displays
Walmart confirmed on Thursday that stores received a memo instructing employees to take "immediate action" to remove displays containing "violent themes or aggressive behavior" and check to make sure violent movies aren't playing in the electronics department and hunting videos aren't shown in sporting goods. The move comes after 22 people were killed in a mass shooting at a Walmart in El Paso, Texas, and two managers at a store in Southaven, Mississippi, were killed, allegedly by a disgruntled former employee. "We've taken this action out of respect for the incidents of the past week, and this action does not reflect a long-term change in our video game assortment," spokeswoman Tara House said. Walmart says it will continue to sell guns in stores.
5. Communities rally around children whose parents were detained in ICE raids
Of the 680 people arrested on Wednesday during immigration raids in Mississippi, more than 300 were released on Thursday morning with notices to appear before immigration judges, Immigration and Customs Enforcement spokesman Bryan Cox said. ICE conducted seven raids in six cities, sending 600 agents to agricultural plants operated by five companies. With their parents detained, children had to spend the night in the care of other family members, friends, and in some cases strangers, with churches, gyms, and other businesses opening their doors to offer assistance. In the town of Morton, where a Koch Foods Inc. plant was targeted, resident Gabriela Rosales told The Associated Press she understands there is "a process and a law," but it was "very devastating to see all those kids crying, having seen their parents for the last time."
6. House Judiciary chair: 'Formal impeachment proceedings' are already underway
House Judiciary Committee Chairman Jerrold Nadler (D-N.Y.) told CNN Thursday night that his committee is currently engaged in "formal impeachment proceedings" against President Trump, after weeks of saying as much in court filings. Nadler stressed that "it's important not to get hung up on semantics" and House Speaker Nancy Pelosi (D-Calif.) "has been very cooperative" with his committee's investigation, but "this is formal impeachment proceedings. We are investigating all the evidence, gathering the evidence. And we will [at the] conclusion of this — hopefully by the end of the year — vote to vote articles of impeachment to the House floor. Or we won't. That's a decision that we'll have to make." As of last week, a majority of House Democrats back impeachment hearings.
7. Former FBI chief Andrew McCabe sues DOJ over firing, pension loss
Former Acting FBI Director Andrew McCabe filed a lawsuit Thursday accusing the Justice Department and the FBI of firing him last spring for "constitutionally improper motives." McCabe was fired just hours before his retirement date, depriving him of his full pension. A report from the Justice Department's inspector general accused him of improperly discussing confidential information with a newspaper and misrepresenting himself to federal investigators. The timing of his firing, along with the frequent criticism he faced from President Trump over his role in various investigations, has reportedly led McCabe to believe his termination was politically motivated. McCabe's lawsuit seeks his reinstatement as deputy director of the FBI to grant him his entire pension.
8. Escalating U.S.-China trade war raises U.S. recession fears
President Trump's latest round of tariffs on Chinese imports, his decision to label China a currency manipulator, and China's subsequent scrapping of new purchases of U.S. agricultural goods will hurt the economies in both countries, economists warn. A Reuters survey of economists conducted Aug. 6-8 and released Friday found that about 70 percent said the latest salvos in the escalating trade war have brought the next U.S. recession closer, and 45 percent of economists surveyed said the U.S. economy will slip into recession within the next two years. The International Energy Agency downgraded its forecasts for global oil demand, citing U.S.-China trade tensions, and reported that global demand for oil in the first half of 2019 was the weakest since 2008.
Reuters The Wall Street Journal
9. Trump hints at commuting Rod Blagojevich's prison sentence
President Trump said he was "strongly considering" commuting the prison sentence of Rod Blagojevich, the former Illinois governor who was convicted on 18 corruption charges after trying to sell a Senate seat. "I thought he was treated unbelievably unfairly," Trump said. Blagojevich was recorded discussing the Illinois Senate seat former President Obama was set to vacate as something "golden" while saying he was not "giving it up" for "nothing." Trump on Wednesday described this as a "phone call where nothing happens" and said that "there have been many politicians ... that have said a lot worse over the telephone." On Thursday, Trump said the matter was being reviewed.
10. Uber posts massive $5.2 billion quarterly loss
Uber posted both its biggest quarterly loss and its slowest-ever revenue growth on Thursday. This was the ride-hailing company's first finance report since it went public in May with a dismal IPO, and it's attributing $3.9 billion of the $5.2 billion loss to all the stock-based compensation it had to pay out to employees when it went public. Uber started sharing its financial data in 2017, and posted an overall loss of $878 million in Q2 of last year. Its adjusted revenue ended up being below analysts' estimates. Uber CEO Dara Khosrowshahi said he expected 2019 to be a "peak investment year," and that losses would slow in "2020, 2021." But Uber didn't provide forecasts or explanations for staffing cuts it announced this week.

Continue reading for free
We hope you're enjoying The Week's refreshingly open-minded journalism.
Subscribed to The Week? Register your account with the same email as your subscription.