10 things you need to know today: August 18, 2019
Bombing kills at least 63 at wedding in Kabul, Portland rally results in 13 arrests, 6 injuries, and more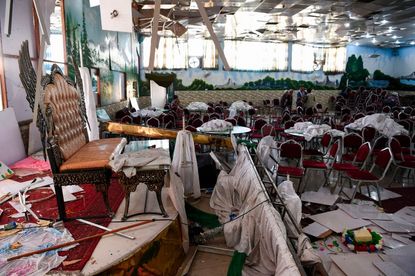 (Image credit: WAKIL KOHSAR/AFP/Getty Images)
Sign up to our 10 Things You Need to Know Today newsletter
A free daily digest of the biggest news stories of the day - and the best features from our website
Thank you for signing up to TheWeek. You will receive a verification email shortly.
There was a problem. Please refresh the page and try again.
1. Bombing kills at least 63 at wedding in Kabul
A local affiliate of the Islamic State claimed responsibility for a suicide bombing on Saturday night at a crowded wedding party in Kabul, Afghanistan. The blast killed at least 63 people, including women and children, and another 182 were injured. The Taliban, which is negotiating an end to an 18-year conflict with the United States, condemned the violence and denied any involvement, though Afghanistan's President Ashraf Ghani did not absolve them of blame. The attack occurred in a neighborhood in the western part of the city that is home to many of the country's Shiite Hazara community. ISIS, whose members follow Sunni doctrine, have frequently claimed responsibility for attacks targeting Shiites. The militant group's statement said a Pakistani ISIS fighter seeking martyrdom targeted the gathering.
The Associated Press The Washington Post
2. Portland rally results in 13 arrests, 6 injuries
The "potentially dangerous and volatile situation" mostly fizzled without serious incident on Saturday in Portland, Oregon. Hundreds of far-right protesters marched in an event organized by the Proud Boys, a right-wing contingent designated a hate group by the Southern Poverty Law Center. They were met by opposing anti-fascist demonstrators. At it's peak, there were reportedly 1,200 people gathered, but the disruption was limited to a small section of downtown. The dueling protesters did clash with each other, and one police officer deployed pepper balls, but ultimately Portland Portland Chief Danielle Outlaw said she was pleased with how the situation was handled by the large force of officers. At least six people were injured and 13 were arrested, though they were not categorized by their political affiliation. The Proud Boys later vowed to return to Portland every month.
Subscribe to The Week
Escape your echo chamber. Get the facts behind the news, plus analysis from multiple perspectives.
SUBSCRIBE & SAVE
Sign up for The Week's Free Newsletters
From our morning news briefing to a weekly Good News Newsletter, get the best of The Week delivered directly to your inbox.
From our morning news briefing to a weekly Good News Newsletter, get the best of The Week delivered directly to your inbox.
3. Biden reiterates that he plans on working with Republicans if elected
Former Vice President and Democratic presidential candidate Joe Biden reiterated on Saturday during a fundraiser in Massachusetts that, if elected president, he plans on cooperating with Republicans. "There's an awful lot of good Republicans out there," Biden said. "I get in trouble for saying that with Democrats, but the truth of the matter is, every time we got in trouble with our administration, remember who got sent up to Capitol Hill to fix it? Me. Because they know I respect the other team." Biden said many GOP members are decent people, who are intimidated by the Trump administration. Biden has received criticism for expressing similar views of compromise in the past, especially from the more progressive wing of the Democratic Party.
4. Hong Kong protesters defy police ban, but demonstrations remain peaceful
More than 100,000 people gathered Sunday for another day of protests in Hong Kong, capping the 11th consecutive weekend of anti-government, pro-democracy protests in the city. Sunday's demonstrations follow marches that took place Saturday and reportedly ended peacefully, with no tear gas fired from police. Sunday's official rally has reportedly been confined to Victoria Park after police denied a longer march, but some protesters defied the ban and marched in nearby areas anyway. Overall, the demonstrations have remained peaceful, in keeping with the wishes of the event's organizer, the Civil Rights Human Front. The call for peace comes after a particularly tense exchange between demonstrators and police last weekend, which prompted Beijing to describe the protests as the "first signs of terrorism."
5. Russia says it won't deploy new missiles as long as the U.S. doesn't either
Russian Defense Minister Sergei Shoigu said on Sunday that Moscow will not deploy new missiles on the condition that the United States show similar restraint in Europe and Asia. The announcement comes after Washington withdrew from the 1987 Intermediate-Range Nuclear Forces treaty, a Cold War-era pact prohibiting ground-launched cruise missiles with a range of 310 to 3,400 miles. The U.S. decided to withdraw after accusing Russia of violating the agreement, which the latter party denies. Moscow quickly followed Washington's exit, but Shoigu said that doesn't mean that Russia plans on ramping up another arms race between the two countries. "Unless there are such systems in Europe [deployed by Washington], we won't do anything there," Shoigu reportedly told the Rossiya-24 TV channel.
6. Gibraltar says Iranian tanker is free to go despite U.S. seizure warrant
Gibraltar is rejecting the United States' request that the British territory keep an Iranian supertanker in its custody. The oil-carrying vessel was intercepted by British Royal Marines in July and has been held in Gibraltar ever since under the suspicion that it was en route to deliver its oil barrels to Syria in violation of European Union sanctions. But on Thursday a Gibraltar judge lifted the ship's detention. The U.S. responded by issuing a warrant for the ship's seizure the next day contending that the vessel was connected to Iran's Islamic Revolutionary Guard Corps, which the U.S. has deemed a terrorist organization. Gibraltar, however, said the ship was still free to go. A new crew is expected to arrive and sail the tanker to an undisclosed location.
7. India reimposes some restrictions in Kashmir
One day after reportedly easing restrictions on Kashmir, Indian authorities have reportedly reimposed limiting measures in the borderland state following violent overnight clashes between residents and police during which dozens were injured. The reversal includes restrictions on movement in Kashmir's largest city, Srinigar, and communications, including blocking internet and mobile phone use in parts of the Jammu region of Kashmir amid concerns that rumors were spreading online. The state government said there is no curfew in Kashmir, but on Sunday police reportedly turned people back at multiple roadblocks, where stationed security forces have reportedly told residents that there is, indeed, a curfew. The turmoil began after India made the decision to revoke the Muslim-majority Kashmir's autonomy earlier this month.
8. Sudan celebrates signing of power-sharing agreement
Khartoum, Sudan, was the sight of celebrations on Saturday, as crowds gathered in the streets after the Transitional Military Council and the Forces of Freedom and Change, the main opposition coalition, officially signed a power-sharing deal that is meant to lead to civilian rule within 39 months. Thousands of people from all over the country gathered in the nation's capital for festivities that reportedly lasted deep into the night. "This is the biggest celebration I have ever seen in my country," Saba Mohammed told Agence France Presse. "We have a new Sudan." Meanwhile, Sudan's former President Omar al-Bashir, who was removed from power in April by the military, will appear in court on Monday for the first day of a major corruption trial.
9. No-deal Brexit could lead to food, medicine shortages
A leaked dossier compiled by the United Kingdom's Cabinet Office predicted that the country will hit a three-month meltdown at its ports, a hard Irish border, and shortages of food and medicine if it leaves the European Union without a deal on Oct. 31. Without a withdrawal agreement, the document says, the U.K. will "be vulnerable to severe extended delays" for medical supplies and food, with rising prices also a possibility. A senior source said the document is "not Project Fear," but "the most realistic assessment of what the public face with no deal." U.K. Prime Minister Boris Johnson has maintained that he wants to leave the EU with a deal, but he has demanded a new agreement without the Irish border backstop and is willing to leave without a deal, otherwise.
10. George R.R. Martin says ending of Game of Thrones was 'freeing'
In a rare interview, A Song of Ice and Fire author George R.R. Martin, whose work inspired HBO'S Game of Thrones, said the television show's ending won't "change anything at all" about the endings of his supposedly forthcoming final two novels in the series, The Winds of Winter and A Dream of Spring. Martin did not address fan criticism of the show's final season, but he did say that the series wound up providing challenges for his writing. "I don't think it was very good for me because the very thing that should have speeded me up actually slowed me down," Martin said, noting that he felt pressure to work at a faster pace because of the show. But the conclusion of the series, he said, was "freeing."
Continue reading for free
We hope you're enjoying The Week's refreshingly open-minded journalism.
Subscribed to The Week? Register your account with the same email as your subscription.
Sign up to our 10 Things You Need to Know Today newsletter
A free daily digest of the biggest news stories of the day - and the best features from our website
Tim is a staff writer at The Week and has contributed to Bedford and Bowery and The New York Transatlantic. He is a graduate of Occidental College and NYU's journalism school. Tim enjoys writing about baseball, Europe, and extinct megafauna. He lives in New York City.