10 things you need to know today: August 20, 2019
Barr replaces Bureau of Prisons chief following Epstein suicide, NYPD officer fired for using banned chokehold in Eric Garner case, and more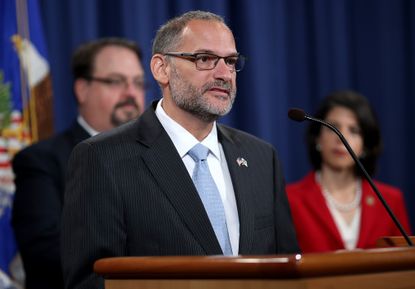 (Image credit: Getty Images)
1. Barr shakes up Bureau of Prisons after Epstein suicide
Attorney General William Barr said Monday he was replacing the acting head of the Bureau of Prisons, Hugh Hurwitz, in the wake of the suicide of Jeffrey Epstein at a federal jail in Manhattan earlier this month. Barr had promised accountability for what he called "serious irregularities" at the facility. He said he was angry and "appalled" when he learned about the suicide, and the failure of guards to check on Epstein, who had recently been taken off suicide watch in the hours before he was found dead. Guards are supposed to check on detainees every 30 minutes in the special housing unit Epstein was in. Hurwitz will return to his former assistant director position, and Dr. Kathleen Hawk Sawyer, a former leader of the bureau, will take charge.
2. NYPD officer fired over use of banned chokehold in fatal Eric Garner arrest
New York City Police Commissioner James O'Neill on Monday fired officer Daniel Pantaleo for violating department policy by putting Eric Garner in a prohibited chokehold in 2014. Garner had an asthma attack and died. His last words, "I can't breathe," became a refrain repeated in the Black Lives Matter movement. O'Neill said it was "clear Daniel Pantaleo can no longer serve as a New York City police officer." The decision came two weeks after a police administrative judge concluded that Pantaleo had violated the policy, and recommended his termination. The 2014 incident was caught on video. Garner's family and civil rights activists had long called for Pantaleo to be kicked off the force. Pantaleo's lawyer said the fired officer would sue to get reinstated.
Subscribe to The Week
Escape your echo chamber. Get the facts behind the news, plus analysis from multiple perspectives.
SUBSCRIBE & SAVE
Sign up for The Week's Free Newsletters
From our morning news briefing to a weekly Good News Newsletter, get the best of The Week delivered directly to your inbox.
From our morning news briefing to a weekly Good News Newsletter, get the best of The Week delivered directly to your inbox.
The New York Times New York Post
3. Pentagon tests once-banned missile
The Pentagon announced on Monday that it had conducted a test of a previously banned missile after scrapping an arms control treaty with Russia earlier this month. The missile, a modified version of a Navy Tomahawk cruise missile, was tested off the coast of Southern California on Sunday. It flew 310 miles and hit its target, the Pentagon said. The missile had a conventional warhead. Under the Intermediate-Range Nuclear Forces Treaty of 1987, missiles able to fly between 310 and 3,410 miles were banned. The U.S. and Russia withdrew from the treaty on Aug. 2, after both sides accused one another of violating the agreement.
4. Report: White House considers tax cuts to boost economy
White House officials have discussed a temporary payroll tax cut to help boost the slowing economy as fears of a looming recession rise, The Washington Post reported Monday, citing three people familiar with the discussions. No decision has been made yet on whether to formally ask Congress to approve a reduction in the 6.2 percent that millions of Americans pay to finance Medicare and Social Security. The Obama administration cut the rate to 4.2 percent to help boost consumer spending through the effects of the financial crisis a decade ago, but the tax returned to 6.2 percent in 2013. White House economic adviser Larry Kudlow also reportedly is pushing for a capital gains tax cut, which, unlike a payroll tax cut, would mostly benefit wealthy investors.
The Washington Post The New York Times
5. Warren apologizes for 'mistakes' in handling Native American ancestry claim
Sen. Elizabeth Warren (D-Mass.) on Monday apologized for missteps in defense of her claim of Native American ancestry, saying she was "sorry for the harm I have caused." Warren, a contender for the 2020 Democratic presidential nomination, angered some Native American groups last year when she released the results of a DNA test to show that she had a Native American ancestor. "Like anyone who's being honest with themselves, I know that I have made mistakes," Warren said. "I have listened and I have learned a lot." Warren promised to support Native Americans as president if she is elected. On Friday, she unveiled proposals designed to benefit Native Americans on such issues as tribal sovereignty and missing indigenous women. President Trump has mocked Warren for her heritage claim, calling her "Pocahontas."
6. Planned Parenthood leaves federal family planning program over abortion rule
Planned Parenthood said Monday that it would stop accepting money from a federal reproductive health program for low-income women. The women's health organization ended its participation in the Title X program after the Trump administration banned groups that receive program funding from referring women to abortion providers. President Trump and many other Republicans have been working to reduce access to legal abortions, putting them at odds with many health and women's rights groups, which say the policies hurt women and violate their right to choose an abortion. "Due to an unethical and dangerous gag rule, the Trump administration has forced Planned Parenthood grantees out of Title X," Planned Parenthood's acting president, Alexis McGill Johnson, said. Planned Parenthood received about 20 percent of the $286 million the program provided.
7. Think tank says China could quickly overwhelm U.S. military in Asia
China could overwhelm the U.S. military in Asia within "hours," according to a new study by the United States Study Center, a think tank at the University of Sydney in Australia. "China has deployed a formidable array of precision missiles and other counter-intervention systems to undercut America's military primacy," according to the report. China's ability to overwhelm U.S. bases in the region quickly could leave America struggling to defend allies, leaving its defense strategy in the region "in the throes of an unprecedented crisis," the report said. China's Foreign Ministry said it had not seen the think tank's report but emphasized that its "national defense policy is defensive in nature."
8. Twitter, Facebook: China spread disinformation about Hong Kong protests
Twitter and Facebook said Monday that China had used their social media platforms to spread disinformation against Hong Kong pro-democracy protesters. Twitter suspended 936 accounts suspected of links to the effort to "sow political discord in Hong Kong, including undermining the legitimacy and political protest movement on the ground." Twitter said in a blog post that it had evidence pointing to a "coordinated state-backed effort," and it announced it would no longer accept advertising from state-controlled news outlets. Facebook said later it was acting on a tip from Twitter. The moves came following the latest mass protest last weekend in which more than a million people protested against the Chinese government, which regained control of the former British colony in 1997.
9. U.S. extends permission for tech sales to Huawei
Commerce Secretary Wilbur Ross said Monday that the Trump administration would extend authorization for limited sales to Chinese technology giant Huawei for another three months. The limited delay was designed to help rural U.S. internet and wireless providers that use Huawei gear, giving them support for existing equipment while they prepare for the ban on doing business with Huawei. The Trump administration blacklisted Huawei in May over concerns that its equipment could be used by China for spying. An initial temporary reprieve would have expired Monday. Along with the extension, Ross announced the U.S. was adding another 46 Huawei affiliates to the blacklist. Huawei denies it poses a security risk, and said the extension "does not change the fact that Huawei has been treated unjustly."
10. U.K. 'extremely concerned' after Hong Kong consulate official disappears in China
The British government said it was "extremely concerned" about the disappearance of an official in its Hong Kong consulate during a trip to mainland China. The official, Simon Cheng Man-kit, traveled to Shenzhen, a city of 12.5 million linking Hong Kong to Southeast China, on Aug. 8, and was supposed to return the same day. Cheng, 28, reportedly urged his girlfriend to "pray for me" as he tried to cross the border on the return trip. The British embassy in Beijing told The Telegraph, a British newspaper, that Cheng had been detained by China. Cheng is a trade and investment officer at the Scottish Development International section in the Hong Kong consulate.

Continue reading for free
We hope you're enjoying The Week's refreshingly open-minded journalism.
Subscribed to The Week? Register your account with the same email as your subscription.