10 things you need to know today: September 4, 2019
Dorian nears Florida after leaving northern Bahamas "decimated," Hong Kong leader withdraws extradition bill that sparked protests, and more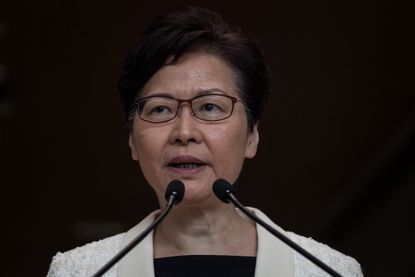 (Image credit: Chris McGrath/Getty Images)
1. Dorian approaches Florida, leaving Bahamas 'decimated'
The death toll from Hurricane Dorian rose to seven in the Bahamas on Tuesday, but Prime Minister Hubert Minnis said it was likely to climb as rescue teams reached devastated areas. "Parts of Abaco are decimated," he said after flying over islands where the storm made its first landfall with top sustained winds of 185 miles per hour. Dorian weakened as it stalled over the northwestern Bahamas before atmospheric conditions steered it toward Florida. As a massive Bahamas relief effort got underway, people in coastal areas from Florida to the Carolinas braced for possible hurricane-force winds in coming days. Forecasters expected Dorian, its top sustained winds down to 105 mph, to remain just offshore, but a slight change in the track could send it inland.
2. Hong Kong leader withdraws extradition bill that sparked protests
Hong Kong's chief executive, Carrie Lam, announced Wednesday that she was withdrawing an extradition bill that sparked weeks of anti-government protests. Protesters have said the bill would have deprived criminal suspects rights under Hong Kong's separate justice system by allowing their extradition to mainland China for trial. Withdrawal of the legislation is one of the protesters' five key demands. The news came a day after Lam denied reports that she had asked to resign to end the political crisis only to have Beijing reject the request. Hong Kong stocks jumped by more than 4 percent on Wednesday following news that the government would formally scrap the bill.
Subscribe to The Week
Escape your echo chamber. Get the facts behind the news, plus analysis from multiple perspectives.
SUBSCRIBE & SAVE
Sign up for The Week's Free Newsletters
From our morning news briefing to a weekly Good News Newsletter, get the best of The Week delivered directly to your inbox.
From our morning news briefing to a weekly Good News Newsletter, get the best of The Week delivered directly to your inbox.
3. North Carolina judges call legislative map unconstitutional
A North Carolina court on Tuesday rejected the state's legislative district map, saying it gave Republicans an extreme advantage in violation of the state's constitution. The three-judge panel said courts can step in if lawmakers who draw the maps go so far to favor one party that they violate the principles of democracy. Republicans defended the map, saying it was impossible for judges to draw the line between what is and is not acceptable. Democrats said it was clear that the current districts were so brazenly gerrymandered to dilute Democrats' voting power that they unconstitutionally shielded politicians from the will of the people.
4. House of Commons rejects Boris Johnson's no-deal Brexit push
A Conservative member of Britain's Parliament, Phillip Lee, defected to the Liberal Democrats on Tuesday, leaving Prime Minister Boris Johnson's government without a working majority in the House of Commons. Lee, who has long been opposed to the U.K.'s departure from the European Union, said Johnson was pursuing a "damaging Brexit" that could "put lives at risk." Lee crossed the Commons floor and sat with the Liberal Democrats while Johnson was addressing Parliament. The defection comes ahead of a showdown between Johnson's government and "rebel" Tory MPs who on Wednesday are attempting — along with the opposition — to pass legislation that would block a no-deal Brexit ahead of the Oct. 31 deadline. Johnson called for snap elections to determine who will "take this country forward."
The Guardian The New York Times
5. Manchin says he'll stay in Senate, won't run for governor
Sen. Joe Manchin (D-W.V.) announced Tuesday that he would stay in the Senate instead of running for governor. Manchin, who served as West Virginia's governor from 2005 to 2010, is a moderate Democrat who occasionally votes with Republicans on issues such as abortion and gun rights. Leaders of his party had feared they could lose his seat if he stepped aside, which would make it harder for them to win a Senate majority. "Those who know me know how much I loved being the governor of West Virginia," Manchin said. But, he added, "Ultimately, I believe my role as U.S. senator allows me to position our state for success for the rest of this century." Manchin won re-election in 2018 by just 3 percentage points as President Trump took the state by more than 40 percentage points.
6. Walmart cuts ammo sales, tells shoppers not to openly carry guns
Walmart on Tuesday said it would ask customers not to carry guns in its stores, and cut back on its ammunition sales following a mass shooting at an El Paso, Texas, Walmart that left more than 20 people dead. The company said that once its current inventory is gone it will stop selling handgun and short-barrel rifle ammunition, some of which can be used in assault-style rifles that have been used in many recent mass shootings. Walmart also plans to end handgun sales in Alaska, the only state where it still sells pistols. "It's clear to us that the status quo is unacceptable," Walmart CEO Doug McMillon told employees in a memo. Grocery chain Kroger also asked customers not to carry firearms openly in its stores.
7. U.N. report says U.S. possibly complicit in Yemen war crimes
The U.S., Britain, and France could be complicit in war crimes by arming and supporting a Saudi-led coalition fighting Houthi rebels in Yemen, according to a report released Tuesday by the United Nations Human Rights Council. The investigation commissioned by the council found that all sides in the conflict have been responsible for air and artillery strikes, mines, sniper attacks, torture, and other abuses that could qualify as war crimes. The Saudi-led coalition has been accused of starving Yemenis as a war tactic, as well as killing civilians in airstrikes. Rebels have been accused of shelling cities and sending child soldiers into battle. The U.S. and Britain have justified continued support of the coalition because of its promise to hold itself accountable.
8. McConnell says he'd allow debate on gun control bills if Trump approves
Senate Majority Leader Mitch McConnell (R-Ky.) said Tuesday he would be willing to bring gun control legislation to the floor of the Senate, provided it had President Trump's support. "If the president is in favor of a number of things that he has discussed openly and publicly, and I know that if we pass it it'll become law, I'll put it on the floor," McConnell said. He added that he did not intend to bring up proposals that would not get passed, or would be vetoed if they did. McConnell made the remarks to conservative talk show host Hugh Hewitt as lawmakers face pressure to tighten gun laws in response to recent deadly mass shootings, including back-to-back August rampages that left 31 people dead in Texas and Ohio. Lawmakers have expressed support for so-called red flag laws and banning high-capacity ammunition magazines.
9. Pentagon confirms Trump using money from military projects for border wall
Defense Secretary Mark Esper has told several lawmakers that money is being taken away from military construction projects in their districts in order to fund President Trump's southern border wall, several House aides told Politico. The Trump administration is planning on commandeering $3.6 billion, with half coming from military construction projects inside the United States and its territories and the other half from projects outside the U.S. Millions of dollars would have gone to military bases and defense installations, Politico reports. A Pentagon official told reporters on Tuesday that about 127 projects will be affected under this plan. In February, Trump declared a national emergency in order to divert $8 billion from federal accounts to the border wall.
10. McConnell: GOP would confirm Trump Supreme Court nominees through end of term
Senate Majority Leader Mitch McConnell (R-Ky.) said Tuesday that Republicans, who refused to consider former President Barack Obama's Supreme Court nominee in his last year in office, would "absolutely" fill a vacancy on the court in the last year of President Trump's term. Democrats harshly criticized McConnell for blocking Obama nominee Merrick Garland without so much as a hearing or vote. McConnell argued that the cases were not comparable, because the government was divided in 2016 but now Republicans control both the Senate and the White House. "There was nothing I did that was, would not have been done had the shoe been on the other foot had there been a … Republican president and a Democratic Senate," he said.

Continue reading for free
We hope you're enjoying The Week's refreshingly open-minded journalism.
Subscribed to The Week? Register your account with the same email as your subscription.