10 things you need to know today: February 9, 2020
Thai soldier who carried out mass shooting killed by police, Coronavirus death toll surpasses SARS, and more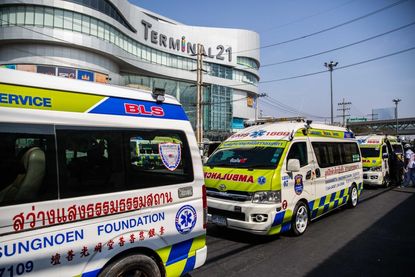 (Image credit: Lauren DeCicca/Getty Images)
1. Thai soldier who carried out mass shooting killed by police
A gunman who shot and killed 26 people and injured 57 others in Nakhon Ratchasima, Thailand, on Saturday was killed by police about 16 hours after the shooting began. The shooter, a 32-year-old soldier named Jakrapanth Thomma, carried out most of his attack from inside a shopping center, though he also killed multiple people on his military base after stealing weapons and reportedly fired at people as he drove to the mall. Thomma reportedly stationed himself inside the mall for hours as police searched for him before finally tracking him down. Officials said Thomma was angry over a financial dispute. It was the worst mass shooting in Thailand's history.
2. Coronavirus death toll surpasses SARS
China announced Sunday that the death toll resulting from the coronavirus that originated in Wuhan has risen to 811, which is higher than the number of fatalities from the SARS epidemic between 2002 and 2003. The number of confirmed infections rose to 37,198. The number of new cases has stabilized in recent days, but the World Health Organization continues to urge caution, and many doctors reportedly believe the number of deaths and infections have been undercounted because of the strain China's testing facilities are under. The vast majority of deaths have occurred in mainland China. There has been one death in the Philippines and another in Hong Kong.
Subscribe to The Week
Escape your echo chamber. Get the facts behind the news, plus analysis from multiple perspectives.
SUBSCRIBE & SAVE
Sign up for The Week's Free Newsletters
From our morning news briefing to a weekly Good News Newsletter, get the best of The Week delivered directly to your inbox.
From our morning news briefing to a weekly Good News Newsletter, get the best of The Week delivered directly to your inbox.
3. 92nd Academy Awards to air Sunday evening
The 92nd Academy Awards begin at 8 p.m. E.T. on Sunday on ABC. It will also be streamed live on ABC.com and the ABC app. The top contenders for Best Picture are Parasite and 1917, though there's a slim chance Once Upon a Time ... In Hollywood could make a comeback. In other categories, Renée Zellweger's performance in Judy makes her the favorite for Best Actress, while Joaquin Phoenix is considered the top bet to take home Best Actor for his role as the Joker in Joker. Even if 1917 does beat out Parasite for Best Picture, the latter remains all but a lock to take home the award for Best International Feature Film.
4. GOP senators tried to stop Sondland's dismissal
Multiple Republican senators tried to prevent President Trump from dismissing U.S. Ambassador to the European Union Gordon Sondland, sources confirmed to The New York Times and CNN. Sondland was told to resign by State Department officials Friday, but the lawmakers, reportedly including Sens. Susan Collins (R-Maine), Thom Tillis (R-N.C.), Ron Johnson (R-Wisc.), and Martha McSally (R-Ariz.), believed it would look bad for the White House and create political backlash because Sondland provided damaging testimony during the House's impeachment inquiry. The senators also reportedly thought the firing was unnecessary because Sondland had already communicated with senior officials about leaving his post after the Senate impeachment trial concluded. Trump on Saturday also defended his decision to remove another impeachment witness, Lieutenant Colonel Alexander Vindman, from the National Security Council.
5. 2 U.S. soldiers reportedly killed, 6 others wounded in Afghanistan attack
Two U.S. soldiers were killed and six others injured in a Saturday attack in Nangarhar Province, Afghanistan, a military official said. The troops were reportedly conducting a joint operation with Afghan forces when someone wearing an Afghan military uniform opened fire with a machine gun. An Afghan soldier was also reportedly wounded. The U.S. is still collecting information about the cause or motive behind the attack which remains unknown at the time. A spokesperson for the Afghan Ministry of Defense said a "high level" delegation was investigating the incident, adding that the attack will not affect the cooperation between the two countries, who will "continue our fight against terrorism together."
6. Irish election exit poll suggests 3-way tie
Exit polls show that Ireland's general election Saturday ended in what ostensibly amounts to a three-way tie between the country's two dominant center-right political parties, Fianna Fáil and Fine Gael, which is led by Prime Minister Leo Varadkar, as well as Sinn Féin, a left wing party whose primary goal has traditionally been Irish unification. Fianna Fáil garnered 22.2 percent of the vote, Fine Gael 22.4, and Sinn Féin 22.3. Official vote counting got under way Sunday. Sinn Féin is the big story; the party has transitioned from its Irish Republican Army-linked past, and has made inroads with Ireland's younger voters because of its social and economic policies. All three parties are a long way from being able to form a government and both Fianna Fáil and Fine Gael have ruled out a coalition with Sinn Féin.
7. Sanders leads New Hampshire poll
In its latest poll conducted by the University of New Hampshire Survey Center, CNN shows Sen. Bernie Sanders (I-Vt.) leading the pack in the Granite State ahead of Tuesday's primary. The senator picked up 28 percent support in the survey, leading his closest contender, former South Bend, Indiana, Mayor Pete Buttigieg by seven points. The two went toe to toe in the Iowa caucuses last week, with Buttigieg reeling in more delegates while Sanders led in terms of raw votes. Former Vice President Joe Biden came in third with 11 percent, while no one else hit double digits. Sen. Elizabeth Warren (D-Mass.) finished with just 9 percent.
8. Turkey says 'all options are on the table' concerning Syria
Turkey on Sunday said "all options are on the table" after it sent major reinforcements to Syria's northwestern Idlib region, the last enclave of government opposition in the country. Syrian government forces continued to advance in Idlib on Saturday, taking control of the crucial "crossroads town" of Saraqeb. The offensive has driven more than half a million Syrians toward the Turkish border. Turkey already hosts 3.6 million Syrian refugees and says it cannot absorb any more, driving demands that Damascus pull back in Idlib soon. Otherwise, Turkey has threatened to take action. More than 1,000 Turkish military vehicles and about 5,000 soldiers reportedly crossed into Idlib last week.
9. Shooter reportedly fires at multiple NYPD officers
Law enforcement sources believe the same gunman who ambushed two New York Police Department officers Saturday night in the Bronx, which NYPD is calling an assassination attempt, also opened fire at a Bronx police precinct Sunday morning. One lieutenant at the precinct was reportedly hit by gunfire in the arm. The officer's condition was not immediately known. After the gunman fired, he reportedly placed his weapon on the ground, surrendered, and is now in police custody. One of the officers who was injured in Saturday night's shooting was taken to a hospital by the other officer and was conscious and alert.
The New York Post NBC New York
10. Duke defeats UNC after wild finish
Duke stunned North Carolina on Saturday night with a pair of buzzer beaters in the latest edition of one of men's college basketball's greatest rivalries. The struggling Tar Heels led the No. 7 Blue Devils for most of the night in Chapel Hill — Duke was down by as many as 13 with just over four minutes left to play, but they eventually tied the game at the end of regulation thanks to a Tre Jones jumper. Jones got another chance in overtime, but airballed a jumper to win it only to have his teammate, Wendell Moore Jr., score on a putback as time expired, depriving North Carolina of the upset.

Continue reading for free
We hope you're enjoying The Week's refreshingly open-minded journalism.
Subscribed to The Week? Register your account with the same email as your subscription.