10 things you need to know today: January 3, 2021
Cruz leads group of GOP senators who will oppose election certification, 117th Congress to be sworn in, and more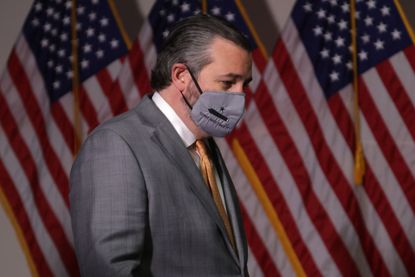 (Image credit: Alex Wong/Getty Images)
1. Cruz leads group of GOP senators who will oppose election certification
Sen. Ted Cruz (R-Texas) led a group of Republican senators and senators-elect who announced Saturday they'll oppose the certification of the Electoral College results next week "unless and until" an "emergency 10-day audit" of the presidential election returns is conducted by a congressionally-appointed Electoral Commission that has "full investigatory and fact-finding authority." They cite allegations of widespread voter fraud, which have been pushed by President Trump and his allies despite there being no evidence to back up the claims, as the reason for the holdout. Sens. Ron Johnson (R-Wisc.), James Lankford (R-Okla.), Steve Daines (R-Mont.), John Kennedy (R-La.), Marsha Blackburn (R-Tenn.), and Mike Braun (R-Ind.), as well as Sens.-elect Cynthia Lummis (R-Wyo.), Roger Marshall (R-Kan.), Bill Hagerty (R-Tenn.), and Tommy Tuberville (R-Ala.) were the other lawmakers to join Cruz. Sen. Josh Hawley (R-Mo.) had already announced his plans to object.
2. 117th Congress to be sworn in
The 117th Congress will be sworn in on Sunday with several new lawmakers in both chambers getting ready to settle in at the Capitol. Democrats retained a majority in the House in November's election despite significant gains from the Republicans who narrowed the margin to 11 seats. House Speaker Nancy Pelosi (D-Calif.) is expected to win re-election Sunday, though the speaker vote could be close. The Senate majority, meanwhile, still hangs in the balance with the Georgia runoffs set for next week. If one or both of the GOP incumbents, Sens. Kelly Loeffler (R-Ga.) and John Ossoff (R-Ga.), hold off their Democratic challengers, Raphael Warnock and Jon Ossoff, Republicans will hold the fort. But if Warnock and Ossoff unseat Loeffler and Perdue, Democrats will even things up, and Vice President-elect Kamala Harris would hold the tie-breaker, giving her party the advantage in close votes.
Subscribe to The Week
Escape your echo chamber. Get the facts behind the news, plus analysis from multiple perspectives.
SUBSCRIBE & SAVE
Sign up for The Week's Free Newsletters
From our morning news briefing to a weekly Good News Newsletter, get the best of The Week delivered directly to your inbox.
From our morning news briefing to a weekly Good News Newsletter, get the best of The Week delivered directly to your inbox.
3. U.S. COVID-19 death toll surpasses 350,000
The United States surpassed 350,000 confirmed COVID-19 deaths Sunday, data compiled by Johns Hopkins University shows. There have been more than 20 million recorded infections in the country. Both figures lead the world. December saw the highest number of coronavirus cases and fatalities of any month since the pandemic began in the U.S., and experts anticipate numbers will continue to go up in the coming weeks following recent holiday gatherings. The expected surge comes amid a major vaccination drive. The rollout of the Pfizer-BioNTech and Moderna COVID-19 vaccines has been under way for multiple weeks now, and as of Saturday night, Bloomberg reports 4.3 million doses have been administered, which is well shy of the federal government's goal of inoculating 20 million Americans by the end of 2020.
4. GOP senators criticize colleagues' plan to oppose Electoral College certification
Several Republican senators on Saturday reacted strongly to news that as many as 12 of their GOP colleagues, led by Sen. Ted Cruz (R-Texas), intend to object to the Electoral College certification on Jan. 6 because of unfounded allegations of widespread voter fraud. Sen. Pat Toomey (R-Pa.) said "evidence is overwhelming" that President-elect Joe Biden defeated President Trump in the November election, and he accused Cruz and the others of directly undermining "the right of the people to elect their own leaders." Sen. Lisa Murkowski (R-Alaska) also confirmed she'll "vote to affirm" Biden's victory, as did Sen. Mitt Romney (R-Utah), who said he "could never have imagined seeing these things in the greatest democracy in the world." Vice President Mike Pence, on the other hand, "welcomes the efforts" of Republican lawmakers who intend "to use the authority they have ... to raise objections," his chief of staff, Marc Short, said in a statement.
5. Germany, U.K. expect to prolong, tighten coronavirus restrictions
British Prime Minister Boris Johnson said Sunday he's "fully reconciled" with the fact that his government may "need to do things in the next few weeks that will be tougher" in "many parts of the country" as the coronavirus, including a newly-identified, potentially more transmissible variant, continues to surge. Johnson didn't get too specific on possible restriction enhancements, but he did say school closures may be on the horizon, even though "it's not something we necessarily want to do." Germany, meanwhile, is preparing to extend its national COVID-19 lockdown beyond Jan. 10. "The numbers are still too high, so we will have to prolong restrictions," Health Minister Jens Spahn said Saturday night. It's unclear how long the extension would last, though an answer will likely come Tuesday when Chancellor Angela Merkel and regional leaders are expected to meet.
6. Pelosi, McConnell homes vandalized
The homes of Senate Majority Leader Mitch McConnell (R-Ky.) and House Speaker Nancy Pelosi (D-Calif.) were vandalized this weekend after Congress did not pass legislation that would have increased COVID-19 stimulus checks for individuals to $2,000. Spray paint on McConnell's door read "weres my money," while "Mitch kills the poor" was written across a window, and a profanity directed at the senator was painted on his mailbox. McConnell condemned the vandalism, but said he and his wife, Transportation Secretary Elaine Chao, were not intimidated. Pelosi's San Francisco home was also covered in graffiti, including messages calling for rent cancellation and higher direct payments. Someone also left a pig's head and fake blood on the property on New Year's Day, police said. An investigation is under way.
7. Tesla defies expectations, reports record vehicle deliveries
Tesla said Saturday it had delivered a record 180,570 vehicles during the fourth quarter of 2020, beating the 174,000 analysts had predicted. The company also nearly delivered 500,000 vehicles on the year, a goal set by chief executive officer Elon Musk. Ultimately, deliveries fell just short of the target at 499,550. Still, The Financial Times notes the figures suggest a successful year for the electric carmaker, especially considering the global automobile industry "suffered a sharp contraction in sales." Tesla's sales, FT reports, were boosted by "the rapid ramping up of production at a plant in Shanghai that opened early in the year and the launch" of a new car model.
8. Larry King reportedly hospitalized with COVID-19
Larry King has been hospitalized with COVID-19 for more than a week, a source close to his family told CNN. The 87-year-old broadcaster, who hosted CNN's Larry King Live for 25 years through 2010 and has since continued to work in other formats after initially retiring, is reportedly being treated at Cedars Sinai Medical Center in Los Angeles. King has dealt with numerous health problems over the years, including a heart attack in 1987, lung cancer in 2017, and an angioplasty and stroke, both in 2019. He also has Type 2 diabetes.
9. Pro Football Hall of Famer Floyd Little dies at 78
Pro Football Hall of Fame running back Floyd Little died Friday, his family announced Saturday. He was 78. In a statement, his family said Little passed away "after nearly a year of confronting, even battling cancer." Little, nicknamed "The Franchise," spent his entire nine-year NFL career between 1967 and 1975 with the Denver Broncos. He rushed for more than 6,000 yards, scored 43 touchdowns, and made five Pro Bowls during that span. He was also a three-time All-American at Syracuse. President-elect Joe Biden, who was a law student at Syracuse while Little was there, released a statement, saying he will "miss my friend." Biden said Little "was full of character, decency, and integrity" and a "genuine role model" for younger fans.
10. Basketball Hall of Famer Paul Westphal dies at 70
Paul Westphal, a standout for the Phoenix Suns who was inducted into the Naismith Basketball Hall of Fame in 2019, died Saturday. He was 70. Westphal revealed a brain cancer diagnosis last year. He is survived by his wife, son, and daughter. Westphal starred at the University of Southern California before getting drafted by the Boston Celtics in 1972, where he contributed to an NBA championship in 1974. But his career really took off once he was traded to the Phoenix Suns prior to the 1975 season. He went on to make five straight All Star appearances for Phoenix between 1977 and 1981, and he helped the franchise make its first finals appearance in 1976, eventually losing to his old team in six games. After his playing days were over, Westphal got into coaching at the pro and collegiate level, including for the Suns.

Continue reading for free
We hope you're enjoying The Week's refreshingly open-minded journalism.
Subscribed to The Week? Register your account with the same email as your subscription.