MI5 double agent offers rare insight into al-Qaeda and jihad
Aimen Dean was recruited by British security and intelligence services to report back on al-Qaeda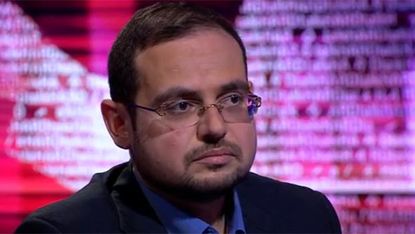 (Image credit: BBC)
A founding member of al-Qaeda who became a spy for MI5 and MI6 has shed light for the first time on the inner workings of the terrorist group and its members' motivations to wage jihad.
Aimen Dean, who grew up in Saudi Arabia, set off to become a mujahideen in a bid to protect Bosnian Muslims from Serb nationalists.
He was personally welcomed into al-Qaeda by Osama bin Laden and began training recruits in Afghanistan. But after the bombings of the US embassies in Nairobi and Dar es Salaam in 1998 he became disillusioned with the movement, believing that it had turned from an instrument to "defend Muslims on the frontiers" to an instrument to "bring down regimes and to fight a terror war against US interests in the region".
Subscribe to The Week
Escape your echo chamber. Get the facts behind the news, plus analysis from multiple perspectives.
SUBSCRIBE & SAVE
Sign up for The Week's Free Newsletters
From our morning news briefing to a weekly Good News Newsletter, get the best of The Week delivered directly to your inbox.
From our morning news briefing to a weekly Good News Newsletter, get the best of The Week delivered directly to your inbox.
After more than four years as a jihadi, he changed tack and became a spy for MI6 in Afghanistan and the UK, gathering information on people like Abu Hamza and Abu Qatada, until his cover was blown eight years ago.
Speaking to BBC Radio 4's The Report, Dean says he is speaking out to ''help'' those considering going to fight with Islamic State. Here's what we learned from his interview:
The role of group psyche
Dean maintains that the Bosnian conflict was a just cause and that it was "ethical and moral" to defend a "defenceless population". But he says by the end of the conflict, those who survived started to adopt a "rather more anti-Western, anti-globalisation feeling that the global community were conspiring against the Muslims in Bosnia". There was a perception that the West were fighting Islam as a religion, leading to further radicalisation. Dean says he believed this at the time as well. "It's a group psyche," he says. "Everyone around you is saying that."
No single process of radicalisation
In Afghanistan, Dean was tasked with training recruits, many from Yemen, to bring them up to speed with Islamic teachings and history. He says that speaking one-on-one with the new recruits opened his eyes to "the many different mentalities that jihadis possess". A minority had been studying in religious seminaries, but many were "semi-literate" as far as religious principles were concerned. He suggested that some "came straight out of a night club" while consuming alcohol to seek redemption in the jihadist world. A number of recruits came from poor families, but the majority were from middle class and upper middle class families and sometimes even upper class families. "There is no single process of radicalisation. Some people, it took them years to be convinced of coming to the jihad and some people it took them minutes," he says.
The advantages of paranoia
Dean spent seven months debriefing MI5 and MI6 about the jihadi organisations and the influential figures within them. Asked if he would return to Afghanistan to spy for the intelligence services, Dean said his answer was "unequivocally 'Yes'". He was passing back as much information as possible, which he says was not an easy task because you have to "rely entirely on your memory" and cannot write anything down. He says he was able to use the "constant paranoia among jihadist groups in Europe" to his advantage. Everyone is susceptible to being accused of cooperating with governments, says Dean, so by offering support to one of his targets when they faced accusations of treachery, he managed to gain their trust and get more information.
Skirting UK laws on incitement
Dean says he had to be careful when working as a double agent in the UK. He was still preaching to prove that he was committed to the cause, but this meant giving theological justification for al-Qaeda's actions. Asked if this was a tricky line to tread, Dean says: "At the end of the day if you want to catch rats, you have to go into the sewage system basically and get dirty yourself." However, he was careful not to break the law. "You can't specifically urge someone to go. You can't specifically call for an attack. You can't glorify violence committed against civilians... you have to be clever about how you phrase your words," he says.

Continue reading for free
We hope you're enjoying The Week's refreshingly open-minded journalism.
Subscribed to The Week? Register your account with the same email as your subscription.