Ban Ki-moon holds talks in Jerusalem amid ongoing violence
UN chief appeals for calm as Benjamin Netanyahu makes incendiary comments about the Holocaust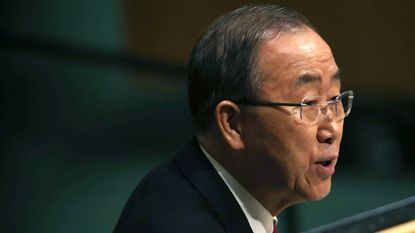 (Image credit: 2015 Getty Images)
Sign up to our 10 Things You Need to Know Today newsletter
A free daily digest of the biggest news stories of the day - and the best features from our website
Thank you for signing up to TheWeek. You will receive a verification email shortly.
There was a problem. Please refresh the page and try again.
Ban Ki-moon has made an impassioned plea for Israelis and Palestinians to end the violence that has ripped through the region in recent weeks during a surprise visit to Jerusalem.
The UN secretary general held separate talks with Israeli and Palestinian leaders, and accused both sides of "posturing and brinkmanship" as he demanded an urgent end to the deepening conflict.
"My visit reflects the sense of global alarm at the dangerous escalation in violence," he said. "If we do not act fast the dynamics on the ground may only get worse, with serious repercussions in and beyond Israel and Palestine."
Subscribe to The Week
Escape your echo chamber. Get the facts behind the news, plus analysis from multiple perspectives.
SUBSCRIBE & SAVE
Sign up for The Week's Free Newsletters
From our morning news briefing to a weekly Good News Newsletter, get the best of The Week delivered directly to your inbox.
From our morning news briefing to a weekly Good News Newsletter, get the best of The Week delivered directly to your inbox.
During the last month, 46 Palestinians have been killed by Israeli security forces and ten Israelis have died at the hands of Palestinian attackers.
The unrest began in September in response to Israeli settlement expansion and incursions into the holy al-Aqsa mosque compound in Jerusalem. Violence has continued despite increased security measures throughout Israel, including the construction of a barrier separating Jewish and Arab neighbourhoods in east Jerusalem.
Speaking ahead of today's talks, Ban acknowledged the deep frustrations felt by Palestinians but issued a stern warning that violence would only damage their legitimate aspirations for statehood.
"I know your hopes for peace have been dashed countless times. You are angry at the continued occupation and expansion of settlements," he said. "I am not asking you to be passive, but you must put down the weapons of despair."
He also told Israelis that he understood their "genuine concern about peace and security", but warned that the checkpoints and harsh responses by security forces cannot sustain peace.
Israel's opposition leader Isaac Herzog echoed Ban's call for calm but added that the bloodshed would continue unless peace talks resumed and Palestine was granted statehood.
Meanwhile, the country's prime minister Benjamin Netanyahu has caused uproar with incendiary remarks that the Palestinian grand mufti of Jerusalem "inspired" the Holocaust, The Guardian reports.
Netanyahu has been criticised by both Israelis and Palestinians and accused of absolving Adolf Hitler of blame for the genocide by claiming that Mufti Haj Amin al-Husseini told him to kill Europe's Jews.
"This is a dangerous historical distortion and I demand Netanyahu correct it immediately as it minimises the Holocaust, Nazism and Hitler's part in our people's terrible disaster," said Herzog.
Netanyahu has since defended his comments, insisting that he did not mean to absolve Hitler of responsibility, but standing by his claim that the mufti "encouraged Hitler to exterminate European Jewry."
Jerusalem: violence rages on despite new checkpoints
15 October
Violence has continued in Jerusalem despite new checkpoints in Arab areas of the city.
Two Palestinians have been shot dead by police. Authorities claim one of them stabbed an Israeli woman at Jerusalem's main bus station on Wednesday, while the other attempted to knife a police officer near the Old City.
The incidents came after police blocked entrances to Jabal Mukaber, the neighbourhood of three men accused of killing three Israelis on Tuesday, reports the BBC.
During October, seven Israelis have been killed and dozens wounded in shooting and stabbing incidents. The Palestinian health ministry says at least 30 Palestinians have also been killed, including attackers, while hundreds have been injured.
Significantly, Israel's long-time ally the United States has made a series of criticisms of Israeli authorities in recent days. State department spokesman John Kirby said Washington was "concerned" at "reports of security activity that could indicate the potential excessive use of force".
He added that: "Individuals on both sides of this divide have proven capable of, and in our view, guilty of acts of terrorism."
However, Israeli defence minister Moshe Ya'alon dismissed Kirby's concerns as "nonsense", reports the Jerusalem Post.
Secretary of State John Kerry, who is due to visit the region, said the "massive increase in settlements over the course of the last years" has prompted a "frustration that is growing".
Meanwhile, Palestinian Authority president Mahmoud Abbas has said the Israeli actions are "threatening to spark a religious conflict that would burn everything" and has accused Israel of carrying out "executions of our children in cold blood".
Israeli prime minister Benjamin Netanyahu's office dismissed the Palestinian leader's comments as "lies and incitement".
Wave of deadly attacks in Jerusalem and central Israel
13 October
A spate of attacks by Palestinians has left at least three Israelis dead and dozens injured as violence sweeps across Israel and the occupied territories.
Two men armed with guns and knives attacked passengers on a bus in Jerusalem this morning, killing two Israelis and wounding at least 16. One of the assailants was killed and the other captured.
In a near simultaneous attack, one person died after a man rammed his car into a bus station in the centre of the city. Two separate stabbings also occurred in the town of Ra'anana, north of Tel Aviv, injuring five people.
"There is a real sense here of not knowing where and when the next attack will come," the BBC's Orla Guerin reports from East Jerusalem.
Prime Minister Benjamin Netanyahu has called an emergency meeting of the Israeli security cabinet amid concerns that the violence could be the beginning of another Palestinian uprising.
The government is said to be considering new security measures, including putting the Palestinian suburbs of east Jerusalem on lockdown and relaxing gun licensing for Israelis, according to CNN.
The latest surge in violence comes after the militant group Hamas declared a "Day of Rage" across the West Bank, Gaza and East Jerusalem.
The unrest began in September in response to Israeli settlement expansion, harsh restrictions and Israeli incursions into the holy al-Aqsa Mosque compound in East Jerusalem, says Al Jazeera.
There have been heavy casualties on the Palestinian side as Israeli security forces increase their presence in the occupied territories.
More than two dozen Palestinians, including eight children, have been killed by Israeli forces and at least 1,300 injured in daily clashes in Gaza, the West Bank and Israel, The Economist reports.
Violence in Jerusalem and the West Bank: is this the start of a third intifada?
6 October
The recent surge in violence in East Jerusalem and the West Bank has sparked fears that a third Palestinian intifada has begun.
It has been a tense and bloody week. Four Israelis were stabbed to death in Jerusalem and two Palestinian teenagers were shot dead during clashes with Israeli security forces in the West Bank.
One attacker vowed that the violence was the start of another Palestinian uprising, which led the Israeli tabloid Yedioth Ahronoth to splash 'The Third Intifada' on its front page on Sunday.
Palestinian peace negotiator Saeb Erekat said the spike in violence reminded him of the first days of the second uprising. "These events are reminiscent of September 2000," he told The Guardian. "Experience shows us that Israel cannot prevent Palestinian freedom by forceful measures."
The German government also warns that another armed struggle could be on the horizon. "That can't be in anyone's interest – it can't be something anyone in Israel wants, or which any responsible Palestinian politician wants," said foreign ministry spokesman Martin Schafer.
But the Palestinian Authority has insisted that it is not trying to ignite a third intifada and commentators argue that the latest outbreak of violence bears few of the hallmarks of previous uprisings.
"The extent of current violence doesn't come close to that which took place in 1987 and 2000," says Haaretz columnist Anshel Pfeffer.
Unlike the last intifada, the current conflict has been defined by "lone wolf" attacks – it has not involved Palestinian security forces and has not been endorsed by rival political factions.
"But, by the same token, the second differed in many ways from the first, meaning past intifadas are not reliable indicators of what the next might look like," says The Guardian's Peter Beaumont. "What is certain is that these appear unusual and dangerous times."
The latest wave of unrest is in no way unique but it could easily spiral out of control, says Pfeffer. "Hopefully it will take just a few days of relative calm and we will once again be laying to rest the premature announcement of the third intifada," he says. "Or perhaps it will take just one more death, on either side, for all hell to break loose in a cycle of vicious retribution."
Jerusalem: Palestinians barred from Old City after killings
05 October
Israeli authorities have banned Palestinians from entering the Old City of Jerusalem for two days amid rising tensions and a surge of violent attacks.
The decision was taken after two Israelis were stabbed to death by a Palestinian man and an Jewish teenager was wounded in a separate assault hours later. Both attackers were shot dead by police.
The attacker in the latest fatal stabbing has been identified as 19-year old Mohannad Halabi, a Palestinian law student living near Ramallah, The Guardian reports. His Facebook profile read: "The third intifada [uprising] has begun."
Tensions have flared between Israelis and Palestinians in recent weeks, with the fate of Jerusalem, and particularly the compound which houses Muslim and Jewish holy sites, at the centre of the conflict.
The United Nation has condemned the latest outbreak of violence "in the strongest terms" and said it was "deeply troubled" by statements from Palestinian militant group Hamas praising the attacks.
Violent clashes later erupted between Palestinians and police as officers set up barricades and enforced the new restrictions, which applied to all non-resident Palestinians. Access to the Al-Aqsa mosque was also limited, with men under the age of 50 banned from entering.
More than 70 Palestinians were wounded in the clashes with Israeli security forces and Jewish settlers during the weekend, the Palestinian Red Crescent told the BBC.
Israeli Prime Minister Benjamin Netanyahu has vowed to implement additional measures to "prevent terrorism" including speeding up the demolition of terrorists' homes and widening the use of administrative detentions without trial.
Palestinian Legislative Council member Bernard Sabella warned that such moves would simply increase tensions even further, The Independent reports. "All these things become like an avalanche where you get people angry and mad."
Israeli police clash with Palestinians in Jerusalem
14 September
Violent clashes have erupted between Israeli security officials and Palestinians at the al-Aqsa mosque compound in East Jerusalem.
They were sparked by the Israeli government's decision to ban Muslim civilian groups who patrol the holy site. The volunteers say they are protecting the site from Jewish extremists but Israel says the groups are provoking violent clashes with police and Jewish visitors, The Guardian reports.
Israeli police reportedly used tear gas, stun grenades and rubber bullets to disperse the crowds of Palestinian they accused of throwing stones and blocking Jews from entering the holy compound.
The security officials insist there were no injuries, but photographs appear to confirm Palestinian accounts that several people were wounded.
Palestinian President Mahmoud Abbas condemned what he described as an "attack by the occupier's military and police against the al-Aqsa mosque and the aggression against the faithful who were there".
The latest clashes began hours before the start of the Jewish New Year, Rosh Hashanah. The Israeli government said the site was now open to Jews wanting to enter to celebrate the holiday.
The fate of Jerusalem, and particularly the compound which houses Muslim and Jewish holy sites, remains one of the most contentious issues between Israelis and Palestinians.
Al-Aqsa mosque is one of Islam's holiest sites, but to the Jewish community the compound is known as Temple Mount and is one of the most sacred locations of their faith. Jews are allowed to visit the site under police supervision, but they are not allowed to pray there.
Continue reading for free
We hope you're enjoying The Week's refreshingly open-minded journalism.
Subscribed to The Week? Register your account with the same email as your subscription.
Sign up to our 10 Things You Need to Know Today newsletter
A free daily digest of the biggest news stories of the day - and the best features from our website