Sharapova deserves to be suspended, says Andy Murray
Britain's number one criticises use of performance-enhancing legal drugs and queries racket-maker's continued support for Russian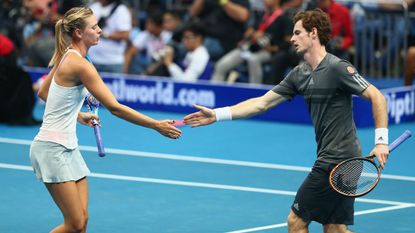 (Image credit: Clive Brunskill/Getty Images for IPTL 2014)
Andy Murray has nailed his colours to the mast in the debate over Maria Sharapova's failed drugs test, saying she deserves to be suspended and that it is "wrong" for players to take drugs they do not need, even if they are legal.
He also criticised his racket manufacturer, Head, for extending its contract with the Russian player in the wake of her failed test.
Murray has been outspoken on the issue of drugs in sport, notes The Times and "unlike players such as Novak Djokovic, Murray showed no sympathy for the 28-year-old Russian", who announced earlier this week she had failed a test at the Australian Open.
Subscribe to The Week
Escape your echo chamber. Get the facts behind the news, plus analysis from multiple perspectives.
SUBSCRIBE & SAVE
Sign up for The Week's Free Newsletters
From our morning news briefing to a weekly Good News Newsletter, get the best of The Week delivered directly to your inbox.
From our morning news briefing to a weekly Good News Newsletter, get the best of The Week delivered directly to your inbox.
"If you're taking performance-enhancing drugs and you fail a drugs test, you have to get suspended," said the Scot, who competes in the Indian Wells Masters tournament next week.
Sharapova said she had not realised that meldonium, a heart drug she had been taking for a decade, had been added to the banned list of substances. But Britain's number one appeared unmoved. "I think taking a prescription drug that you don't necessarily need, but just because it's legal, that's wrong, clearly," he said. "I read that 55 athletes have failed tests for that substance since 1 January. You just don't expect high level athletes at the top of many sports to have heart conditions."
Addressing the issue of her sponsorship deal with Head, he added: "I think it's a strange stance given everything that's happened in the last few days. I personally wouldn't have responded like that."
Murray believes tennis could do more to combat doping, reports the Daily Telegraph, and said he was disappointed to only have been tested twice this year. The Guardian notes that he has gone to great lengths to ensure that he does not make a similar "mistake" to Sharapova. Murray uses "protein shakes, energy gels and sports drinks but no longer takes any vitamin supplements, instead getting his vitamin intake through food".
Maria Sharapova: should she 'pay' for failed drugs test?
10 March
Does Maria Sharapova deserve the benefit of the doubt after her failed drugs test at the Australian Open?
Racket manufacturer Head believes so and is to extend her contract, taking the opposite view to the likes of Nike, TAG Hauer and Porsche, who have all distanced themselves from the world's richest female athlete in the wake of her shock announcement earlier this week.
"Head is proud to stand behind Maria, now and into the future, and we intend to extend her contract," said the company, which also provides rackets for Andy Murray. "For more than a decade, Maria Sharapova has been a role model and woman of integrity who has inspired millions of fans around the world to play and watch tennis."
But others are not so sure. In the wake of her confession, Dick Pound, the former head of the World Anti-Doping Agency, said that at the very least Sharapova was guilty of "wilful negligence" for failing to take heed of warnings that meldonium was to be outlawed.
He also suggested the drug was widely used in the sport and that its use had been flagged up to the International Tennis Federation.
Even current players appear bemused. Spain's Rafael Nadal said: "I want to believe it is a mistake for Maria. She didn't want to do it. But obviously it is negligence. She must pay for it."
There are also questions about why she was taking the drug in the first place. "Sharapova's vague explanations and justifications for her own meldonium use did little to dissuade the view that she was taking it for performance-enhancement reasons," writes Ross Tucker of The Guardian.
And Paul Hayward of the Daily Telegraph appeared to pre-empt Head's announcement. "The rush to exonerate and even praise Maria Sharapova for her story-owning 'honesty' shows what the anti-doping movement is up against," he wrote yesterday. "Problem one is the pharmaceutical cheating. Problem two is the naivety that drives people who should know better to rally round the accused before they have looked fully at the evidence."
Maria Sharapova admits she failed drugs test
8 March
Five-time Grand Slam champion Maria Sharapova has admitted failing a drugs test at this year's Australian Open.
The former world number one tested positive for meldonium, which she has taken since 2006 but was added to the World Anti-Doping Agency's (Wada) banned list this year.
At a press conference in Los Angeles, Sharapova took "full responsibility" for failing the test, before telling reporters it was "very important for you to understand that for ten years, this medicine was not on Wada's banned list and I had been legally taking that medicine for the past ten years".
Sharapova has been suspended from tennis from 12 March pending further investigation, with her lawyer, John Haggerty, telling Sports Illustrated her camp were attempting to speak to the International Tennis Federation.
"We think there is a laundry list of extremely mitigating circumstances that, once taken into consideration, would result in a dramatically reducing any sanction that they might want to impose on Maria," he said.
Sharapova's sponsor, Nike, quickly announced they would be suspending their relationship with the Russian player while the investigation continued.
News of the drugs test came as a shock; when the press conference was called, most journalists speculated it would be about the 2004 Wimbledon champion leaving the game. Sharapova addressed those rumours briefly, saying: "I know many of you thought that I would be retiring today but if I was ever going to announce my retirement, it would not be in a downtown Los Angeles hotel with this fairly ugly carpet."
Reaction from the tennis community was mixed, with the BBC's Andrew Castle describing the news as a "hammer blow to the sport", adding: "Wada issue their list of banned substances and you don't look? Nor do management?"
Three-time Grand Slam winner Jennifer Capriati, while not mentioning Sharapova by name, said she was "extremely angry and disappointed" and that "in my opinion, if it's all true every title should be stripped. This is other people's lives as well." However, tennis icon Martina Navratilova said it appeared to be an "honest mistake".

Continue reading for free
We hope you're enjoying The Week's refreshingly open-minded journalism.
Subscribed to The Week? Register your account with the same email as your subscription.