Sugar tax survives in 'watered-down' obesity strategy
Campaigners say government measures are 'feeble' but industry says they're 'too tough'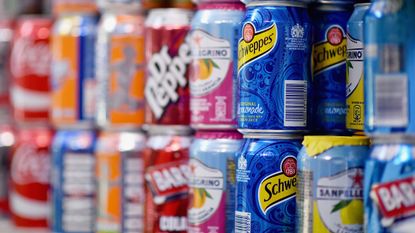 (Image credit: Jeff J Mitchell/Getty Images)
A tax on sugary fizzy drinks that was the headline announcement of the March Budget has survived in what the Financial Times describes as a "watered down" anti-obesity strategy.
Press reports on the long-awaited policy measures to tackle the UK's obesity epidemic that are due to be launched on Thursday say there is anger among campaigners who have branded the proposals "feeble".
But the inclusion of the sugar tax has riled businesses in the sector, who The Independent says see it as "too tough" and "punitive".
Subscribe to The Week
Escape your echo chamber. Get the facts behind the news, plus analysis from multiple perspectives.
SUBSCRIBE & SAVE
Sign up for The Week's Free Newsletters
From our morning news briefing to a weekly Good News Newsletter, get the best of The Week delivered directly to your inbox.
From our morning news briefing to a weekly Good News Newsletter, get the best of The Week delivered directly to your inbox.
The levy will apply to drinks with more than 5g of sugar per 100ml, excluding fruit juices and milkshakes. The tax could add 24p per litre to products with the highest sugar content. The estimated £285m raised will be reinvested in promoting exercise in schools.
This reflects a strategy shift, says the FT, "towards daily exercise rather than restrictions on industry".
Among the measures that campaigners had hoped for but have been dropped altogether are stringent curbs on advertising.
Restrictions would have prevented fatty foods and drink being promoted during popular television shows like The X Factor, or through the use of cartoon characters such as those on leading breakfast cereal brands.
Theresa May is understood to have overruled what she considers to be symptoms of a "nanny state", claims the Independent.
There will be a target for manufacturers to reduce the sugar content of foods popular with children, such as cereals, yoghurts, biscuits, cakes, confectionery and ice cream, by 20 per cent in the next five years.
This is voluntary, but failure could lead to government action down the line. Soft drinks firms point out they have already reduced sugar content by 16 per cent in the past four years.
Post-Brexit, the government says it may also set new disclosure standards that could require manufacturers to state the number of spoons of sugar on product labels.
Kath Dalmeny of the Children's Food Campaign says. "The 20 per cent target is a voluntary measure, so not much different from earlier Responsibility Deals, which have been ineffective. 'Encouragement' is a feeble response; what about 'requiring'?"
Gavin Partington, director general of the British Soft Drinks Association, says: "The Government says it wants to support business but we are now facing a situation where a tax on one product category is going to result in job losses and have an impact on people's spending.
"That doesn't seem the right way to go post Brexit."
Sugar Tax: Soft drink giants to sue government
21 March
Some of the world's biggest soft drink producers are poised to sue the government over George Osborne's sugar tax, announced in last week's Budget to great fanfare from campaigners.
In another blow to the Chancellor, who has been forced to reverse cuts to disability payments following bitter rows within the upper echelons of government, fizzy drink industry bosses are now looking to scupper his sugar tax by challenging it in the courts.
The levy, which will add 24p a litre to products with the highest sugar content, has put Osborne on a "collision course with some of the world's most powerful companies", says the Sunday Times.
"It's fair to say we are more than just considering legal action. This has been rushed through without warning," said a senior industry source.
Following similar, successful challenges in Finland and Denmark, soft drink manufacturers are expected to claim the tax is discriminatory because it will not hit other drinks with a high sugar content, such as fruit juices and milkshakes.
In December, the European Court of Justice blocked Scotland's plans to enforce minimum alcohol pricing. The ruling could be a worrying portent for the government on the way punitive taxes targeted at certain groups are perceived.
There is a good chance the "the measure will never see the light of day", says the Sunday Times. Discussions between the government and representatives of Coca Cola, AG Barr and Britvic are already under way with a view to avoiding a costly legal battle.
Osborne says the sugar tax is targeted at fizzy drinks firms as it is from these products that children get the largest share of their sugar intake. Childhood obesity is on the rise and currently one in ten children are obese when they enter primary school, rising to two in ten when they leave.
Campaigners such as the TV chef Jamie Oliver have been calling for the introduction of a sugar tax for some time. The tax is backed by the British Medical Association and Public Health England.
Budget 2016: Will new sugar tax solve UK's obesity epidemic?
16 March
In a headline measure that tied in to a central Budget theme of protecting future generations, George Osborne completed an about-face for the Conservatives and introduced a tax on sugary drinks.
Detail will follow in a public consultation, but the Daily Telegraph notes the Chancellor outlined initial proposals for a two-tier levy on all producers and importers of drinks that have more than five grammes of sugar per 100 millilitres, or eight grammes at the higher rate. It will be introduced in two years' time and pure fruit juices and smaller producers will be excluded.
The Office for Budget Responsibility estimates the tax will raise £520m in its first year, which Osborne said would be used for a range of initiatives targeting children's health and education. It will pay for a doubling of the primary school physical education and sport premium and provide annual funding of £285m for schools to fund optional out-of-hours extra-curricular activities.
Osborne cited figures that one in ten children in England are obese when they start primary school, rising to two in ten by the time they leave, and that this is translating to higher rates among adults. Obesity-related diseases are estimated to cost the NHS £5bn a year, while the economy loses as much as £28bn.
Health campaigners and charities hailed a move that had been strongly resisted by Prime Minister David Cameron but has made its way into policy.
"We did it guys !!we did it !!!" tweeted celebrity chef Jamie Oliver, who has long lobbied for such a tax.
Chris Askew, the chief executive of Diabetes UK, said: "It is really promising news that the government has announced a tax on the soft drinks industry. We have been campaigning for this measure as we are all consuming too much sugar."
NHS England chief executive Simon Stevens also welcomed the move. "This bold and welcome action will send a powerful signal and incentivise soft drinks companies to act on the health consequences of their products," he said.
Even Labour leader Jeremy Corbyn took a break from his critique of the Budget to praise the new tax.
But not everyone is pleased. Writing in The Spectator, Eleni Courea derided what she describes as a "demented idea" adding to a "merry-go-round" of regressive consumption taxes that take a larger share of the incomes of poorer people than those with higher levels of disposable income.
"If the lifestyle of the poor is unhealthy, that is because long hours and low pay offer little choice… Low-income parents do not have the time or money to invest in fresh ingredients and cook healthy meals. They should not be punished for this," she said.

Continue reading for free
We hope you're enjoying The Week's refreshingly open-minded journalism.
Subscribed to The Week? Register your account with the same email as your subscription.