Personal best: Jessica Ennis-Hill prepares to take on Rio
The Omega ambassador explains why the present is always more important than the future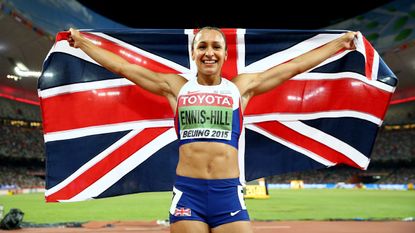 (Image credit: 2015 Getty Images)
Sign up to our 10 Things You Need to Know Today newsletter
A free daily digest of the biggest news stories of the day - and the best features from our website
Thank you for signing up to TheWeek. You will receive a verification email shortly.
There was a problem. Please refresh the page and try again.
Although she still gets nervous before a competition, Jessica Ennis-Hill says she knows how to turn anxiety to her advantage.
"For me, nerves become adrenalin," says the Olympic heptathlete. "It's a really important part of why I, and other athletes, compete so well when we're on the big stage. I've learnt how to punch forward to get that extra edge out of my performance."
If only more of us were able to perform this type of cognitive chemistry, or "self-regulating" trick, as she calls it.
Subscribe to The Week
Escape your echo chamber. Get the facts behind the news, plus analysis from multiple perspectives.
SUBSCRIBE & SAVE
Sign up for The Week's Free Newsletters
From our morning news briefing to a weekly Good News Newsletter, get the best of The Week delivered directly to your inbox.
From our morning news briefing to a weekly Good News Newsletter, get the best of The Week delivered directly to your inbox.
Like millions of others in Britain and across the world, I've been awestruck by Ennis-Hill's accomplishments on and off the track – not least her gold medal-winning performance in front of 80,000 spectators at the 2012 Games in London – so perhaps it's forgivable to feel flustered in her presence. Thankfully, the Sheffield-born Olympian has struck the perfect balance between celebrity and girl-next-door; she's media-trained, as you'd expect, but is also humble, friendly and chatty, with a natural ability to put you at ease.
Ennis-Hill has also been incredibly candid about the emotional tug-of-war that comes with being a world-class athlete. In her 2012 autobiography, Unbelievable: From My Childhood Dreams To Winning Olympic Gold, she writes: "Sport has a habit of giving with one hand and clobbering you with the other." She wears her heart on her sleeve, admitting that behind every victory there's an ugly backstory of blood, sweat and tears – a consequence of the intense training and psychological demands of her physically demanding career.
So much has been written about Ennis-Hill as a sportswoman and also a positive role model – for women, particularly, in light of debates about body image – that it's tempting to be overfamiliar in her presence. As she applies the heptathlete's mascara for our photoshoot, our make-up artist jokes that whenever someone learns what she does for a living, she's predictably grilled about what foundation or lipstick to use.
Ennis-Hill goes one better: "Well, at least you don't get massive guys on the street challenging you to a race when you're in your high heels," she says, with a laugh.
We're shooting at the English Institute of Sport (EIS), the giant multi-sports centre in Sheffield where Ennis-Hill has trained for more than a decade. As Britain's Olympic golden girl, she'd be the dream "face" for any brand, but her role as Omega ambassador could hardly be more fitting when you consider that her victories and personal bests are determined in points of a second.
There's also the fact that we as spectators have the privilege of enjoying seven thrilling countdowns as she competes over two gruelling days in her speciality sports – 100m hurdles, high jump, long jump, javelin, shot put, 200m and finally, the nail-biting 800m. In the scheduling sense at least, we're spoilt for time with Ennis-Hill.
Pictures of the heptathlon star – along with those of fellow elite athletes who have trained at the EIS Sheffield on their way to World or Olympic success – festoon the walls as you enter the sports venue, although the management staff are used to seeing her in the flesh and affectionately refer to her as Jess. She's busy selecting her favourite outfits for the photoshoot when I introduce myself. She greets me with a warm handshake and that unmistakable beaming smile: perfect teeth, eyes that sparkle.
Many interviewers have remarked on how small Ennis-Hill is when compared with her track rivals – just 5ft 5in – but until you see her in the flesh, you can't quite get your head around it. She's petite and girlish, albeit with seriously ripped abs and strong, sculpted arms. Her hair is pulled back into a tight ponytail and her nails are painted a berry-red colour. It's baffling to think just how much her diminutive but seemingly bionic frame is capable of: up to five gruelling hours of intense training five days a week, and that's just her professional life. Jessica and her husband Andy have a son, Reggie, who will be two in July; they don't have a nanny, so juggling motherhood and training is a discipline with its own challenges.
She giggles as we discuss the perils of sporting injuries, as well as the unexpected ones that come with being a new mum. "Reggie's at that age where he's picking up every single germ that's going, so we have a lot of colds and coughs going around our house at the moment. He hasn't injured me yet, though; well, I did get scratched on the cheek by a breadstick yesterday."
Overcoming hurdles
It's not every day you meet a world champion heptathlete or, for that matter, anyone who's the best in the world at anything. There are plenty of people who excel in a particular field – not withstanding the endless stream of brunch-eating champions on Instagram – but being internationally recognised as the legitimate leader in any domain, be it sport, literature, science or indeed cuisine, stems from the same ultra-rare combination of steely determination, innate talent and unshakable resilience in the face of adversity.
In Ennis-Hill's case, the most daunting hurdles have been overcoming well-documented injuries, such as a broken foot ahead of the Beijing Olympics in 2008, and persistent problems with her right Achilles, which is once again on the mend after her decision to skip the IAAF World Indoor Championships in Portland, Oregon in March.
The London 2012 poster girl is currently stepping up her training for the Rio Olympics, but while running again, she's mindful not to overstretch herself.
"It [her Achilles] is a weak area and I have to be careful, but training is going in the right direction," says Ennis-Hill, matter-of-factly, quick to cast aside concerns about physical setbacks. "I've had serious injuries throughout my career, but you have to expect these problems. It's how you get through them and out the other side. You can't just worry every day, otherwise you'd get no training done. You just have to kind of go with it and get back on track. That's what I've been able to do with a great team around me."
Ennis-Hill's team includes Toni Minichiello – her coach from the age of 13 – and her agent Jane Cowmeadow, the woman who she fondly calls her "second mum" and who accompanies her today. This support network unquestionably helps to stabilise any emotional yo-yoing set off by such challenges to her training regime.
But then, one of Ennis-Hill's most obvious talents is her unflinching focus. It's fuelled by an instinctual competitiveness she keeps under wraps until faced with her adversaries; only then does she unleash the beast. Watch her 800m race at last summer's Beijing World Championships, when she walked away with the gold medal only 13 months after giving birth. As she gently warms up on the track, she already maintains an 86-point advantage over the other girls, but despite this lead, she is visibly nervous before she takes her starting position, managing just a faint smile and brief wave to the crowd. She's self-regulating.
As the race begins, Ennis-Hill tails her main competitor, the Canadian Brianne Theisen-Eaton, and by the last lap there's a fair distance between the two sportswomen. Then, with barely 20m to go, Ennis-Hill switches on the magic, storming past her rival, pounding the last stretch of the track with the agility of a leopard chasing an antelope. It really brings out the goosebumps. As her coach Minichiello once said: "She has this ability to just turn it on when she wants, even if she does not necessarily need to."
For someone whose professional hopes and dreams are so entrenched in the moment, is it not strange to always be questioned about the future and her plans for retirement, which she recently revealed would be sometime in 2017?
Time, it seems, is the only thing racing ahead of her. "It's a mixed bag of emotions, really. I'm at a stage in my career where I can look back at what I've achieved so far and think, 'Wow,' knowing that I have given it everything. Then there's a feeling that, of course, it will be strange to retire and not have the daily training in my life, and the structure that I have done for so many years. There's also another side of me that's excited about the opportunity to do different things, to not have to do all the hard training, and to look forward to having more children. There's a mixture of lots of different feelings."
Mother of all comebacks
Ennis-Hill's spectacular gold win at the Beijing World Championships in August 2015 was dubbed the "mother of all comebacks" for good reason. While she would have been forgiven for slumping on the sofa with a javelin-length box of Jaffa Cakes in the months that followed the birth of her son, she took every opportunity to train in her home gym as baby Reggie slept between feeds. Any parent will agree that when you have severe sleep deprivation following the arrival of a newborn, the usually simple act of making toast feels like an achievement worthy of applause. So imagine doing a body-breaking workout when you've been up and down all night, emotions all over the place, hormones going berserk in the manner of a pinball machine. Is she superhuman?
"I look back now and think, 'I don't actually know how I did it,'" she says. "I think that in the moment you're running on adrenalin. Everything is new, it's all exciting, there's so much going on – you don't really have much time to take stock and think about how tired you are."
Ennis-Hill pauses for a second, but it's enough to understand that what she's about to say comes from that other place inside her psyche – the one that helped her nail the Beijing 800m last summer. "I kind of set in my mind that this was what I wanted to do. I wanted to return and have this amazing journey towards the end of my career, leading into the Rio Olympics. I wanted my son to be a part of it. Once you get your head round what you want to do, you make it work. You try to make everything work."
Speaking of work, what does she envisage doing once she has retired from professional athletics? "I very much want to stay involved in the sport. For me, it's important for people to be active and inspired by running and keeping fit day to day. Being a mum, I want to encourage kids to keep active. So it'll be something within that environment, something I'm passionate about."
We've wrapped up the shoot and interview in record speed – no doubt inspired by Britain's most efficient timekeeper. Ennis-Hill's focus right now is on the most important: Reggie and his dinner. I'm too afraid to ask if a gym session is on the cards once her little man has settled for the evening, but given her inexhaustible energy, I imagine it is.
Omega are the official timekeepers of the Olympic and Paralympic Games. omegawatches.com
Continue reading for free
We hope you're enjoying The Week's refreshingly open-minded journalism.
Subscribed to The Week? Register your account with the same email as your subscription.
Sign up to our 10 Things You Need to Know Today newsletter
A free daily digest of the biggest news stories of the day - and the best features from our website