Xbox One X vs One S: which 'One' should you buy?
Microsoft's high-performance console has arrived, but that doesn't necessarily mean you should buy one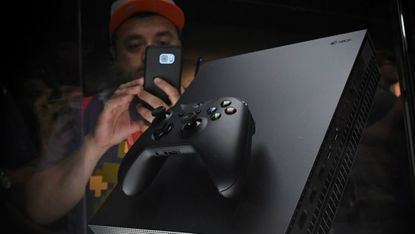 (Image credit: Mark Ralston/AFP/Getty Images)
Microsoft's high-performance Xbox One X games console – the most powerful system on the market – is now on sale.
It's going up against Sony's range-topping PS4 Pro system, as both can output games at 4K resolutions and 60fps.
However, Microsoft launched its revamped – and cheaper – Xbox One S only a year ago, offering 4K video playback for movies and HDR (high dynamic range) features that bolster contrast ratios in-game for more realistic lighting effects.
Subscribe to The Week
Escape your echo chamber. Get the facts behind the news, plus analysis from multiple perspectives.
SUBSCRIBE & SAVE
Sign up for The Week's Free Newsletters
From our morning news briefing to a weekly Good News Newsletter, get the best of The Week delivered directly to your inbox.
From our morning news briefing to a weekly Good News Newsletter, get the best of The Week delivered directly to your inbox.
With that in mind, is it worth investing in the powerful Xbox One X, or opting for the regular, cheaper One S?
Here's what sets the consoles apart in helping you decide which one you should buy.
Hardware
The Xbox One S is powered by a 1.7GHz eight-core processor paired with a 914MHz integrated AMD graphics chip along with 8GB of RAM, says GameSpot.
This means it 7.1 per cent faster than 2013's original Xbox One, although The Verge says it's "unlikely that most players would even notice the small boost".
However, the One S begins to look slight underpowered when compared to the latest addition in the Xbox family.
Inside the Xbox One X is a custom 1172MHz processor that "will ship with six teraflops of graphical power", reports The Verge. That's 1.8 teraflops more than its PS4 Pro, which is helped by a custom liquid-cooled graphics processor.
It will also be smallest Xbox in the range, although the site says the One X's 8.4lbs (3.8kg) is two pounds (900g) heavier than the One S.
Performance
The Xbox One X's custom internals means it's able to play games at 4K resolution and 60fps, as demonstrated on Forza Motorsport 7 at the E3 games show last week.
This would put it above all of the home consoles currently available. The majority of PS4 Pro games are either of 4K graphics or 60fps, with only a handful of titles able to achieve both.
"The visual fidelity of the game was impressive", says The Guardian, and the console was able to show "highly detailed car models and scenery" in a way not possible on the regular One S.
However, both the One X and S feature HDR playback, meaning blacks and bright lights look more intense and realistic.
Buyers will need to invest in a 4K television with HDR support to see the benefits of both consoles, but Engadget says "the Xbox One X uses supersampling to push more detailed graphics" on regular 1080p displays.
The Xbox One S can play most games at 1080p and 30fps, with a selection running at 60fps.
While it may seem underpowered compared to its sibling, the One S still offers 4K video playback on Blu Ray movies and videos streamed from Amazon Prime and Netflix.
Games
As the Xbox One S comes with HDR lighting effects, it does offer some visual benefits over the regular console. Only a handful of games, such as Forza Horizon 3 and Battlefield 1, support the feature, but this is expected to grow with a slew of titles due out later this year.
The Xbox One X also has the HDR features - plus 4K resolution visuals, although, as with HDR, gamers will only see 4K graphics on games optimised for the Xbox One X, including Assassin's Creed Origins and F1 2017.
However, Kotaku says games will still look better on Xbox One X thanks to "super-sampling", which improves the performance of titles for those who don't have a 4K television set. It is also expected to stabilise games with uneven frame rates and potentially boost titles running at 900p to 1080p.
It's a similar feature to Boost Mode on its PS4 Pro rival. While that does not completely overhaul the graphics, it does provide a more consistent frame rate on titles that need more power to run smoothly.
Compatible TVs
Anyone looking to buy either console will need to consider the television they are going to use.
The Xbox One X promises to deliver 4K resolution gaming with HDR lighting effects, so players will need a 4K and HDR-compatible TV to see the full benefits.
However, Microsoft will offer a "super-sampling" function on the One X to make current games "look better than on an original Xbox One or Xbox One S if you have a 1080p TV", Business Insider says.
This feature reduces the look of harsh edges around characters and objects, while some games may even pack more detail in when super-sampling is enabled.
Nevertheless, these are small improvements over what is currently offered on the regular Xbox One and One S, so "it's probably not worth upgrading to the Xbox One X" if you already have one of these, concludes the site.
While the prices of 4K and HDR-enabled TVs have depreciated substantially over the past few years, cheaper models on the market still sell for around £600. Considering the One X costs £449, those wanting to play games in 4K and need a new TV to do so will have to spend around £1,000.
On the other hand, the One S only outputs gameplay at 1080p. which the majority of HD TVs will support.
But the entry-level console still has 4K movie playback and HDR lighting effects, functions that can only be seen on relatively new TV sets.
Price
The Xbox One X is available to order from Amazon for £440. This version comes with a 1TB internal hard drive and a wireless controller. There's also a package that includes Forza Motorsport 7 for £470.
There's also a limited-run launch version called the Project Scorpio Edition, which is the name Microsoft gave the console when it made its debut at last year's E3 games expo. The exclusive console is available for £450 and features the Project Scorpio name inscribed in bright green on the front of the system.
On the other hand, those wanting the cheaper Xbox One S can pick the console up from Amazon for £200. There's also numerous game bundles available, such as a 500GB system with Assassin's Creed: Origins for £220.
With the Cyber Monday sales week in full swing, buyers can also find deals on 4K resolution TVs. There's a 43in LG TV with HDR lighting effects for £390 on Amazon, along with a 55in version for £540.
The largest screen on offer is a 4K resolution 65in panel from Toshiba, which can be ordered for £800.

Continue reading for free
We hope you're enjoying The Week's refreshingly open-minded journalism.
Subscribed to The Week? Register your account with the same email as your subscription.