Paedophile hunters: should police work with vigilantes?
Volunteers have come to play a crucial role in prosecutions - but professional warn their help is a double-edged sword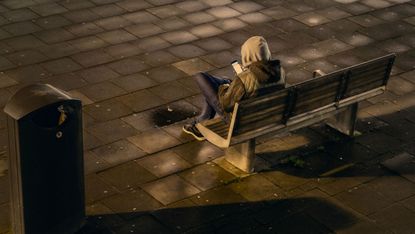 A total of 259 individuals were convicted of attempting to meet a child following sexual grooming in England, Wales and Northern Ireland last year.
In 114 of those cases - 44% overall - prosecutors used evidence gathered not only by the police but also by online anti-paedophile vigilante groups.
Those figures, uncovered by a BBC freedom of information request, demonstrates how online "paedo hunter" communities have become instrumental in convicting child sex offenders.
Subscribe to The Week
Escape your echo chamber. Get the facts behind the news, plus analysis from multiple perspectives.
SUBSCRIBE & SAVE
Sign up for The Week's Free Newsletters
From our morning news briefing to a weekly Good News Newsletter, get the best of The Week delivered directly to your inbox.
From our morning news briefing to a weekly Good News Newsletter, get the best of The Week delivered directly to your inbox.
However, the growing role of these amateur law enforcers is generating an increasingly public debate about the ethical implications of putting vigilantes on the front line of the battle against child sex abuse.
Supporters see the vigilantes as a valuable resource that could be harnessed by police to become, with support and guidance from the authorities, an even more effective force for good.
To their detractors - who include many child safeguarding professionals - these groups are a menace. Critics claim that their amateur stings can potentially tip off paedophiles and give them time to destroy crucial evidence.
Earlier this year, Britain's lead police officer for child protection said that online paedophile hunters were "putting the lives of children at risk".
"They might not perceive it that way, but they are potentially compromising our operations," Chief Constable Simon Bailey told the BBC.
So how to these vigilante groups operate? And do they have a future as a recognised component of the justice system?
The sting
Dozens of paedophile hunter networks now operate across the UK, under names such as Dark Justice, Creep Catchers and Letzgo Hunting.
Volunteers create fake profiles on social media sites or messaging apps and pose as underage children. To abide by laws against entrapment, they wait to be approached and do not try actively to turn the conversation towards sex.
"We've got to be very careful in how we talk to these men," a former police officer-turned-online vigilante told Wales Online. "We have to be quite passive with them - we can't lead in any way."
After laying the groundwork with weeks or even months of online chat, the sting operation culminates when the would-be predators suggest meeting up for sex. Expecting to meet their underage prey, they are greeted instead by members of the vigilante posse armed with chat logs.
Mob rule
Although these filmed confrontations generally follow a recognised pattern of vigilantes verbally confronting their targets and then waiting for police to arrive, there are concerns that public mob justice can easily teeter into violence.
In April 2017, two men were eating in the food court of the Bluewater shopping centre, in Kent, when they saw a Facebook live stream of a paedophile sting taking place in a nearby car park, KentOnline reports.
They rushed to join the posse outside, where "things got out of hand", as one of the pair would later tell police. Both were charged with affray and sentenced to community service for spitting on and physically attacking the suspect, who was successfully convicted of grooming offences.
The dangers posed by vigilantes also extend beyond the actual confrontations. Videos of such showdowns accrue thousands of views, likes and shares online, usually accompanied by a stream of heated comments.
"Should have been castrated just for starters," reads a typical comment on one such video, alongside dozens of unprintable descriptions of the offenders, and incitements to violence.
Many fear that publicly "outing" suspected paedophiles against this backdrop could expose suspects and their families to retaliation and encourage further amateur witch-hunts.
A former partner of a man caught in a vigilante trap, who later killed himself, told The Independent that she had received messages from strangers threatening to contact social services and have her children taken away.
"I think it's very, very dangerous, there's a lot of, 'Hang the bastards, kill them'," she said.
"The danger is that people could try to copy [vigilante stings] but instead of filming, go out and try and beat them up instead."
Naming and shaming suspects who have not been charged or convicted has particularly worrying ethical ramifications.
In 2013, a man identified as Peter told The Guardian that his life had been ruined after he was caught in a sting operation that he described as a set-up.
Peter said he believed he was meeting an 18-year-old girl, and only received a text revealing her true age, which was 15, moments before he was confronted by a vigilante styling himself Daemon Hunter.
After the footage of the confrontation was posted online along with his name and phone number, Peter was bombarded with death threats. Despite an inquiry by Staffordshire Police concluding there was no case against him, his online notoriety forced him to move to the other side of the country, leaving behind his job, family and friends.
Playing detective
As well as the inherent dangers of mixing inflammatory allegations with vigilante justice, there are the risks that volunteers' amateur techniques or imperfect knowledge of the law could let criminals slip through the net.
"To rely upon this activity of self-styled paedo hunters as a base for criminal prosecutions is fraught with dangers," Judge Peter Henry warned last year. Sentencing a man caught by a volunteer sting operation, the judge drew attention to the "thin line" between legitimate evidence gathering and entrapment.
Gwent Police crime commissioner Jeff Cuthbert told Wales Online that although anti-paedophile activists had been involved in a "significant number" of convictions, those success needed to be seen in a wider context.
"What we don't know, of course, is how many potential perpetrators have got away with it because it's not been done properly, or walked away because it's not stood up in court," he said.
However, this argument has been seized upon by the vigilante groups and their supporters, who say that they are eager to work more closely with the police.
One former abuse victim who now volunteers to help catch predators told The Guardian that "it should not be us, the public, doing this work", echoing a common sentiment among vigilantes.
Many see themselves as an unofficial auxiliary to overstretched and underfunded police forces, and - contrary to the stereotypes of angry mobs "taking the law into their own hands" - aim to ape the authorities as closely as possible.
The growing number of convictions involving volunteer evidence - 114 cases in 2016 compared with 20 in 2014 - is testament to serious efforts in the paedophile-hunting community to make sure their work is professional and lawful.
Senior police officers appear to be coming to a similar conclusion, albeit reluctantly.
Chief Constable Bailey said earlier this year that police may have no alternative but to collaborate with vigilante groups.
"I would encourage them all to stop," he said. "But I recognise that I am not winning that conversation."

Continue reading for free
We hope you're enjoying The Week's refreshingly open-minded journalism.
Subscribed to The Week? Register your account with the same email as your subscription.